10th Annual Hiring Red, White & You! Statewide Veterans Hiring Events to be Held In-Person and Online in Round Rock and San Marcos on November 4
Nov 01, 2021
Workforce Solutions Rural Capital Area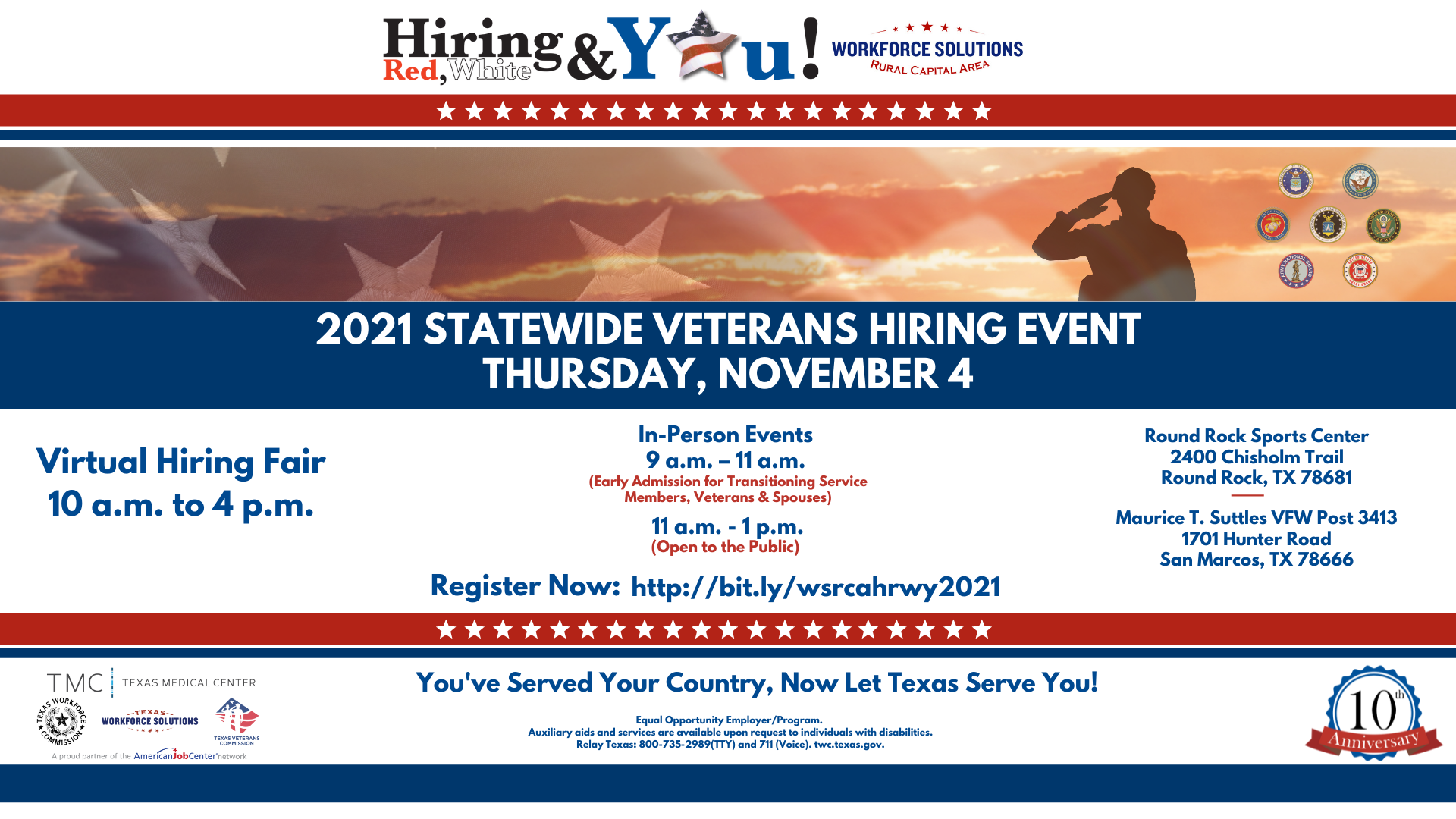 CEDAR PARK, Texas ⎯ For the tenth consecutive year, Workforce Solutions Rural Capital Area (WSRCA) is proud to join with its partners to host the Hiring Red, White & You! Statewide Veterans Hiring Event within the nine-county Rural Capital Area to enhance career opportunities for veterans, transitioning military, and their spouses.

Hiring Red, White, and You! veterans job fairs will be held simultaneously in over 30 Texas cities on Thursday, November 4, 2021, with traditional in-person events and opportunities to participate virtually.
More than 150 Central Texas employers are looking to connect with veterans at free hybrid events in the Rural Capital Area, which will be held virtually from 10 a.m. to 4 p.m. at https://bit.ly/hrwy2021, and in-person from 9 a.m. to 11 a.m. (Early Admission for Transitioning Service Members, Veterans and Spouses) and 11 a.m. to 1 p.m. (Open to the Public) at the Round Rock Sports Center, located at 2400 Chisholm Trail, Round Rock, TX 78681, and the Maurice T. Suttles VFW Post 3413, located at 1701 Hunter Road, San Marcos, TX 78666.
Safety protocols, such as wearing face masks and social distancing practices, are encouraged for those attending the in-person events.
Hiring Red, White & You! is a joint Texas Workforce Solutions initiative supported by all 28 workforce development boards, the Texas Workforce Commission, the Office of the Governor, the Texas Medical Center and the Texas Veterans Commission (TVC), to connect veterans and their spouses in Texas with employers who recognize the experience, advanced skills and leadership abilities they bring to the workplace.
"From heightened leadership and teamwork skills, to proven problem solving and decision-making ability, U.S. military veterans bring a wealth of wide-ranging strengths and talents to the workforce, that can be an asset to any Rural Capital Area business," said WSRCA CEO Paul Fetcher. "It's an honor for our workforce board to host Hiring Red, White & You! events, to assist veterans with re-entering civilian life and finding sustainable employment opportunities that enhance their quality of life."
Over the past eight years, Hiring Red, White & You! has connected more than 108,288 job seekers, including 39,310 veterans, with 18,268 employers, and the event has included over 2,800 same-day hires.
TVC and WSRCA staff are preparing veterans for the hiring fairs by assisting them with WorkInTexas.com applications and résumés, interviewing techniques, workshops, and one-on-one counseling services. All job seekers are advised to come dressed to impress and with plenty of copies of their résumé for employers to review.
There are over 1.5 million total veterans throughout Texas, which has the highest state population of veterans in the country, according to estimates from the Bureau of Labor Statistics. More than 79,500 of those veterans call the Rural Capital Area home. By hiring more veteran and spouse candidates, employers can reduce turnover, maintain a more stable workforce over time, and may be eligible to earn up to $9,600 in federal tax credits through the Work Opportunity Tax Credit program.
For more information on registering to take part in Hiring Red, White & You! please visit the WSRCA website at www.workforcesolutions.com.
Workforce Solutions Rural Capital Area is a nonprofit community partnership providing no-cost recruitment, employment services, and child care assistance to employers and job seekers in the Rural Capital Area of Central Texas. This nine-county region includes Bastrop, Blanco, Burnet, Caldwell, Fayette, Hays, Lee, Llano, and Williamson counties. For more details on WSRCA and the services it offers, visit www.workforcesolutionsrca.com.