Governor Greg Abbott has declared a state of disaster in Texas due to novel coronavirus (COVID-19).
Out of an abundance of caution for the health and safety of our communities, Workforce Solutions Rural Capital Area (WSRCA) has temporarily closed all career centers within our nine-county region to public access.
What this means:
All WSRCA Career Centers throughout region are temporarily closed until further notice.
We will conduct modified business operations, maximizing virtual and telephone services to communicate with customers.
Career workshops will move to a virtual environment.
While we are temporarily closing our doors to public access, our talented teams will continue to ensure that our customers find world-class workforce solutions through our available services.
Jobs Now!
As Rural Capital Area Employers are contacting us with immediate job openings throughout our region, we are posting them by county, to our Jobs Now! tool, to connect you to opportunities.
If you are an employer who would like to have your openings added to this resource, please email our Business Services Team at businessservices@ruralcapital.net.
For open positions in Travis County, please visit our partners at Workforce Solutions Capital Area.
For Employers
Please visit our Employers Resources Page: click here.

For Workers

If you are a worker whose employment has been disrupted by economic changes caused by COVID-19 concerns, we can assist you in finding new work or training for a higher-skilled role in related industries. WSRCA provides an array of services and programs that are designed with career development at every stage of your workforce journey, including up-skilling opportunities with local training providers. We can also provide information on unemployment benefits from the TWC.
To learn more, call us toll free at 1-844-344-2780.
TWC COVID-19 Resources for Job Seekers: click here.

Apply for TWC unemployment benefits: click here.
CARES Act Economic Impact Payments
The Coronavirus Aid, Relief, and Economic Security (CARES) Act, which the president signed on March 27, provides direct economic impact payments to Americans for financial relief during the coronavirus pandemic. Payments are available to adult residents who are not dependent on another taxpayer and have a work-eligible Social Security Number.

The maximum payment of $1,200 ($2,400 for a married couple) is available to U.S. residents with adjusted gross income under $75,000 ($112,500 for head of household and $150,000 married). Adults are also eligible for an additional payment of $500 per child. A typical family of four will receive a $3,400 recovery rebate. The rebate amount is reduced by $5 for each $100 that a taxpayer's income exceeds the phase-out threshold. The rebate is completely phased-out for single filers with incomes exceeding $99,000 ($146,500 for head of household filers with one child, and $198,000 for joint filers with no children). For a family of four, the amount is completely phased out for those with adjusted gross incomes exceeding $218,000.

The payments will be automatically paid by the IRS, and most taxpayers will need to take no action. Payments are based on the last filed tax return (either 2018 or 2019). People who do not file taxes (such as some low-income taxpayers, senior citizens, Social Security recipients, veterans, and individuals with disabilities) can still receive payments; the IRS will work with other agencies to figure out how to get the payments to non-filers. Non-filers may need to fill out a brief form, as was required in 2008.
The IRS has created a guide to Economic Impact Payments: What you Need to Know: click here.
IRS Economic Impact Payment Infographic: click here.
IRS Economic Impact Payment Flyer: click here.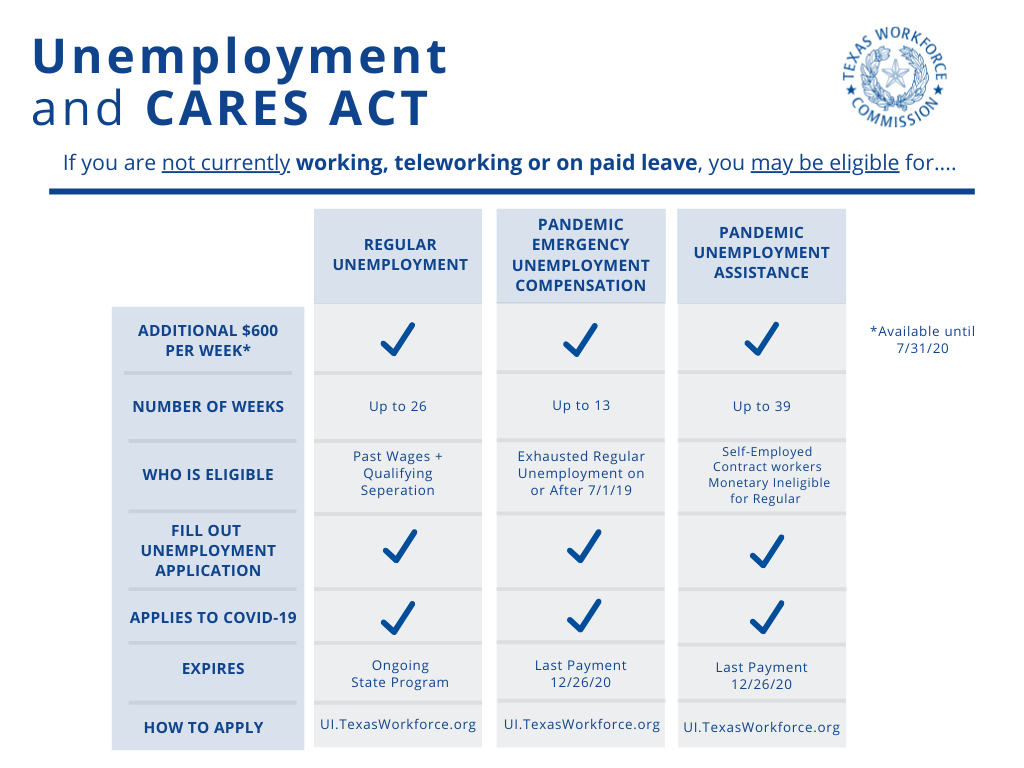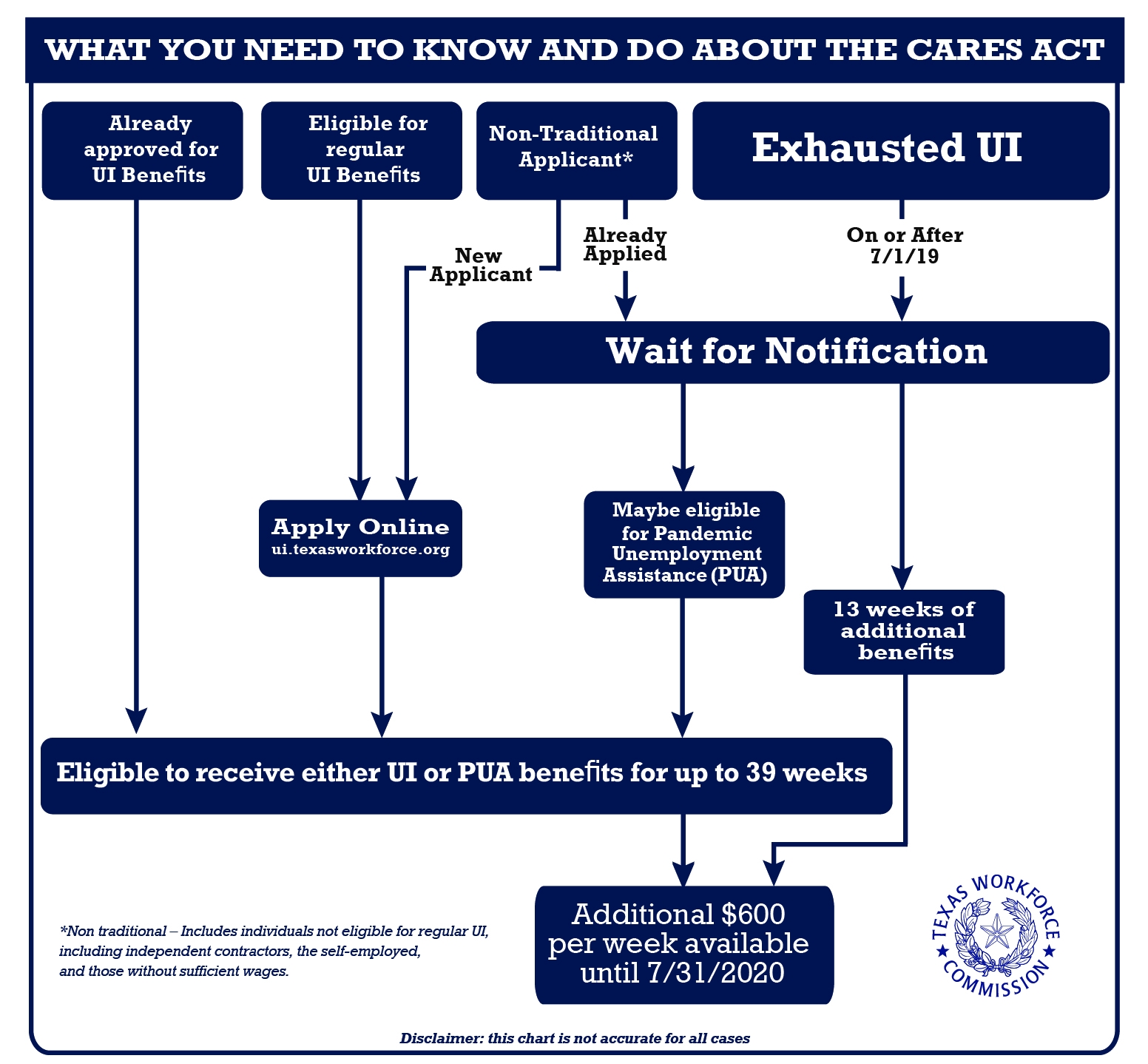 This flow chart from TWC represents the options for individuals in search of assistance. If you've already been approved for benefits you do not need to do anything. If you are eligible or newly eligible, apply online. If you are a non-traditional applicant, apply online and then wait for a notification about pandemic unemployment assistance. If you have exhausted your benefits, wait for a notification via mail or email, you may then be eligible for an additional 13 weeks of benefits. The additional $600 in benefits allies to all who qualify, no additional action is needed.
Texas Unemployment Insurance:

If your employment has been affected by COVID-19, apply for benefits either online at any time using Unemployment Benefits Services or by calling TWC's Tele-Center at 800-939-6631, from 7 a.m.-7 p.m. (Central Time) 7 days a week.
General Information about the Unemployment Insurance (UI) Program: click here.

Coronavirus update: TWC is providing updates on Unemployment Insurance changes related to COVID-19 here: click here.
TWC Claimants Guide to Filing for UI Benefits (In English/Spanish): click here.
TWC Waves Certain Requirements for Unemployment Benefits Services
Governor Abbott has instructed TWC to waive the waiting week, for Unemployment Benefits. In addition to waiving the waiting week, TWC is exercising its authority under the Governor's declaration of a Statewide Disaster to waive Unemployment Insurance work search requirements effective immediately. These measures support the State's efforts to address the impact the COVID-19 virus is having on the state's economy and its workforce.
The waiting week is the first payable week of an individual's claim for Unemployment Benefits. Under normal circumstances, TWC cannot pay for the first week of a claim until an individual receives 2 times their weekly benefit amount and returns to full-time work or has exhausted their benefits. However, by waiving the waiting week, Gov. Abbott has provided the opportunity for TWC to provide relief to Texans who need it.
Previously to be eligible for unemployment benefits, applicants were required to register for work search on WorkinTexas.com and meet minimum number of work search activities per week. TWC is temporarily waving these requirements to ensure all Texans can have access to resources when in need.
Those seeking to apply for Unemployment Benefits will need to submit an application. In order to apply you will need:
Last employer's business name and address
First and last dates (month, day and year) you worked for your last employer
Number of hours worked and pay rate if you worked this week (including Sunday)
Information related to your normal wage
Alien Registration Number (if not a U.S. citizen or national)
Once you have an unemployment benefits claim, you can sign up for Electronic Correspondence for online access to your unemployment benefits correspondence. Electronic Correspondence allows you to receive most, but not all, of your unemployment notices and forms electronically in a secure, online mailbox. You are responsible for regularly checking your online inbox, regardless of whether you receive an email notifying you of new mail. All Electronic Correspondence documents are also available as accessible versions for visually impaired customers.
Job seekers can call local WSRCA offices for access to job-search resources, job postings and training programs, as well as assistance with exploring career options, resume and application preparation, career development and more.
Customers also may connect with potential employers through TWC's online job-search engine, by visiting WorkinTexas.com.
Apply for TWC unemployment benefits: click here.

Workplace Safety
The Occupational Safety and Health Administration (OSHA) has resources to help employers and workers prepare for and respond to coronavirus in the workplace.
Wages, Hours and Leave
The U.S. Department of Labor Wage and Hour Division is providing information on common issues employers and workers face when responding to COVID-19, including the effects on wages and hours worked under the Fair Labor Standards Act (FLSA) and job-protected leave under the Family and Medical Leave Act (FMLA).
Access that guide: click here.

For Families in Child Care:
Many families and child care programs that participate in our child care services have been affected by the COVID-19 pandemic. We are taking the following steps to mitigate the impact:

Effective March 1, 2020, children may accrue absences without impacting ongoing eligibility for services or provider reimbursements. Providers will continue to be paid, if children are absent, or if the provider is temporarily closed due to COVID-19. Texas Workforce Commission is monitoring the situation and will make a future determination on when this policy will conclude.
WSRCA is authorized to make supplemental payments to child care providers to cover lost parent share of cost payments. More information on how supplemental payments will be calculated is forthcoming.
If you have questions, please contact our WSRCA Child Care Services team toll free 1-877-223-0404, or by email at rcachildcareservices@ruralcapital.net.
For more information, please visit our special COVID-19 Child Care Resources sections for Parents and Providers.
Emergency Benefits Approved for all SNAP Recipients in Texas
Governor Abbott announced that Texas Health and Human Services (HHS) will provide more than $168 million in emergency Supplemental Nutrition Assistance Program (SNAP) food benefits to help Texans during the COVID-19 response. HHS received federal approval from the U.S. Department of Agriculture to provide the maximum, allowable amount of SNAP benefits to recipients based on family size. The emergency allotments are currently authorized for the months of April and May and will affect all SNAP recipients in the state of Texas.
SNAP recipients will see the additional amount on their Lone Star Card by April 15 for this month's benefits, and by May 15 for next month's benefits. Disbursements will be staggered and will begin on April 9. SNAP recipients do not need to take any further action to receive the additional benefits.
For more information about SNAP benefits: click here.
Legislation:

For FMLA/Paid Sick Leave information, please click here.
The Senate passed and the President has signed the Families First Coronavirus Response Act which will:
Ensure free coronavirus testing for everyone who needs a test, including the uninsured. The legislation also increases funding for Medicaid to support local, state, tribal and territorial health systems, so that they have the resources needed to combat this public health emergency.
Provide two weeks of paid sick leave and up to three months of family and medical leave for eligible workers and enhance unemployment Insurance. It also supports small businesses by fully reimbursing them for providing leave.
Strengthen nutrition initiatives including SNAP, student meals, seniors' meals and food banks.
More details about the leave provisions are below:
The legislation would allow for two weeks of fully paid time off under an emergency paid sick leave program to self-quarantine, seek diagnosis or preventative care, or receive treatment for COVID-19, as well as two weeks paid leave at two-third pay to care for a family member or child whose school has closed, or if their child care provider is unavailable due to COVID-19. Under emergency paid family leave, employees are entitled to 12 weeks of job protected leave to care for their children in the event of a school closure or their child care provider is unavailable do to COVID-19. The first two weeks are unpaid, but the next 10 weeks would be paid. Employees will receive no less than two-thirds of their usual pay.
The Department of Labor released a Questions & Answers site to provide information on the Families First Coronavirus Response Act: click here.
More Resources: