As a business leader, you are driven to help move your company forward. To do that, you actively seek bold, new ideas and solutions to everyday challenges like talent recruitment, training, and retention. Apprenticeship programs are a proven solution to creating and retaining a pipeline of diverse, specialized talent that allows businesses like yours to succeed today.

Upcoming Event: Advanced Manufacturing Apprenticeship Job Fair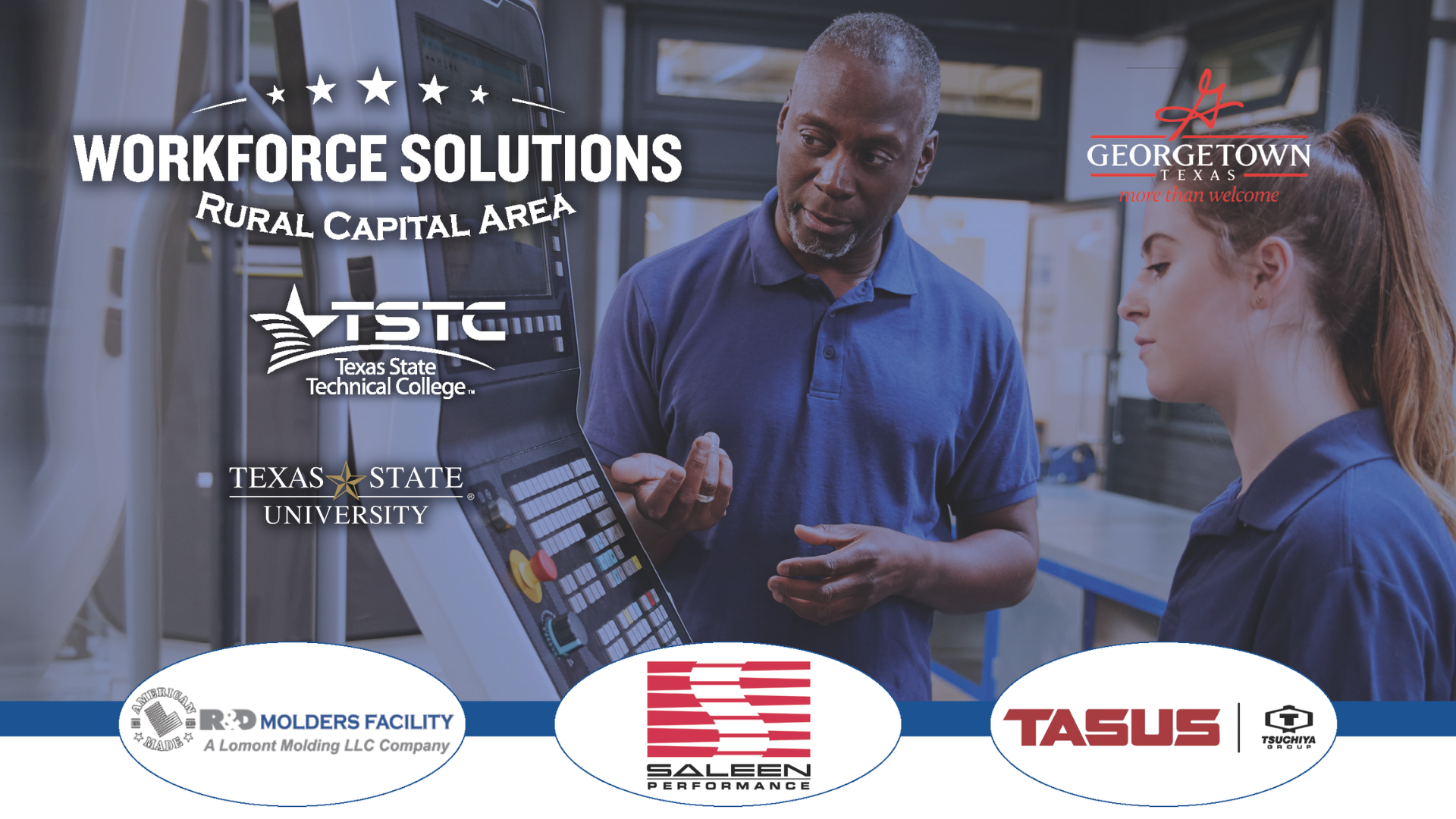 Workforce Solutions Rural Capital Area and the City of Georgetown are hosting an apprenticeship job fair on Thursday, March 30, 2023.
Central Texas companies R&D Molders, Saleen Performance and Tasus are currently hiring for apprenticeship opportunities. So make plans to attend to check out these amazing companies and learn about the benefits they offer. These programs will give you the opportunity to earn and learn at the same time, while growing into a long term career.
The event is from 3 p.m. to 7 p.m. at the Georgetown Library, located at 402 West 8th Street. When you get there, head to the Hewlitt Room on the second floor.
Register to attend the FREE event here.
Local Apprenticeship Opportunities:

Advanced Manufacturing
R&D Molders: https://www.lomont.com/ for Mold Settler
Saleen Performance, Inc: https://apply.saleenperformance.com/
TASUS: https://www.tasus.com/careers
Pre-Apprenticeship Programs
Electrical
Plumbing and Pipefitters
Other
Interested in exploring Apprenticeships to enhance your operations? Contact us at Apprenticeships@ruralcapital.net
What is an Apprenticeship?

Apprenticeship is an industry-driven, high-quality career pathway where employers can develop and prepare their future workforce, and individuals can obtain paid work experience, classroom instruction, and a portable, nationally-recognized credential.
Apprenticeship is an "earn and learn" model that provides workers with income while they learn on the job.
Industry Led – Programs are industry-vetted and approved to ensure alignment with industry standards and that apprentices are trained for highly-skilled, high-demand occupations.
Paid Job – Registered Apprenticeships are jobs! Apprentices earn progressive wage increases as their skills and productivity increase.
Structured On-the-Job Learning/Mentorship – Programs provide structured on-the-job training to prepare for a successful career, which includes instruction from an experienced mentor.
Supplemental Education – Apprentices are provided supplemental classroom education based on the employer's unique training needs to ensure quality and success.
Diversity – Programs are designed to reflect the communities in which they operate through strong non-discrimination, anti-harassment, and recruitment practices to ensure access, equity, and inclusion.
Quality & Safety – Apprentices are afforded worker protections while receiving rigorous training to equip them with the skills they need to succeed and the proper training and supervision they need to be safe.
Credentials – Apprentices earn a portable, nationally-recognized credential within their industry.
What is a Registered Apprenticeship?
Registered Apprenticeship is the term used for apprenticeship programs that have a formal structure in which employers have established learning standards that meet national and state quality expectations. When individuals successfully complete a Registered Apprenticeship program, they receive a national credential that is recognized anywhere in the industry.
What is Pre-Apprenticeship?
A pre-apprenticeship is a program or set of services designed to prepare individuals to enter and succeed in a Registered Apprenticeship program. A pre-apprenticeship program, by definition, has a documented partnership with at least one Registered Apprenticeship program. Quality pre-apprenticeship programs are a starting point toward a successful career path for under-represented job seekers (such as disadvantaged women and men, individuals with disabilities and others) who may not be aware of this approach to obtain good jobs with opportunities for advancement. Pre-apprenticeships help individuals meet the entry requirements for apprenticeship programs and ensure they are prepared to be successful in their apprenticeship.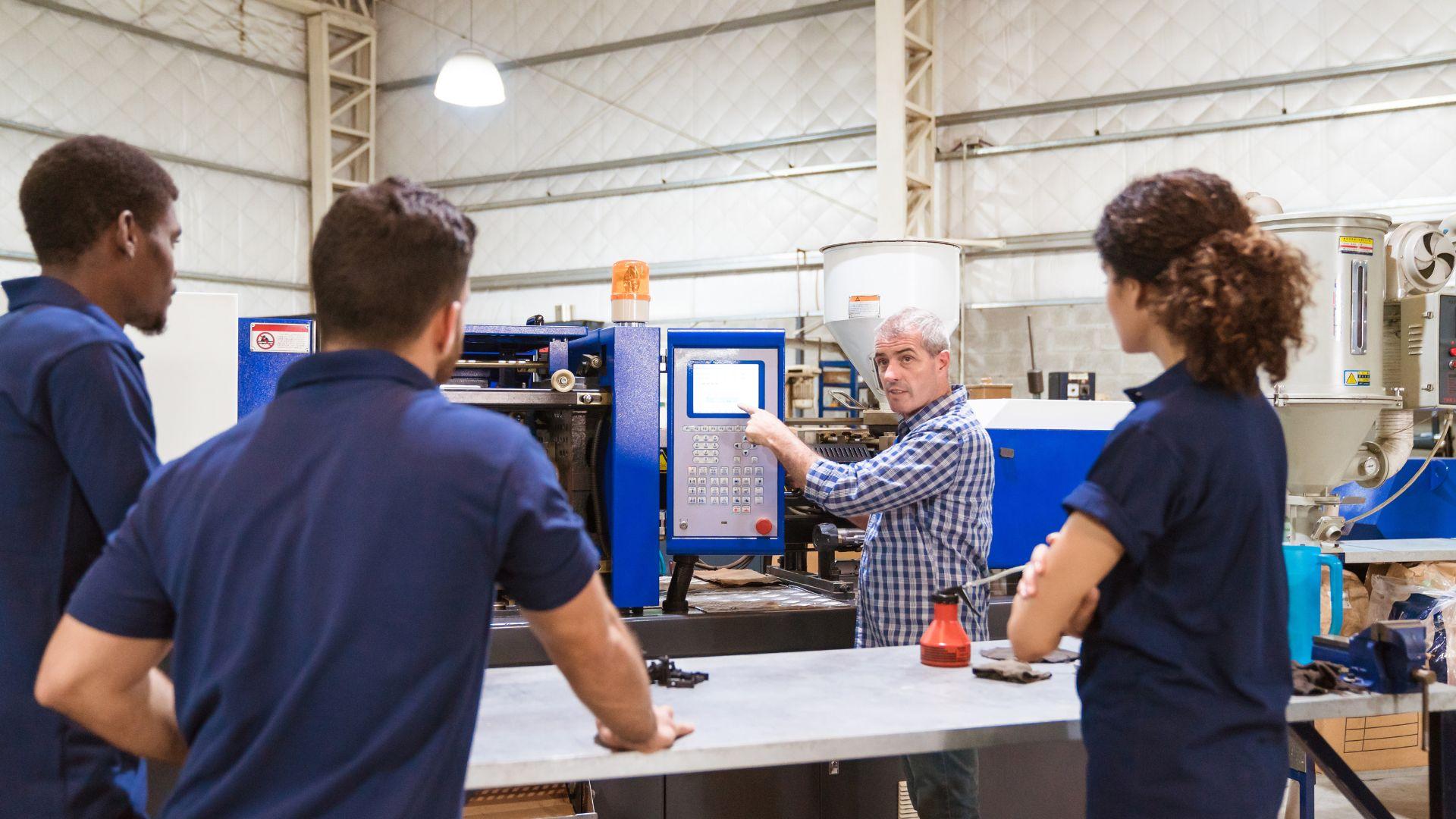 Benefits of Apprenticeship Programs

Apprenticeship programs help both employers and career seekers. For employers, Apprenticeship programs offer the opportunity to:
Recruit and develop a diverse and highly-skilled workforce that helps you grow your business
Improve productivity, profitability, and your bottom line
Reduce turnover, improve loyalty, and retain top talent
Create flexible training options that ensure workers develop the right skills
Vet workers and instill your company's culture
Demonstrate investment in your community
Employers on the Benefits of Apprenticeship
Why Become an Apprentice?

Through an apprenticeship program, you can obtain paid, relevant workplace experience while acquiring the skills and credentials that employer's value. 93% of apprentices who complete an apprenticeship retain employment, with an average annual salary of $77,000.
Apprentices on the Benefits of Apprenticeship
Programs Offered in Multiple Industries

Apprenticeship is a flexible training model that can be customized to meet the needs of businesses across multiple industries.
Some industries with apprenticeship programs include (but are not limited to):
Advanced Manufacturing
Agriculture
Care Economy (including Social Services and Education)
Construction
Cybersecurity
Energy
Financial Services
Healthcare
Hospitality
Information Technology
Public Service
Telecommunications
Transportation
Employers:
How can a Registered Apprenticeship Benefit You?
Job Seekers:

Meet the WSRCA Apprenticeship Team: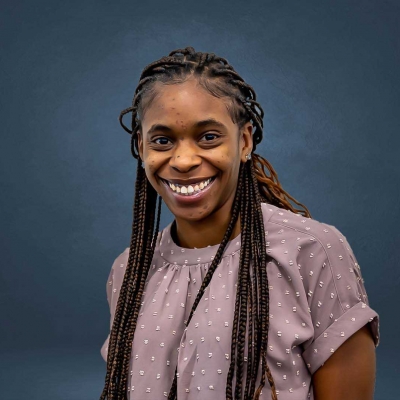 Ebony Collins
Partnership Specialist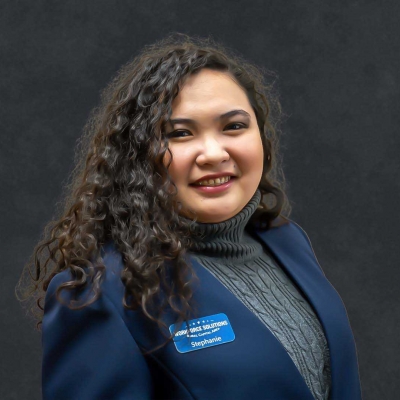 Stephanie Mora
Partnership Specialist