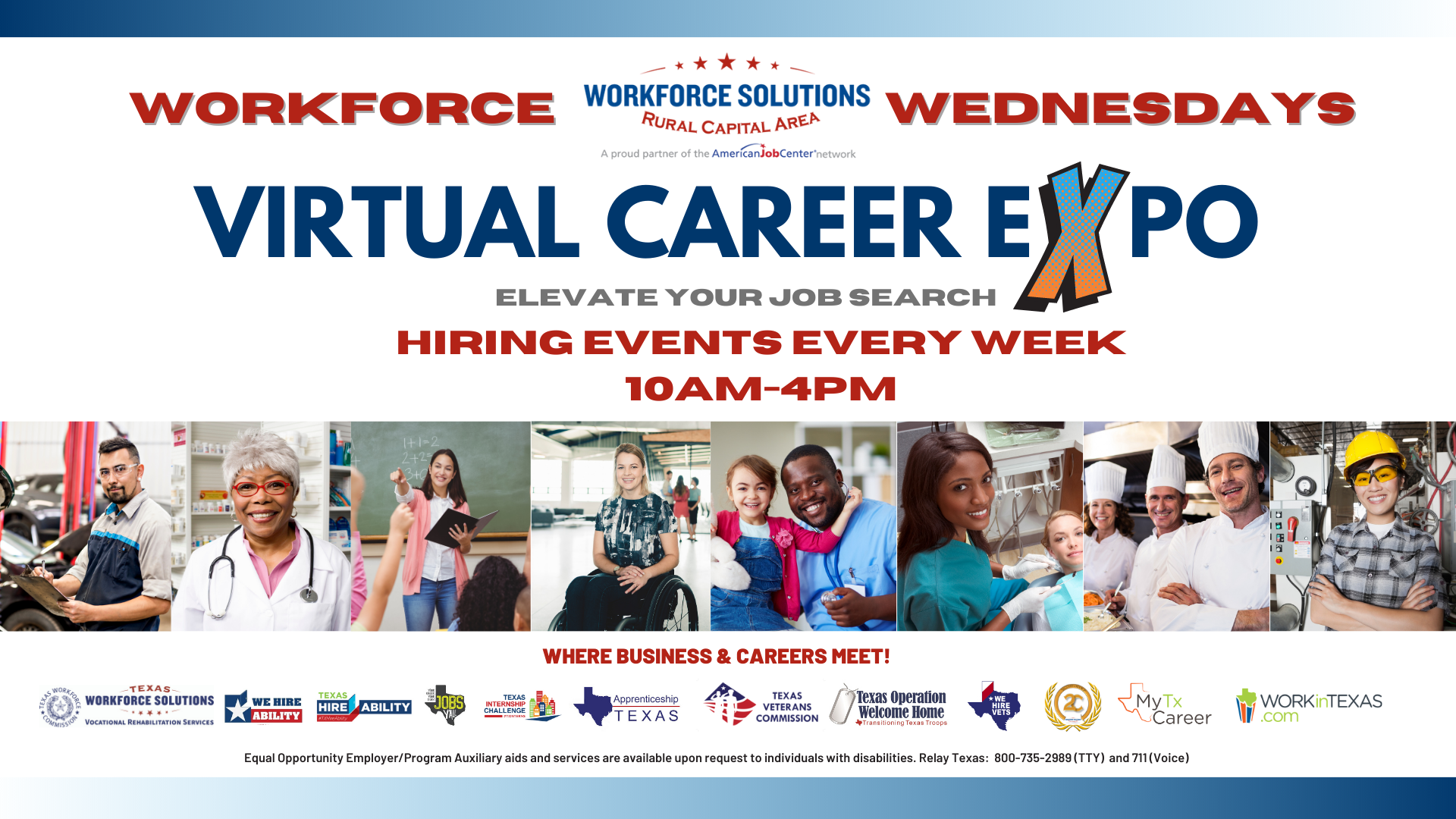 Workforce Solutions Rural Capital Area (WSRCA) has launched a new Workforce Wednesdays Virtual Career Expo campaign within the nine-county Rural Capital Area of central Texas, to connect employers and job seekers at weekly online hiring events.
With a world-class labor force of more than 520,000, and the unemployment rate continuing to decline across the region as employers begin to safely reopen amid COVID-19 concerns, Workforce Wednesdays represent a collective effort among Rural Capital Area communities and industries to empower their workforce through virtual interactive events and continue to help the region compete at a global level.
"We are proud to continue to innovate our services to present new workforce opportunities for local businesses, families, and job seekers," said WSRCA CEO Paul Fletcher. "These are difficult times for our communities, but we'll get through this together. By hosting virtual hiring events each week during Workforce Wednesdays, we are helping our fellow Texans find sustainable careers to support their families, all from the safety and convenience of their mobile device."
Job seekers and employers looking to take part in upcoming hiring events can register here: http://bit.ly/workforcewednesdaysexpo
Save Valuable Time & Chat with Local Employers Hiring Immediately
Apply for Open Positions at All Levels Across Central Texas
Take Part in Live Career-Enhancement Workshops
Explore Upskilling Opportunities with Local Training Centers
Learn More About Local Apprenticeships & Internships
Connect with Talent Development Coaches Ready to Empower You
Log On with Any Desktop, Laptop, or Mobile Device
A Free Hiring Event for Texans of All Abilities, Backgrounds, & Skill Levels
For more information about virtual and in-person services, as well as hiring events, please call us toll-free, at 1-844-344-2780, and begin your job search on www.workintexas.com.