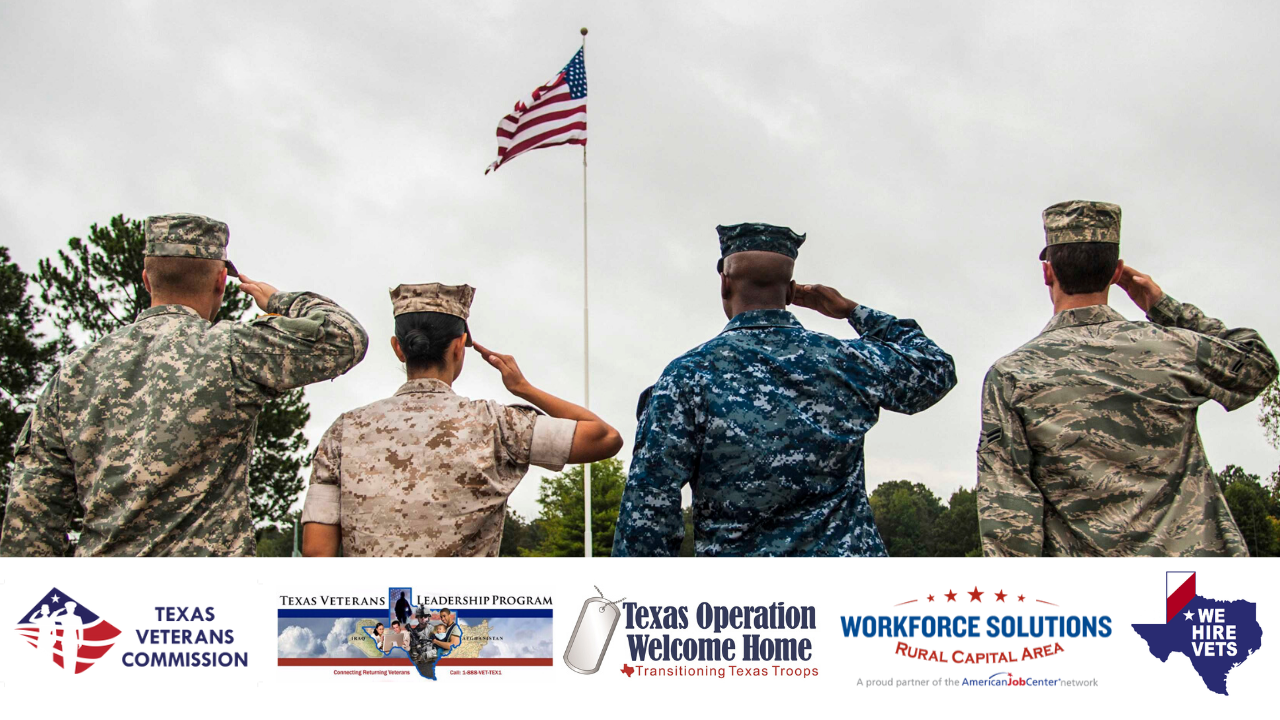 Workforce Solutions Rural Capital Area is a proud "We Hire Vets" employer, committed to serving our nation's military veterans. If you have served in the Armed Forces or are an eligible spouse, we are honored to meet your job search and training needs. Honorably discharged veterans and eligible spouses are afforded priority services in our workforce centers.
As a veteran or eligible spouse, you receive precedence to use resources in our centers, including computers, phones, faxes, and referrals to new job postings. If you require the assistance of staff, you will be served promptly on a priority basis. You will also be granted priority access to training programs for which you are qualified and for which funding exists. Eligible spouses include individuals who are the spouse of a totally disabled veteran, spouses of individuals who while on active duty are currently MIA or forcibly detained and spouses of individuals who died as a result of a service-connected disability.
Our Veterans Resource and Referral Specialists work with the Texas Workforce Commission under a major state initiative called the Texas Veterans Leadership Program (TVLP), which is committed to assisting Operation Iraqi Freedom and Operation Enduring Freedom(OIF/OEF) Veterans. Our career specialists with the Texas Veterans Commission are specifically trained to help veterans of the U.S. Armed Forces, and can help you achieve maximum employment and training opportunities. Our goal together is to connect veterans like yourself with resources that can provide basic needs and/or resources that can help you attain personal and professional goals. We are very proud of the fact that Texas leads the nation in taking care of our veterans.
Visit with our Veterans Resource Coordinators and Veterans Career Advisers for assistance in any of the following areas:
For more information on TVLP, visit the program's website or call (888) VET-TEX1.
Additional Information
Visit the Texas Workforce Commission's Just for Veterans page for helpful information related to your employment needs. On this page, you'll find information about how to match your military experience to civilian occupations, how to get college credit for your military experience, resources to assist you in transitioning to civilian life, and incentives for employers who hire veterans.

The eBenefits site is an excellent way to connect to the U.S. Department of Veterans Affairs. If you've misplaced or lost your DD Form 214, you can register here as "Premium" customer and obtain a copy within 48 hours. You can also apply for pension and education benefits, check on home loans, schedule medical appointments and access other resources.
The Texas Operation Welcome Home campaign provides helpful information for veterans about the benefits of working, living and playing in the great state of Texas, as well as resources to assist recently separated service members who are experiencing challenges in translating their military skills into civilian terms, locating employment, completing two- to four-year college programs or obtaining the appropriate licensure or certifications to compete in the job market. Veterans will also find information about the We Hire Vets program, which recognizes Texas employers for their commitment to hiring veterans. Employers whose workforce is composed of at least 10 percent military veterans are eligible to receive a "We Hire Vets" employer recognition decal to display on their storefront and a digital decal to display on their website.
It is our goal to serve veterans in all of your career-related pursuits. Please let us know how we can assist you.