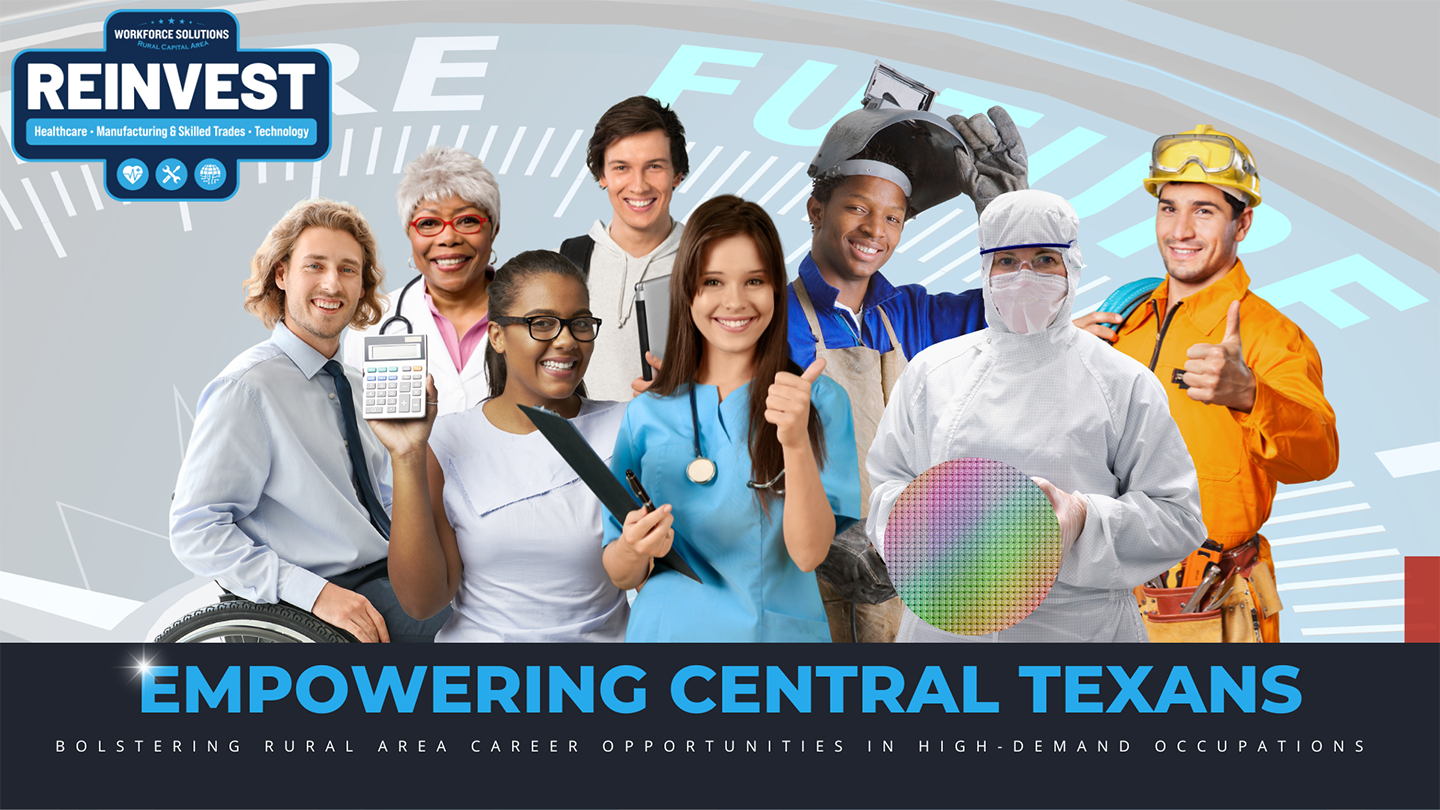 Thank you for inquiring about the Rural Employers Infuse Vital Economic Success in Texas (REINVEST) initiative, and the amazing opportunities it's creating for Central Texas employers and residents.

WHAT IS REINVEST?

Workforce Solutions Rural Capital Area (WSRCA), the nonprofit community partnership providing no-cost recruitment and employment services in the nine-county Rural Capital Area of Central Texas, was awarded a $12,087,373 grant for its new skills development initiative, REINVEST, to bolster workforce opportunities in high-demand occupations in communities within its workforce development area.
WSRCA is one of only 32 industry-led workforce training partnerships across the country to be awarded the prestigious grant by the U.S. Department of Commerce's Economic Development Administration, as part of the $500 million Good Jobs Challenge funded by President Joe Biden's American Rescue Plan.
PROGRAM GOALS

REINVEST will enable six rural counties (Burnet, Blanco, Llano in the west and Bastrop, Lee, Fayette in the east) to generate high-quality jobs for 777 workers across three sector partnerships: Healthcare, Skilled Trades, Finance and Information Technology in collaboration with over 46 employers and employer associations.

The population and demand for services are growing, employers are struggling to hire, and rural workers are struggling to access the quality training and support systems they need to thrive. REINVEST will bridge this gap by linking various resources and stakeholders to transform how these industries recruit, train, and place workers into high-quality jobs.

SECTOR PARTNERSHIPS
Understanding the importance of person-to-person relationships and local community expertise, REINVEST will house the sector partnerships in the separate geographies by partnering with Workforce Network, Inc., and Smithville Workforce Training Center to create industry sector partnerships to address the lack of skilled talent for these growing industries and an insufficiently built out workforce training and support system.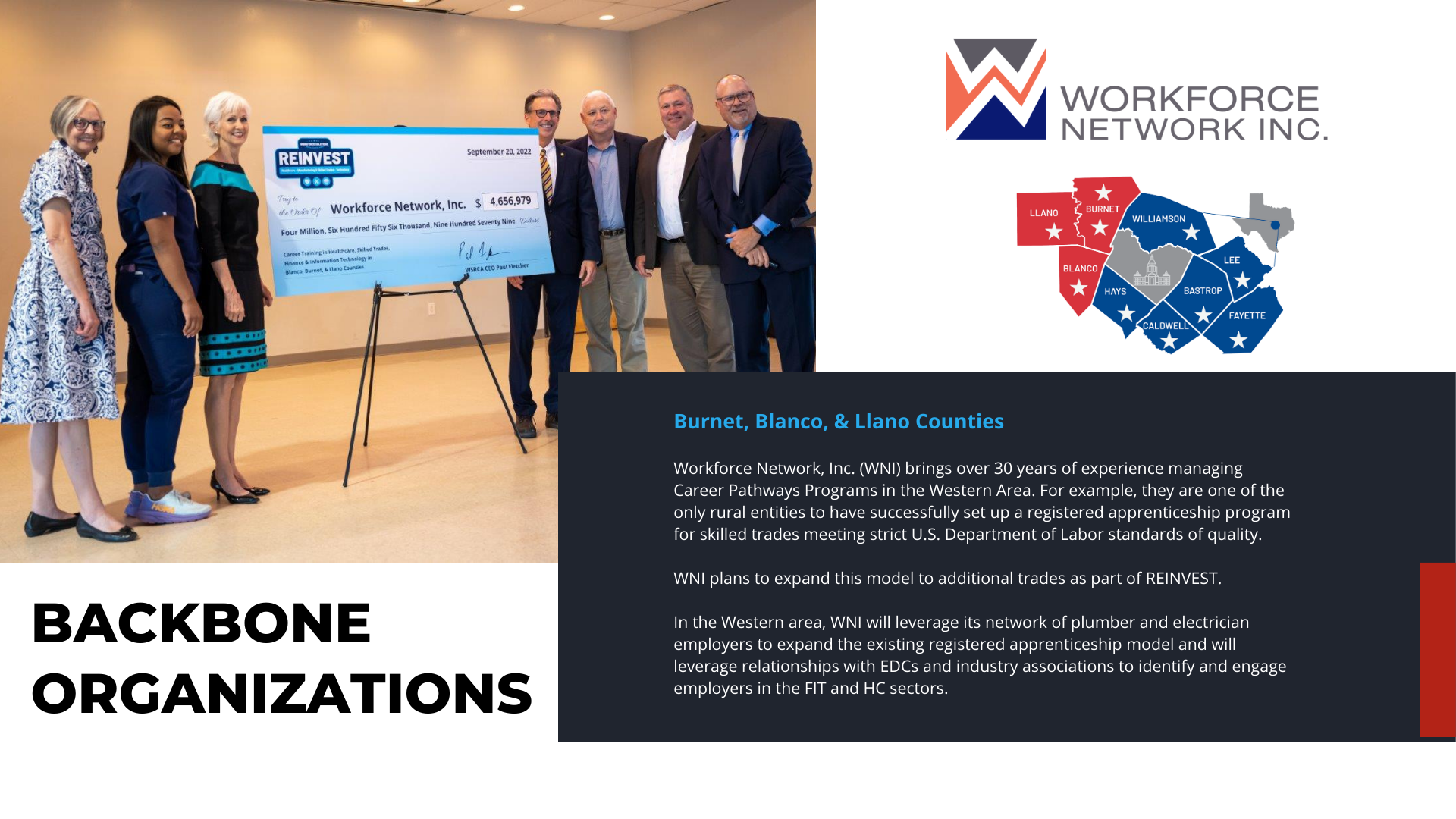 WHY THESE COUNTIES?

REINVEST will bolster the economies of six rural counties which are experiencing labor market gaps, instability, and rising socio-economic disparities compared to the more urban Travis County and counties along the I-35 corridor. This project also represents a significant opportunity to create a national model for inclusive development in rural areas.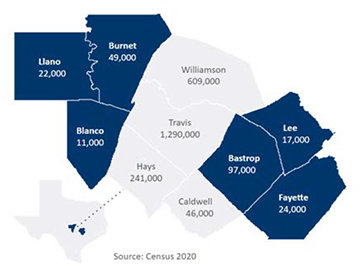 Over the last decade, RCA has seen a rise in retired individuals moving to the area which has increased the demand for ST and HC services while clinics and nursing homes struggle with staff shortages.
Larger employers including Tesla, Samsung, and Amazon are relocating operations to neighboring counties and will need skilled workers in ST and FIT. While these developments carry potential, they risk alienating existing residents who do not possess requisite skills to gain meaningful employment from these businesses.

In underserved communities, education levels are disproportionally lower, poverty rates are disproportionally higher and hundreds face barriers to employment, such as untreated mental health or substance use disorders and experiences with the criminal justice system.
As these workers struggle with the rising costs of living, they are pushed even further from economic opportunity as they are unable to afford the tuition and related costs associated with reskilling or upskilling to meet employer needs.

BREAKING THE CYCLE
Across the RCA, 11% of families live in poverty, compared to 8% in the urban central counties. While the Bureau of Labor Statistics reports that unemployment rates in the RCA are between 4-6%, the American Community Survey 2015-2019 (ACS) indicates that 40-65% of prime working age people in the RCA do not participate in the labor force, suggesting that the actual unemployment is much higher.

The lack of adequate local training opportunities creates a tragic domino effect: younger workers move out of the area in pursuit of training opportunities and do not come back once their training is complete, resulting in loss of human capital and leaving behind an older workforce close to retirement. According to the ACS, the prime working-age population (25-54 years old) in RCA is 33% of the total RCA population and has decreased by 12% in the last decade. In Travis County prime working-age population is 49% of the total and has increased by 3% in the last decade.

These rural counties need workforce training centers and job opportunities located close to home; internet service scholarships to access online programs; transportation for training sessions that require travel for in-person/hands-on components; as well as other wraparound services such as reliable childcare.

REINVEST is an opportunity to disrupt this cycle for Texas RCA by building a regional workforce training system that harnesses the potential, grit, and drive of its residents and connects them to affordable, locally accessible training programs in high-growth, high-quality occupations. Graduates will then possess the requisite skills demanded by local employers, access high-quality jobs and put their time, resources, and energy back into the RCA economy.
TRACK RECORD OF SUCCESS
WSRCA has consistently been recognized as one of the highest-performing workforce boards in Texas. In 2021, WSRCA achieved 95-183% towards WIOA performance measure targets. For the population groups which typically experience more barriers to employment, WSRCA achieved 106-119% of its employment and credential rate targets.

WNI's ST training programs have trained 155 adults in seven high-demand occupations, placed nearly 90% of participants in jobs upon graduation and helped retain over 70% in employment after one year.

In its initial round, SWTC's 2021-22 certified nursing assistant (CNA) program placed 100% of participants in jobs upon graduation and 100% of the students currently enrolled in the program's second round already have job offers. In the past 5 years, SACC has provided continuing education to over 16,000 participants.

ROLE OF EMPLOYERS
REINVEST seeks out employer partners who will go beyond the traditional role in sector partnerships.

Supporting Businesses will engage in discussions to design and enhance training programs, commit to improving job quality and increasing inclusive workplace practices, hire workers that are trained through those programs, build relationships with sector partners, and provide feedback to make the REINVEST program and partnerships stronger.

In addition to what we are asking of supporting businesses, Sector Champions will be advocates in the community for the REINVEST project. They will help engage their peers to become supporting businesses, model best practices in improving job quality and increasing inclusivity and help us create a governance structure for the sustainability of the REINVEST project.

EQUITY STRATEGY
Core to REINVEST's equity strategy is the goal to build economic opportunities for people in rural communities who have historically been underserved by economic development projects and business investments. The project will prioritize training programs and apprenticeships for these populations including immigrants, women, and low-income individuals. REINVEST employer partners include Hill Country Builders Association, Quick Connect Electrical Services, Ascension Seton, Imagine Solutions, CMIT Solutions, among many others.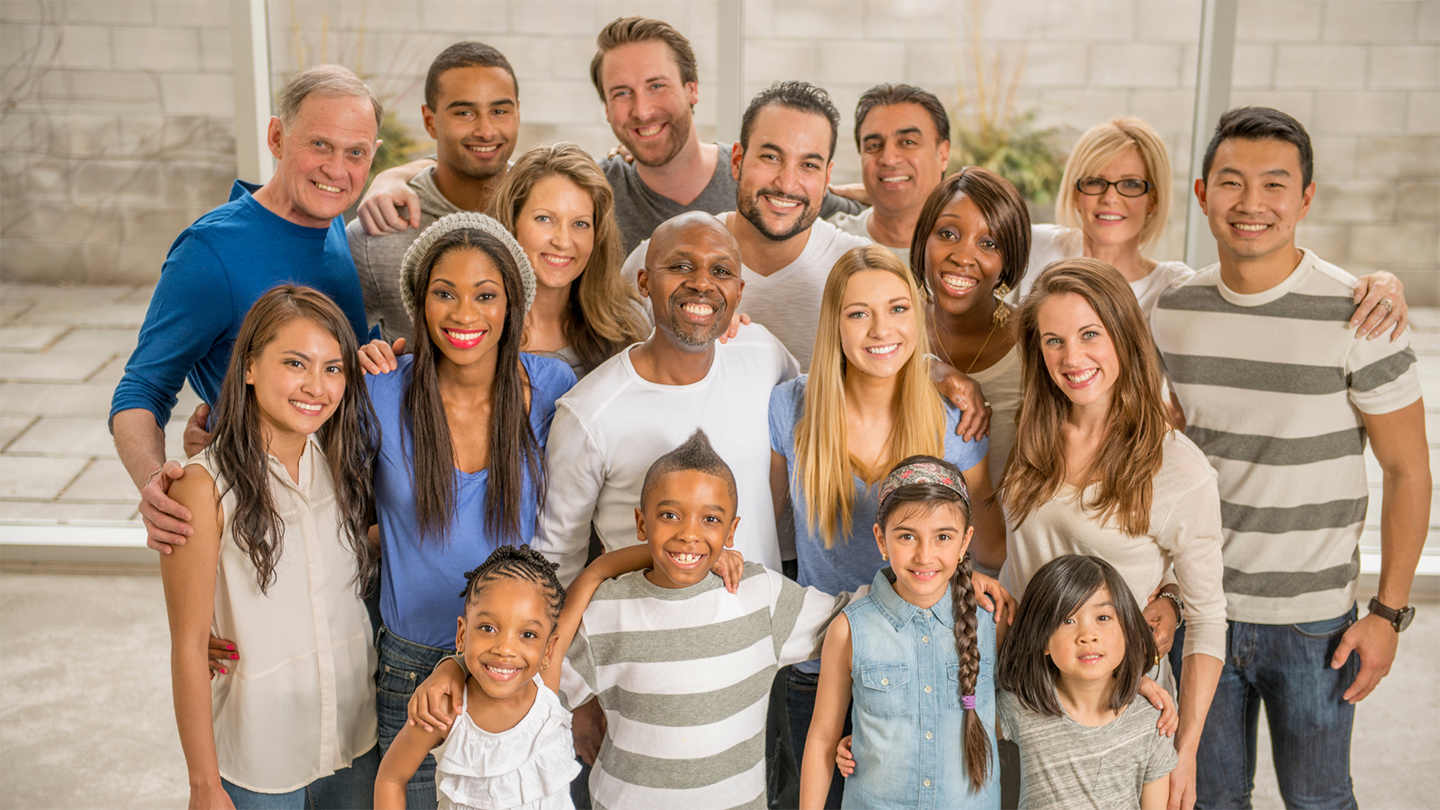 Together with our local partnerships, we're building a world-class workforce for Texas, by helping Texans reach their full potential.
REGISTRATION INFORMATION
If you live in Blanco, Burnet, or Llano County, click to register here.
If you live in Bastrop, Lee, or Fayette County, click here to register.
REINVEST RESOURCES