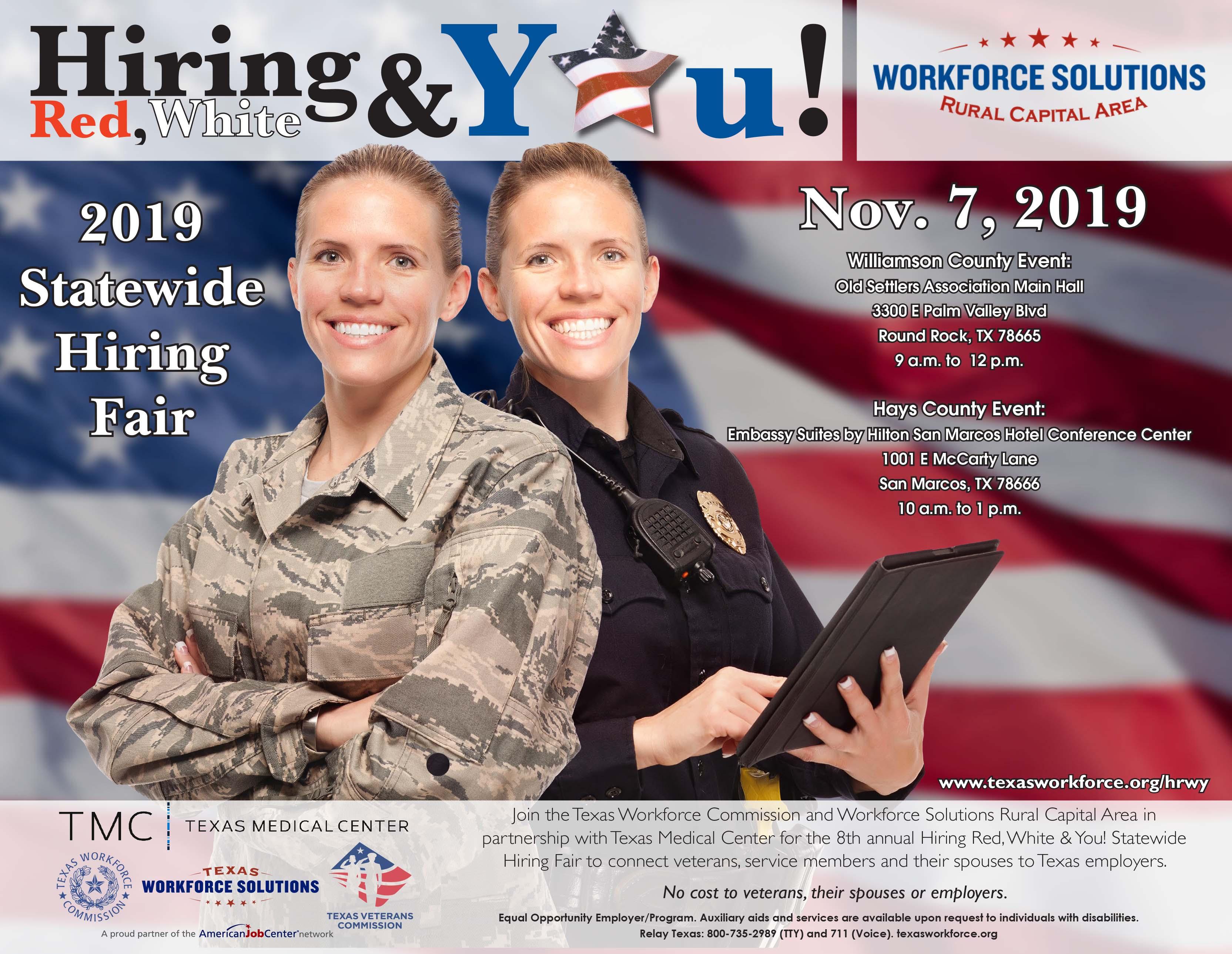 Workforce Solutions Rural Capital Area has partnered with the Texas Workforce Commission and the Texas Veterans Commission to host the 8th Annual Hiring Red, White & You! Job Fair in the Rural Capital Area on November 7, 2019.
Williamson County:
Old Settlers Association Main Hall
3300 E Palm Valley Blvd
Round Rock, TX 78665
9 a.m. to 12 p.m.
View Map
Hays County:
Embassy Suites by Hilton San Marcos Hotel Conference Center
1001 E McCarty Lane
San Marcos, TX 78666
10 a.m. to 1 p.m.
View Map

The statewide Hiring Red, White & You! hiring event connects Texas veterans and their spouses with Texas employers that value the experience, discipline, and other exceptional qualities inherent in a military background.

This event is free for participating employers and job seekers.
Employers

Registrations for Rural Capital Area employers are still being accepted for the Williamson County hiring event. Contact Business Services Consultant Jesus Guerra or click to register today.
Please contact Business Services Consultant Ted Groholske if you have any questions about taking part in the Hays County hiring event.
Please note: This job fair is dedicated to putting our veterans back to work. Only employers with job openings/positions posted in WorkInTexas.com prior to the event will be allowed to participate. All applicable job openings/positions must also be located in the nine-county Rural Capital Area. Absolutely no selling of products or services (training opportunities) will be allowed. Companies not following these guidelines may lose their reservations.
Veterans Service Organizations and Training Providers
Schools, training institutions, and nonprofits: please contact us at communications@ruralcapital.net to register to attend.

We will provide a resource area for job seekers interested in learning more about training opportunities and additional services available to veterans and their families in the region.