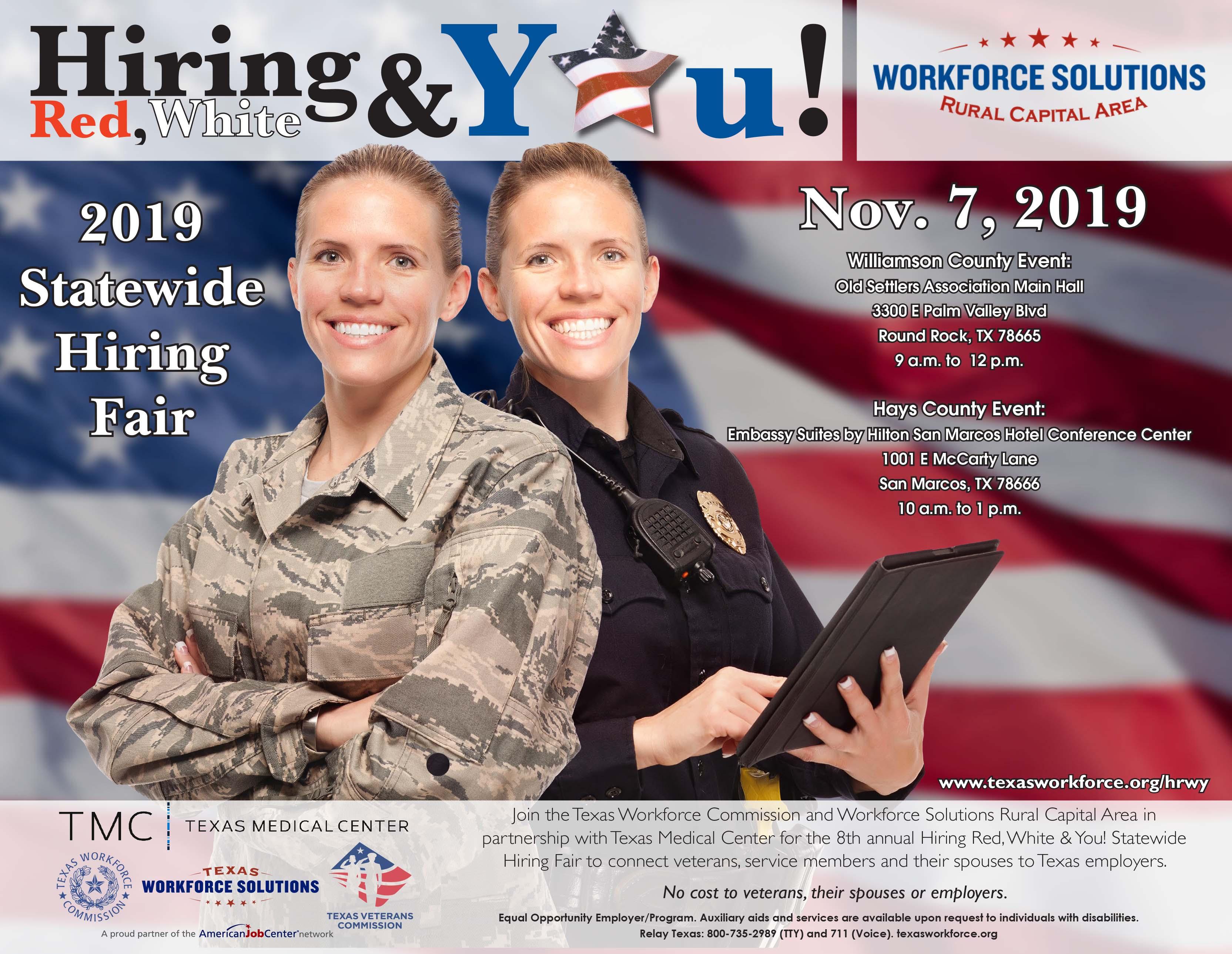 Workforce Solutions Rural Capital Area has partnered with the Texas Workforce Commission and the Texas Veterans Commission to host the 8th Annual Hiring Red, White & You! Job Fair in the Rural Capital Area on November 7, 2019.
Williamson County:
Old Settlers Association Main Hall
3300 E Palm Valley Blvd
Round Rock, TX 78665
9 a.m. to 12 p.m. (Last hour of the event is open to the public)
View Map
Hays County:
Embassy Suites by Hilton San Marcos Hotel Conference Center
1001 E McCarty Lane
San Marcos, TX 78666
10 a.m. to 1 p.m. (Last hour of the event is open to the public)
View Map

The statewide Hiring Red, White & You! hiring event connects Texas veterans and their spouses with Texas employers that value the experience, discipline, and other exceptional qualities inherent in a military background.

This event is free for participating employers and veterans.

Hiring Red, White & You! is a joint initiative supported by all 28 Texas Workforce Solutions development boards, the
Texas Workforce Commission, the Office of the Governor, the Texas Medical Center and the Texas Veterans Commission.

Over the past seven years, Hiring Red, White & You! has connected more than 84,153 job seekers statewide, including 35,485 veterans and 48,668 spouses, to 14,420 employers and over 2,027 same-day hires.

There are nearly 1.7 million veterans throughout Texas, of which 967,000 are working or actively seeking work, according to estimates from the Bureau of Labor Statistics. More than 79,500 of those veterans call the Rural Capital Area home. By hiring more veteran and spouse candidates, employers can reduce turnover, maintain a more stable workforce over time, and may be eligible to earn up to $9,600 in federal tax credits through the Work Opportunity Tax Credit program.