In Celebration of National Disability Employment Awareness Month, Texas Workforce Solutions-Vocational Rehabilitation Services and Workforce Solutions Rural Capital Area to Hold Weekly Seminars for Employers at Round Rock Career Center
Sep 24, 2019
Workforce Solutions Rural Capital Area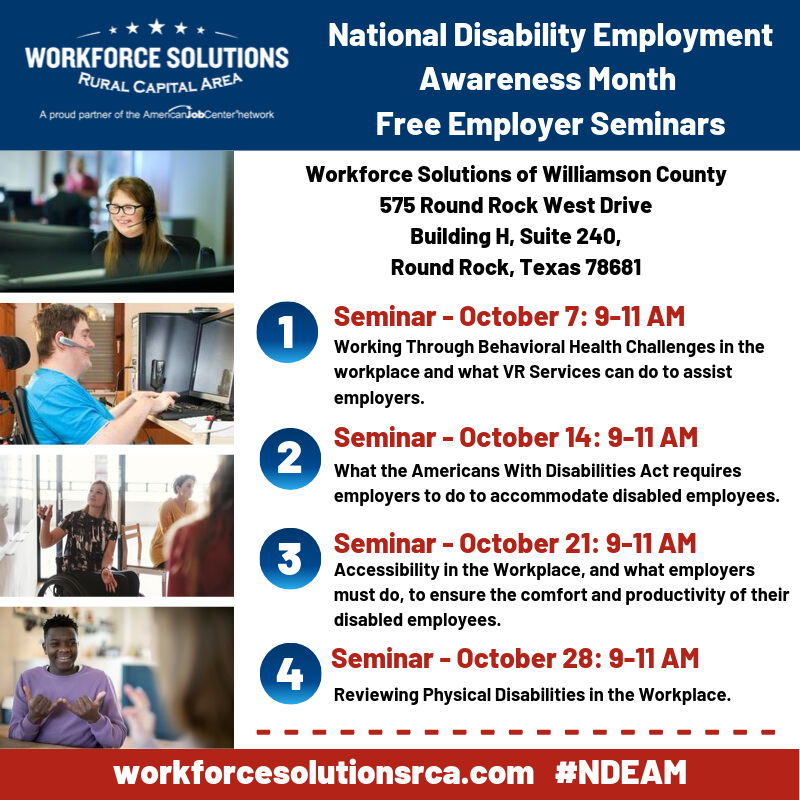 ROUND ROCK, Texas ⎯ Texas Workforce Solutions-Vocational Rehabilitation Services (VR) and Workforce Solutions Rural Capital Area (WSRCA) are celebrating National Disability Employment Awareness Month (NDEAM) this October by holding free weekly seminars for employers at the Workforce Solutions of Williamson County career center in Round Rock. The NDEAM seminars will be held on Mondays throughout October from 9 a.m. to 11 a.m., to help employers explore opportunities to hire, retain and promote people with disabilities. Refreshments will be served.

"One out of every five Americans will face a physical or mental disability at least once in their lives," said Robert Alexander, Vocational Rehabilitation Manager. "This means as an employer, approximately 20 percent of your staff either have or will have a disability effecting their work life. These seminars will address key issues facing employers today and provide real world solutions to these types of workplace challenges."
"We are very excited about offering this first of its kind series at our Round Rock facility and delighted to have our new VR Services team join us," said Carl Braun, WSRCA Business Solutions Manager for the nine-county Rural Capital area. "We are holding a ribbon cutting ceremony for our VR Services co-location on September 30, at 1:30 p.m., to kick off the month. The public is welcome to attend. Various local and state dignitaries will take part in the ceremony including the Texas Workforce Commission (TWC), and Cheryl Fuller, Director of the Vocational Rehabilitation Division. The ceremony will be followed by a free workshop for employers on utilizing VR Services, as well as the new WorkInTexas.com.
Workforce Solutions of Williamson County is located at 575 Round Rock West Drive, Building H, Suite 240, Round Rock, Texas 78681.
Texas Workforce Solutions is comprised of the Texas Workforce Commission and 28 local workforce development boards in partnership with Texas Workforce Solutions-Vocational Rehabilitation Services, as well as other service providing partners.

Texas Workforce Solutions works with employers, economic development organizations and educators across the state to identify the needs of employers and equip them with a well-trained workforce; and with job seekers, including individuals with disabilities, to provide customized employment and career services.
Workforce Solutions Rural Capital Area is a nonprofit community partnership providing no cost recruitment, employment services and child care assistance, to businesses and job seekers in the Rural Capital Area of central Texas. This nine-county region includes Bastrop; Blanco; Burnet; Caldwell; Fayette; Hays; Lee; Llano; and Williamson counties. For more details on WSRCA, and the services it offers, visit www.workforcesolutionsrca.com.