WSRCA Announces Board Staff Promotions, New Team Members to Bolster Workforce Development Efforts in Central Texas
Feb 25, 2022
Workforce Solutions Rural Capital Area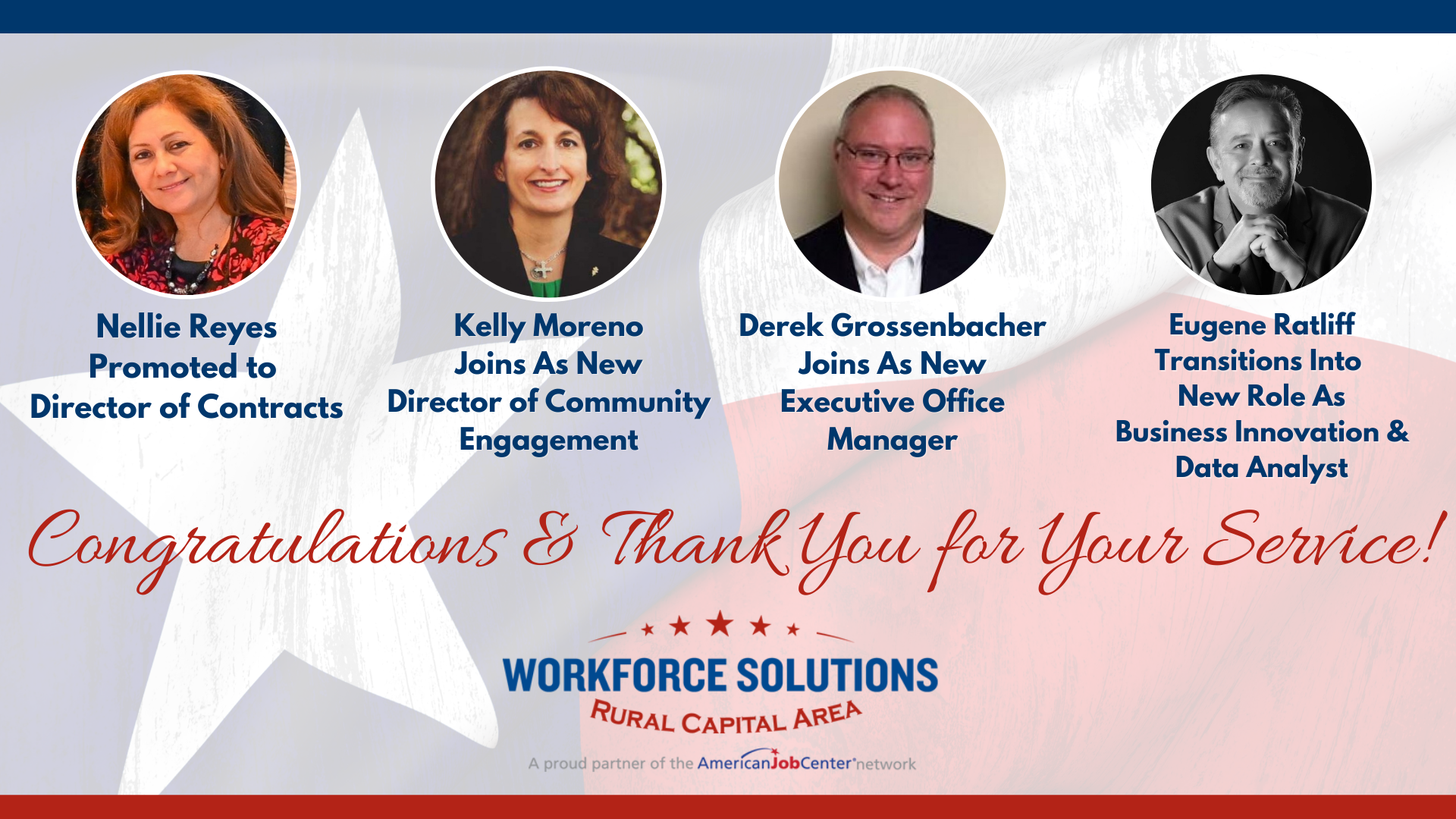 CEDAR PARK, Texas ⎯ Workforce Solutions Rural Capital Area (WSRCA), the nonprofit community partnership delivering innovative and sustainable workforce development solutions to empower the nine-county Rural Capital Area of Central Texas, announced the promotion of Nellie Reyes to the position of Director of Contracts, as well as the addition of Kelly Moreno as its new Director of Community Engagement, and Derek Grossenbacher as its new Executive Office Manager.

"The strength of our organization stems from the experience, skills, and talents of our teams, working in collaboration with our Board of Directors and partners to deliver customized workforce solutions for Central Texans," said WSRCA CEO Paul Fletcher. "We're proud to create opportunities for current team members to grow their expertise in new leadership roles and to welcome new colleagues with a passion for innovation and a commitment to empowering our communities."
As the WSRCA Board's Director of Contracts, Reyes will plan, organize, and conduct contract administration and procurement activities to ensure WSRCA is responsive to program needs and requirements and ensure compliance with statutory and regulatory requirements. Reyes previously held the position of Contract Manager with WSRCA, after management roles with Texas Star Alliance, the Texas Education Agency, and the Texas Workforce Commission. She will be taking over the role as contracts director from the Board's former Chief Contracts Officer, Jenna Akridge, who retired from the organization after 34 years of service to the community.
As the WSRCA Board's Director of Community Engagement, Moreno will develop, plan and implement all aspects of community engagement and strategic planning for WSRCA and oversee all efforts to engage key business clusters. Moreno joins the WSRCA executive team after leadership roles in marketing and community relations with Childcare Network, Inc., Aramark K12, and the Round Rock Independent School District's Parent-Teacher Association. Moreno takes over the role as community engagement director from the Board's former Chief Strategy Officer, Dr. Cara Di-Mattina Ryan, who left the organization in late 2021.
As the WSRCA Board's Executive Office Manager, Grossenbacher will provide support to the Chief Executive Officer, perform Human Resources functions for the organization, and serve as Safety Officer for WSRCA. Grossenbacher rejoins the WSRCA team after departing in 2017 to oversee hiring at Sonic Healthcare, after serving 17 years as the Human Resources Manager for the Board's workforce contractor, Equus Workforce Services, based out of the Workforce Solutions of Williamson County Office in Round Rock. He will be taking over the role from former Executive Office Manager Gina Hyde, who retired from the organization after 23 years of service to the community.
Eugene Ratliff, the WSRCA Board's Planning and Projects Specialist, has also transitioned into a new role as the organization's Business Innovation and Data Analyst. Ratliff will support the organization in meeting its strategic priorities, driving transformation, and realizing its purpose and promise. He will provide specialized expertise, ongoing support, "real-time" solutions, and analysis in all aspects of business and operational functions. This new position will contribute to the development of timelines and milestones, prepare progress reports, map processes, identify improvements, resolve risks and issues and collaborate with stakeholders to identify, develop, implement and monitor the effectiveness of projects.
Workforce Solutions Rural Capital Area is a nonprofit community partnership providing no-cost recruitment, employment services, and childcare assistance to businesses, employers, and job seekers in the Rural Capital Area of Central Texas. This nine-county region includes Bastrop, Blanco, Burnet, Caldwell, Fayette, Hays, Lee, Llano, and Williamson counties. For more details on WSRCA and the services it offers, visit www.workforcesolutionsrca.com.