Workforce Solutions Rural Capital Area Announces New Career & Education Mascot, RC, the Future Ready Fox, and Launches the PACK Campaign to Empower Youth
Nov 23, 2022
Workforce Solutions Rural Capital Area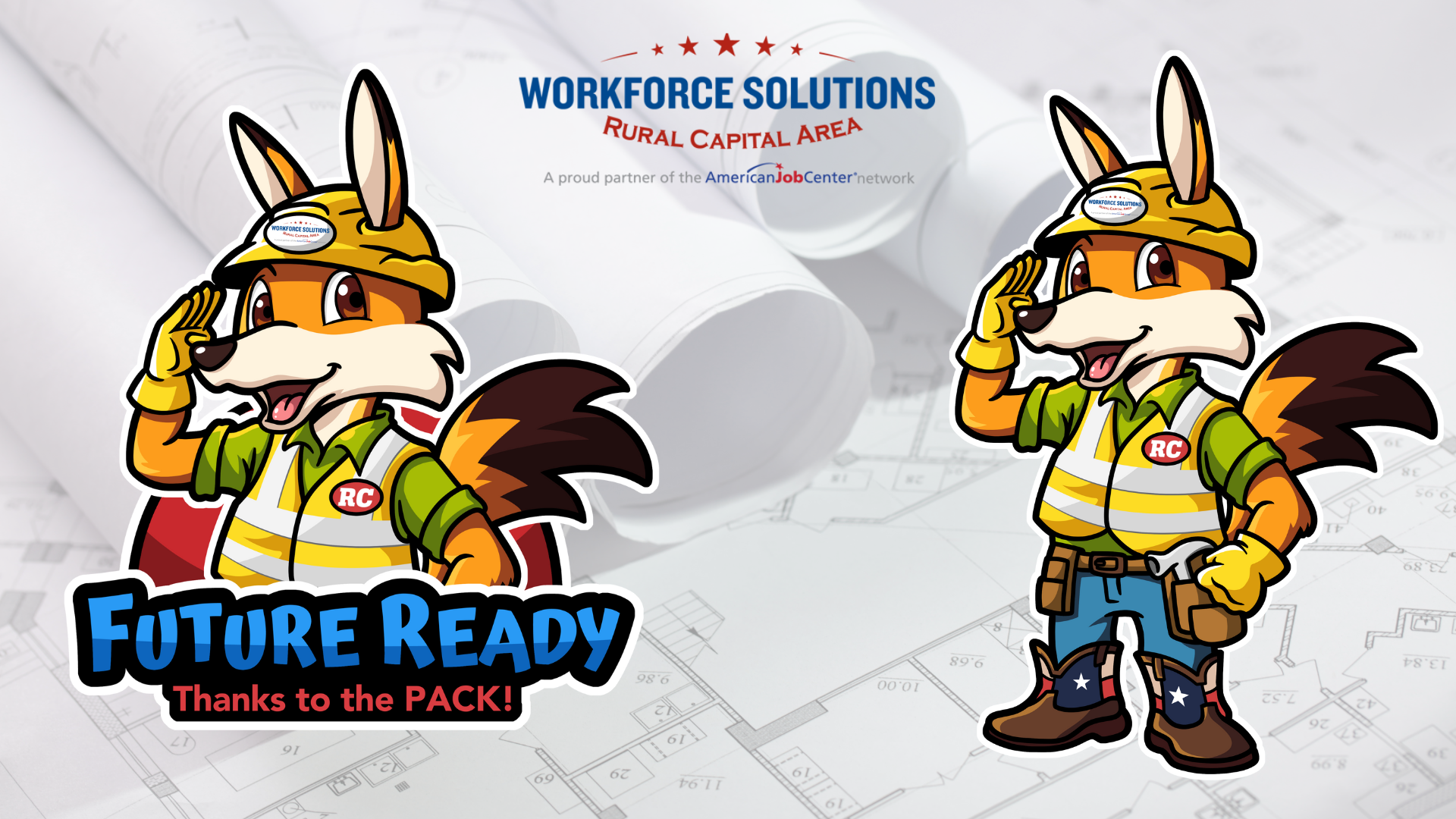 CEDAR PARK, Texas ⎯ Workforce Solutions Rural Capital Area (WSRCA) today announced a new career and education mascot and the launch of an outreach campaign to help educate and inspire youth in Central Texas to prepare for occupations in local industries. RC, the Future Ready Fox, will serve as an ambassador for learning about sustainable careers available in the nine-county Rural Capital Area and bolster awareness of the new campaign, Preparing Adolescents with Career Knowledge (PACK). This new outreach effort will align WSRCA career exploration resources and messaging to empower in-school and out-of-school youth with information about educational opportunities, local labor market demand, and occupational tools to help them make sound workforce decisions that lead to marketable skills and a sustainable career in Texas.

"RC symbolizes the adventure of developing critical workforce skills to hunt for a new career with support from the PACK," said WSRCA CEO Paul Fletcher. "Red Fox sightings occur regularly outside of our workforce centers, and it's always a wonderful reminder of the beauty of our state. We're excited about this fun campaign because it will help generate awareness of our local wildlife and assist youth across the region with customized resources to bolster understanding of career exploration and target occupation opportunities, as well as the benefits of transitioning successfully into the local workforce."
The PACK will showcase training pathways to careers in local high-demand industries by highlighting the WSRCA Skill-Based Career Progression Lattices and the certification routes available from classrooms to careers. The key to the campaign is awareness of the transition process from childhood to adulthood, and will reinforce the enhanced lifestyle, independence, and gratification experienced through meaningful work, which helps support one's family and community.
The WSRCA Youth Services PACK Team is comprised of WSRCA Workforce Career and Education Outreach Specialists who work with each of the 36 school districts in the Rural Capital Area to provide virtual and in-class presentations and services to enhance career readiness preparation by students, as well as WSRCA Workforce Innovation and Opportunity Act (WIOA) Youth Specialists who assist motivated young adults ages 16-24, who have barriers and challenges to workforce success. The team coaches youth in setting and achieving goals, completing their General Educational Development (GED) test to earn a State of Texas Certificate of High School Equivalency, reviewing post-secondary education or vocational training opportunities, and job search assistance.
RC will be included in WSRCA collateral and messaging and make in-person appearances at schools and community events to raise awareness of the need to be Future Ready by utilizing resources available through WSRCA. Organizations interested in arranging for an appearance by RC and the WSRCA Youth Services PACK Team should contact communications@ruralcapital.net. Look for RC, and the PACK Team, at a career exploration event near you.
###
Workforce Solutions Rural Capital Area is a nonprofit community partnership providing no-cost recruitment, employment services, and childcare assistance to businesses, employers, and job seekers in the Rural Capital Area of Central Texas. This nine-county region includes Bastrop, Blanco, Burnet, Caldwell, Fayette, Hays, Lee, Llano, and Williamson counties. For more details on WSRCA and the services it offers, visit www.workforcesolutionsrca.com.