Workforce Solutions Rural Capital Area CEO Issues Statement on Samsung's Choice of Taylor for New $17 Billion Manufacturing Facility
Nov 23, 2021
Workforce Solutions Rural Capital Area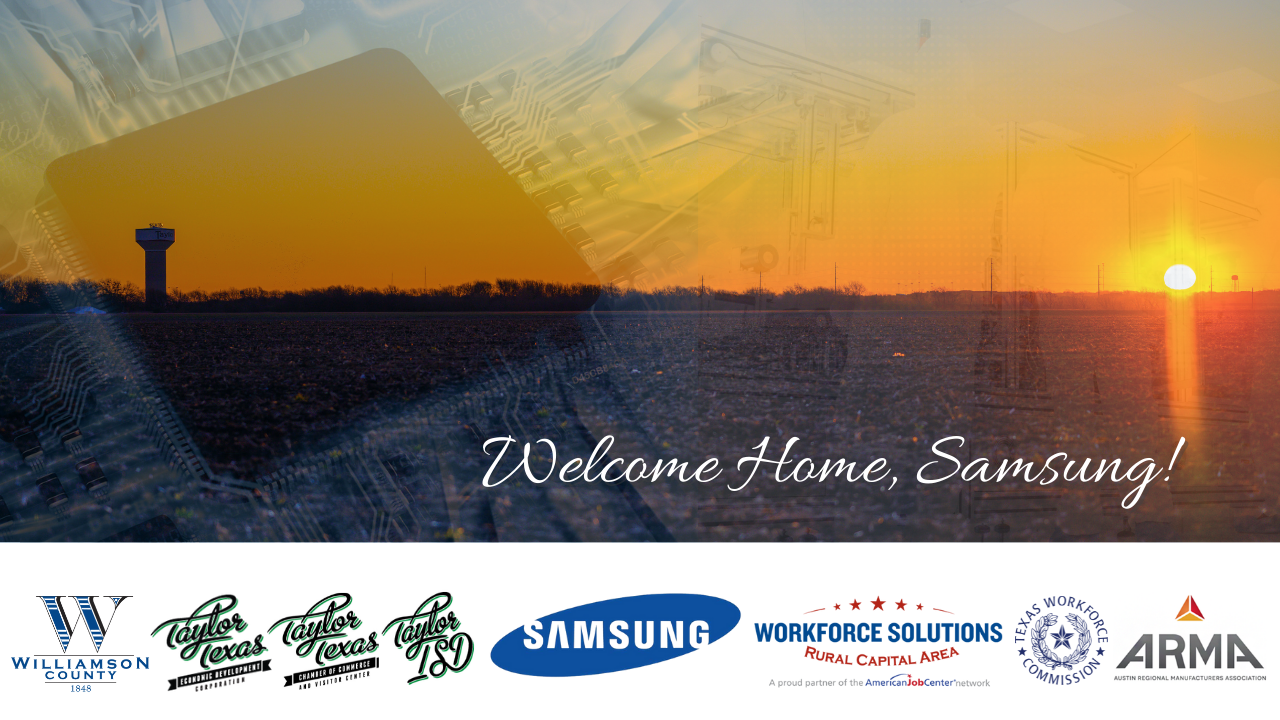 CEDAR PARK, Texas ⎯ Workforce Solutions Rural Capital Area Chief Executive Officer Paul Fletcher today issued a statement in support of Samsung's decision to expand its advanced chip-making operations in Central Texas with a new $17 billion semiconductor manufacturing facility in the Rural Capital Area community of Taylor, which was announced today by Governor Greg Abbott.

The new manufacturing facility will produce advanced logic chips that will power next-generation devices for applications such as mobile, 5G, high-performance computing (HPC), and artificial intelligence (AI).
The governor shared that the project will create over 2,000 high-tech jobs, thousands of indirect jobs, and a minimum of 6,500 construction jobs. Construction will begin in early 2022 with a target of production start in the second half of 2024. The $17 billion in capital investments includes buildings, property improvements, machinery, and equipment.
Fletcher, a thought leader and advocate for the expansion of advanced manufacturing workforce opportunities in Central Texas, issued the following statement:
"Workforce Solutions Rural Capital Area is proud to join with Governor Greg Abbott, and our community and industry partners to commend Samsung on selecting Taylor as the home of its new semiconductor manufacturing facility in Central Texas. In doing so, Samsung is bolstering access to sustainable career opportunities in advanced manufacturing for our talented local workforce, and greatly enhancing the most significant portion of the gross domestic product in Williamson County, which exceeded $6.3 billion in 2020.
"We celebrate the investments manufacturers such as Samsung make in our communities. Our team of Business Solutions Consultants and Talent Development Specialists stand ready to support Samsung's workforce needs with expanded training and certification opportunities, child care assistance, as well as an enhanced set of Interactive Skills-Based Career Progression Lattices to empower Central Texans to upskill for manufacturing careers in high demand.
"Our Board recognizes the importance of a thriving manufacturing sector in Central Texas and works daily to fuel economic growth and build a sustainable future for our citizens. The prosperity of our communities depends on the education and vocational opportunities that align with our manufacturers' skilled labor needs, as well as continued development of advanced manufacturing capabilities and processes. We are committed to strengthening and developing worker competencies through career and technology education and building a robust workforce pipeline for companies such as Samsung, who are fueling the economic recovery of our great state."
Workforce Solutions Rural Capital Area is a nonprofit community partnership providing no-cost recruitment, employment services, and childcare assistance to businesses, employers, and job seekers in the Rural Capital Area of Central Texas. This nine-county region includes Bastrop, Blanco, Burnet, Caldwell, Fayette, Hays, Lee, Llano, and Williamson counties. For more details on WSRCA and the services it offers, visit www.workforcesolutionsrca.com.