Join Us on October 3: WSRCA to Celebrate Grand Opening of Workforce Solutions of Williamson County - Taylor Office at Temple College
Sep 27, 2023
Workforce Solutions Rural Capital Area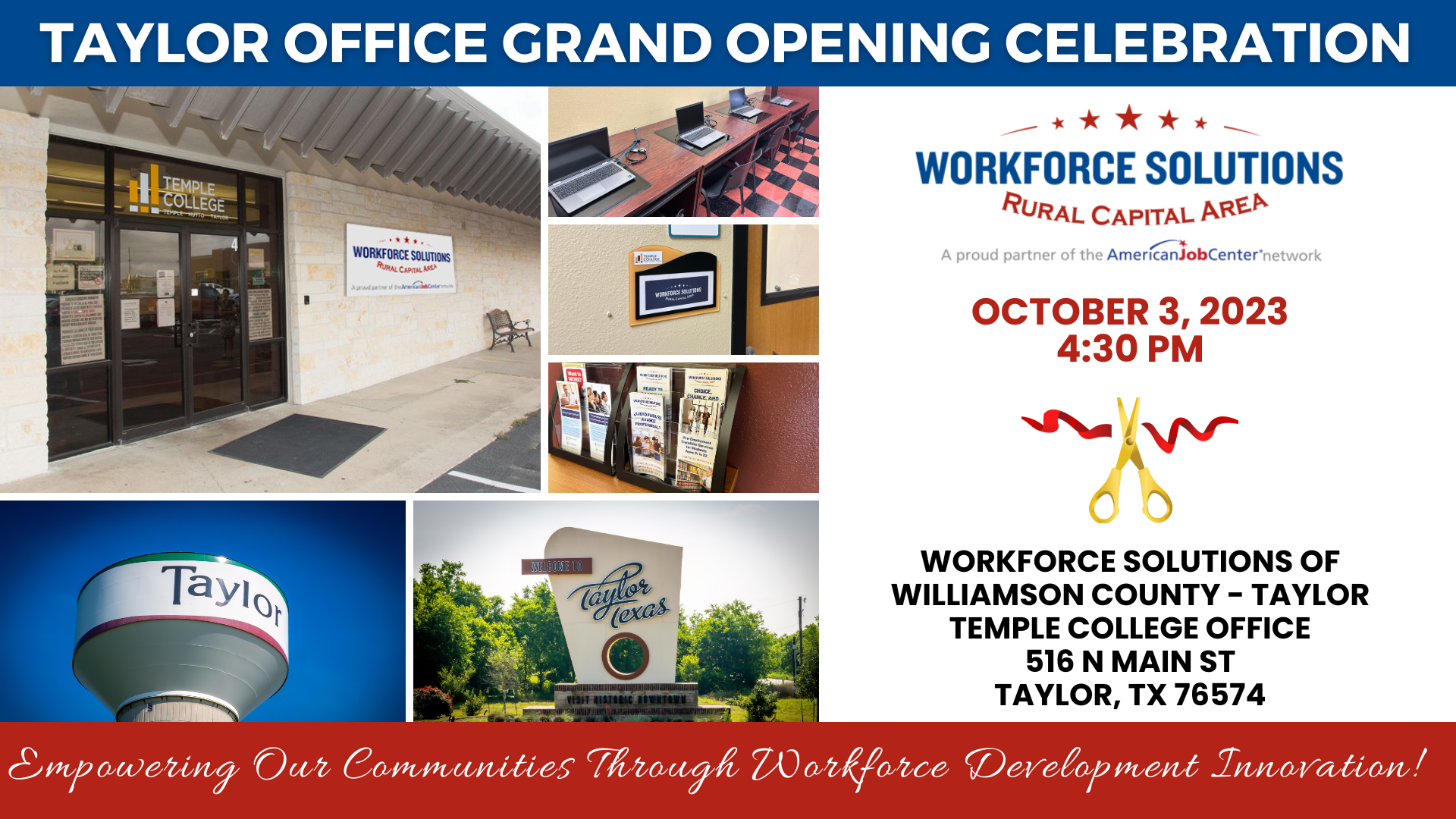 CEDAR PARK, Texas ⎯ Workforce Solutions Rural Capital Area (WSRCA), the facilitator of workforce development services for the nine-county Rural Capital Area of Central Texas, is thrilled to extend a warm invitation to the public for a special ribbon-cutting event commemorating the opening of the new Workforce Solutions of Williamson County - Taylor Office at Temple College.

This event, planned for Tuesday, October 3, at 4:30 p.m., promises an exciting opportunity to explore the state-of-the-art workforce center and Temple College facilities while connecting with the expert local team providing customized workforce solutions and access to comprehensive statewide services conveniently located under one roof.
"Through Taylor's economic innovation and Samsung Austin Semiconductor's investments, Central Texas leads in semiconductor technology, a cornerstone of Texas' thriving economy," stated Paul Fletcher, Chief Executive Officer of WSRCA. "In collaboration with our partners, we're thrilled to open this new workforce center at Temple College in Taylor, unlocking even more potential in this growing community. This milestone signifies not just a cutting-edge center, but a commitment to greater connection, empowerment, and opportunity in eastern Williamson County. From career services to tailored training, we're here for job seekers and employers, bridging gaps and fortifying our workforce. Join us in this transformative journey, uplifting lives and forging a prosperous future. Our deepest gratitude to Samsung Austin Semiconductor and our Board Member Michele Glaze for their steadfast support."
Chief Operating Officer of WSRCA, Diane Tackett, emphasized, "Central Texas is leading a manufacturing resurgence in the United States, reliant on skilled local labor for sustained growth. By integrating our no-cost workforce development services and early-learning child care tuition support, we're not just cultivating a skilled workforce for Taylor but also nurturing a brighter future for our entire community. It's imperative to address the middle-skills gap by expanding career coaching and upskilling opportunities in rural areas. This step is pivotal in ensuring our communities' continued growth and prosperity."
"Temple College is proud to partner with Workforce Solutions Rural Capital Area. We share office space within the Temple College Center in Taylor and collaborate on community resources. This close relationship provides Taylor community members and surrounding rural communities the advantage of securing education, skills training, and job placement all in one site to meet current and future workforce opportunities in this growing region. This is only the beginning of many opportunities to come," said Dr. Christy Ponce, President of Temple College.
WSRCA is grateful to Samsung Austin Semiconductor for their generous financial support of regional workforce development initiatives. Their contribution was pivotal in bringing this vital community resource in Taylor to fruition. Together, we're forging a stronger, more prosperous future for Taylor and its residents.
Event Details:
Date: October 3, 2023
Time: 4:30 p.m.
Location: Temple College Taylor Campus, 516 N. Main St., Taylor, TX 76574
Join us for this momentous occasion as we celebrate a new chapter in empowering Taylor employers and job seekers with the tools they need to thrive in today's dynamic workforce.
More on WSRCA Workforce Center Services:
A Texas Workforce Solutions Workforce Center is a resource hub operated by the Texas Workforce Commission (TWC) in partnership with local workforce development boards. These centers provide a wide range of services to job seekers and employers within Texas.
For Job Seekers:
Employment Services: This includes job search assistance, resume building, interview preparation, and access to job listings.
Career Counseling: Job seekers can receive guidance on career planning, skill assessments, and exploring training and education options.
Training Opportunities: Workforce centers offer information on training programs, vocational courses, and skill development workshops to enhance employability.
Unemployment Benefits Assistance: Information and support for individuals seeking unemployment benefits.
Job Fairs and Events: Many centers host job fairs and recruitment events where employers connect with potential employees.
For Employers:
Recruitment Services: Assistance in finding qualified candidates for job openings, including job postings and candidate matching.
Customized Training: Access to programs that provide specialized training for employees to meet specific industry needs.
Labor Market Information: Data and analysis on local labor markets, including trends, wage information, and industry profiles.
Workforce Development Programs: Information on programs designed to upskill or retrain workers to meet changing industry demands.
Tax Credits and Incentives: Information on available tax credits and incentives for hiring specific groups, such as veterans or individuals with disabilities.
Overall, Texas Workforce Solutions Workforce Centers, a proud partner of the American Job Centers Network, play a crucial role in connecting job seekers with employment opportunities and supporting employers in finding skilled workers. They serve as a vital bridge between job seekers, employers, and training providers to strengthen the state's workforce and economy.
###
About Workforce Solutions Rural Capital Area:
Workforce Solutions Rural Capital Area (WSRCA) develops talent for employers by coaching Texans to employment. WSRCA is a non-profit 501(c)(3) community partnership providing comprehensive no-cost recruitment, employment services, and early-learning child care tuition scholarships to empower employers and job seekers in the Rural Capital Area of Central Texas. This nine-county region includes Bastrop, Blanco, Burnet, Caldwell, Fayette, Hays, Lee, Llano, and Williamson counties. WSRCA helps employers find quality candidates by providing candidate referrals, customized job training programs, job listings, job fair assistance, labor market information, testing and assessment, outplacement services, and layoff aversion strategies. WSRCA guides job seekers to find and retain employment by connecting them to services that include job referrals, job application assistance, job readiness and job search workshops, career exploration, child care assistance, unemployment insurance information, and GED assistance.
About Temple College – Taylor:
Temple College – Taylor is a branch campus of Temple College, a community college in Temple, Texas. Temple College is a comprehensive community college offering an array of educational opportunities. Founded in 1926 and recognized as a national leader among community colleges, Temple College offers top-quality education at three Central Texas locations and online classes. The Taylor campus offers a range of academic programs, including associate degrees, certificate programs, and continuing education courses. These programs cover various fields of study, such as liberal arts, healthcare, business, technology, and more. Temple College – Taylor also provides student support services, including academic advising, tutoring, library resources, and other amenities commonly found on college campuses.
About Samsung Austin Semiconductor:
Samsung Austin Semiconductor (SAS), headquartered in Austin, Texas, specializes in manufacturing digital large-scale integration logic components utilized in tablets, smartphones, and other mobile devices. With a legacy dating back to 1997, Samsung is renowned for its cutting-edge semiconductor technology and remains at the forefront of advanced semiconductor facilities in the United States. SAS is a major Austin area employer with over 8,700 direct and indirect employees commuting to its 300-acre facility at 12100 Samsung Blvd., Austin, Texas. With the company's investment in a new, state-of-the-art $17 billion semiconductor manufacturing facility in Taylor, the need for a skilled local workforce will be in high demand for years.