Marbridge to Elevate Healthcare Opportunities in Central Texas with Launch of Certified Nursing Assistant Registered Apprenticeship Program; Signing Day Ceremony Planned
Sep 15, 2023
Workforce Solutions Rural Capital Area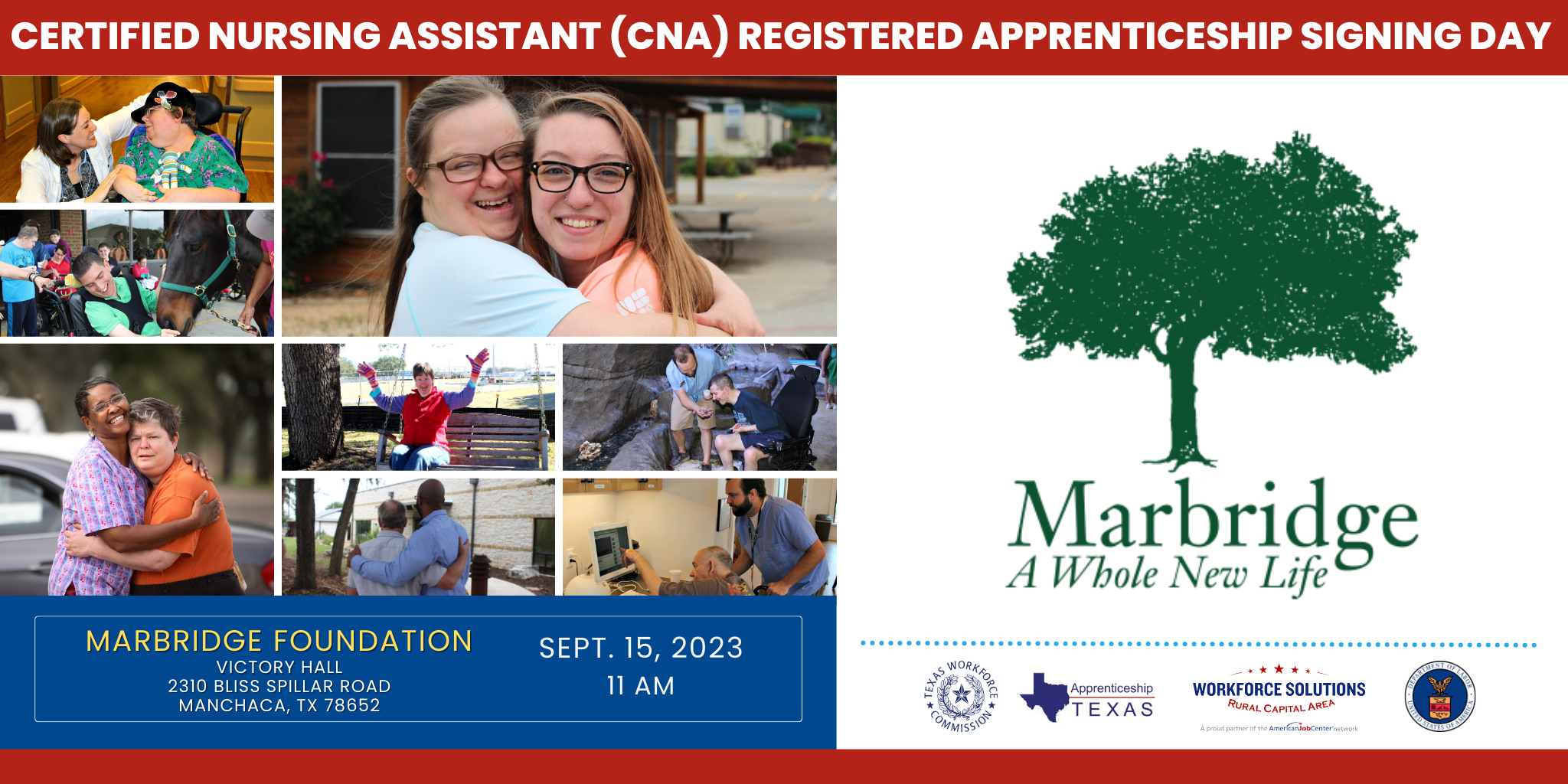 CEDAR PARK, Texas ⎯ Today marks a significant milestone in Central Texas' workforce development landscape as the Marbridge Foundation, in close collaboration with Workforce Solutions Rural Capital Area (WSRCA), announces the official launch of an innovative Certified Nursing Assistant (CNA) Registered Apprenticeship training program. This transformative initiative, endorsed by the U.S. Department of Labor (DOL), sets the stage for a highly anticipated signing day ceremony this afternoon at 11 a.m., on September 15, 2023, at the Marbridge Campus in Manchaca.

This pioneering program represents a crucial turning point in the region's career advancement and community empowerment approach. By partnering with WSRCA, the Marbridge Foundation has forged a dynamic pathway for Central Texans to acquire nationally recognized nursing credentials, unlocking a spectrum of promising career prospects within the dynamic healthcare industry.
"In the heart of Central Texas, amidst the tranquility of our campus, we plant the seeds of progress that will bloom into skilled healthcare champions of tomorrow," shared Scott McAvoy, Marbridge President and Chief Executive Officer. "With unwavering dedication and a shared vision, we seize this wonderful opportunity through our healthcare apprenticeship program. Today, as we come together to sign and endorse this transformative initiative, let us remember that every stroke of the pen shapes promising futures, and every handshake nurtures the bonds that fortify our community. This journey isn't just about careers; it's about forging legacies. This new training pipeline echoes our commitment to nurturing a skilled local workforce while enabling individuals to embrace their potential. In our efforts to provide lifetime care from The Ranch to The Village, and to The Villa, our legacy has always been about empowering meaningful lives, and today, we extend that legacy to promising careers and brighter horizons."
"We are proud to partner with the Marbridge Foundation on this transformative healthcare apprenticeship initiative that holds the power to reshape careers and uplift our region," said WSRCA CEO Paul Fletcher. "This collaborative effort is dedicated to crafting a sustainable training pipeline that not only empowers Central Texans to acquire nationally recognized nursing credentials but also creates a pathway for meaningful career advancement focused on delivering high-quality care. Today's event embodies our shared commitment to building a bridge toward opportunity. We recognize the vital role of Certified Nursing Assistants in delivering care, compassion, and hope to patients within our communities. This signing ceremony isn't merely an event; it encapsulates our collective investment in a stronger, more vibrant Central Texas, where each individual's potential is nurtured, and the future is filled with promise."
Healthcare registered apprenticeships have emerged as a powerful force in workforce development due to their proven effectiveness and adaptability. Anchored in the Registered Apprenticeship model, which is meticulously tailored and endorsed by DOL, this approach is a testament to the synergy between training and industry demands. Aligning workers with ever-evolving business needs creates a seamless pathway toward impactful and rewarding careers. This framework embodies the essence of "earn-while-you-learn," allowing participants to gain valuable experience through paid on-the-job training while concurrently benefiting from curated, job-related instruction. The culmination of this process results in attaining nationally recognized skills standards, which in turn drive progressive career development and wage growth.
Their unique capacity to foster a win-win scenario for individuals and businesses sets healthcare registered apprenticeships apart. Participants not only gain hands-on experience and a solid educational foundation but also step into the workforce with credentials that resonate across the industry. Meanwhile, businesses reap the benefits of an agile and customized training strategy, enabling them to cultivate a pipeline of fresh talent and upskilled employees. Apprenticeship fuels their operations' growth and enhances the healthcare sector's competitiveness. As the healthcare landscape evolves, registered apprenticeships stand as a beacon of adaptability, responsiveness, and mutual prosperity—a model that bridges the gap between education and industry needs, paving the way for enduring success.
Signing Event Keynote Speakers Include:
Paul Fletcher, Chief Executive Officer, Workforce Solutions Rural Capital Area
Albert Treviño, Commissioner Representing Labor, Texas Workforce Commission
The Honorable Ruben Becerra, Hays County Judge
Joyce Batcheller, DNP, RN, NEA-BC, FAONL, FAAN, President, Texas Nurses Association
Kevin Warren, President & Chief Executive Officer, Texas Health Care Association
Mark Sherry, Vice President of Human Resources & Workforce Development, Baylor Scott & White Health
Lee Price, Texas State Director, U.S. Department of Labor, Office of Apprenticeship
Scott McAvoy, President & Chief Executive Officer, Marbridge Foundation
Lora Williams, RN, Owner-Operator, Williams Career School of Excellence
Duncan Murray, Villa Director, Marbridge Foundation
Registration:
Register online for the event at: https://bit.ly/cnaapprenticeshipsigningday
For comprehensive information about local training programs, including pre-apprenticeship and registered apprenticeship, please explore WSRCA's Upskilling Toolkit.
###
About the Marbridge Foundation:
Marbridge is a non-profit residential community that offers transitional and lifetime care to adults with a wide range of cognitive disabilities and—through compassion and faith—provides them opportunities to learn, experience and achieve a whole new life. In 1953, Ed and Marge Bridges founded Marbridge in an effort to create safe residential care for their son, Jim, and other adults with cognitive disabilities. From the beginning, Marbridge charted a dramatically different course compared to the institutions of the day. The first established community, The Ranch, offered training based on the philosophy that adults with developmental disabilities can learn skills that enable them to become contributing members of the community. Gifts of land in the 1980s expanded the campus to include Mabee Village (now known simply as The Village), a semi-independent community, and The Villa Skilled Nursing Center to broaden the scope of residents that Marbridge could serve. Today, 273 adult residents live, work, and play on the Marbridge campus and in the Greater Austin Community.
About the U.S. Department of Labor:
U.S. Department of Labor (DOL) administers federal labor laws to guarantee workers' rights to fair, safe, and healthy working conditions, including minimum hourly wage and overtime pay, protection against employment discrimination, and unemployment insurance. The apprenticeship system consists of two types of entities responsible for registering and overseeing Registered Apprenticeship Programs. These entities include DOL's Office of Apprenticeship and recognized State Apprenticeship Agencies.
About the Texas Workforce Commission:
Texas Workforce Commission (TWC) is the state agency charged with overseeing and providing workforce development services such as job matching, recruiting and training to Texas job seekers and employers. TWC also administers the Unemployment Benefits and Unemployment Tax programs. TWC's mission is to promote and support a workforce system that creates value and offers employers, individuals, and communities the opportunity to achieve and sustain economic prosperity. TWC strengthens the Texas economy by providing the workforce development component of the Governor's economic development strategy. Texas boasts an incredibly skilled workforce ready to attract enterprise to the Lone Star State. By focusing on the demands of employers, TWC gives Texas the competitive edge necessary to draw business here.
About Workforce Solutions Rural Capital Area:
Workforce Solutions Rural Capital Area (WSRCA) develops talent for employers by coaching Texans to employment. WSRCA is a non-profit 501(c)(3) community partnership providing comprehensive no-cost recruitment, employment services, and early-learning child care tuition scholarships to empower employers and job seekers in the Rural Capital Area of Central Texas. This nine-county region includes Bastrop, Blanco, Burnet, Caldwell, Fayette, Hays, Lee, Llano, and Williamson counties. WSRCA helps employers find quality candidates by providing services that include candidate referrals, customized job training programs, job listings, job fair assistance, labor market information, testing and assessment, outplacement services, and layoff aversion strategies. WSRCA guides job seekers to find and retain employment by providing services that include job referrals, job application assistance, job readiness and job search workshops, career exploration, child care assistance, unemployment insurance information, and GED assistance.