WSRCA Awarded Tri-Agency Grant for Regional Conveners; Heather Thomas Tapped to Help Expand Pathways in K-12 Work-Based Learning Across Central Texas
Aug 23, 2023
Workforce Solutions Rural Capital Area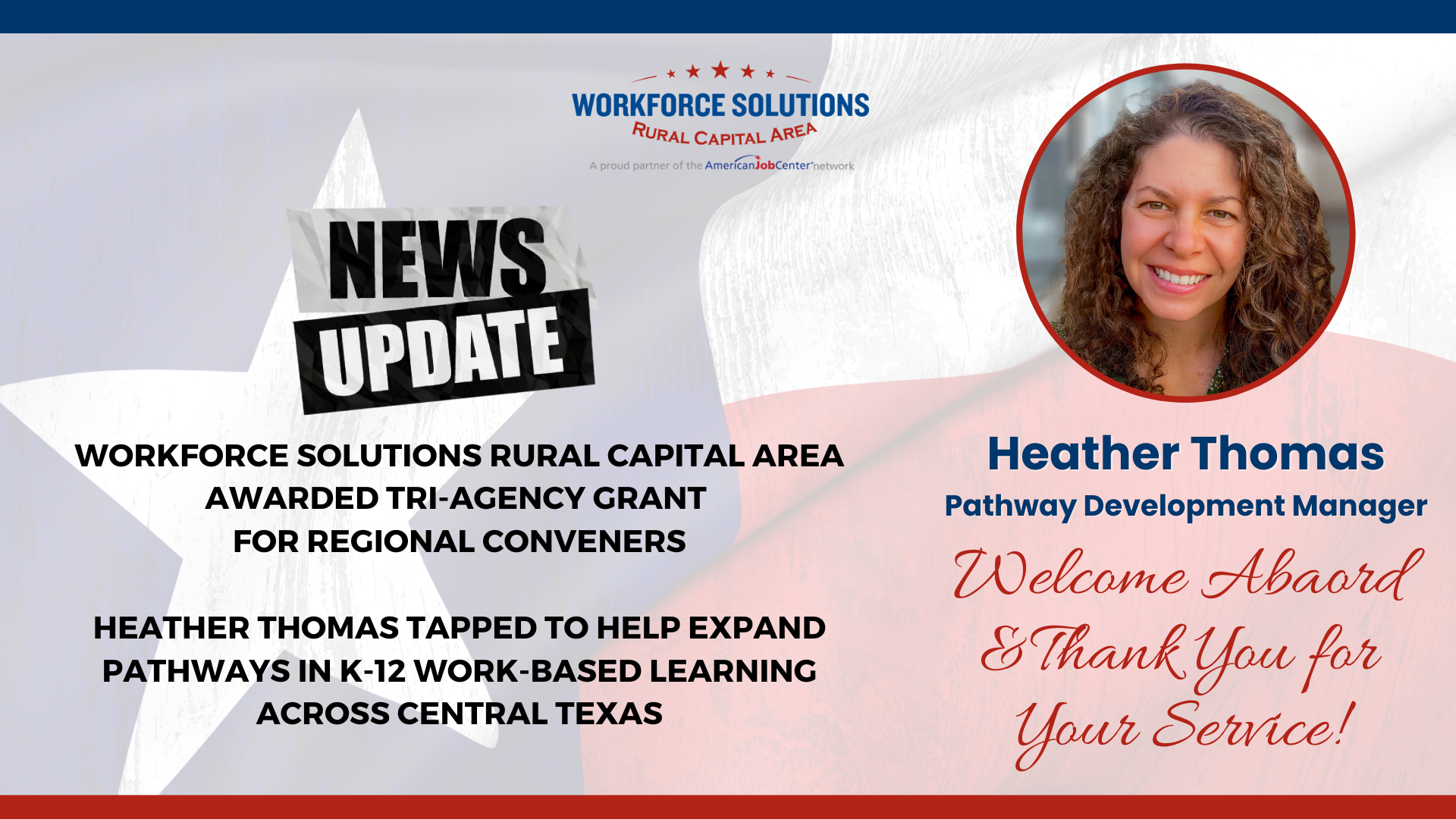 CEDAR PARK, Texas ⎯ The Texas Education Agency (TEA) announced that Workforce Solutions Rural Capital Area (WSRCA), the nonprofit community partnership providing no-cost recruitment and employment services in the nine-county Rural Capital Area of Central Texas, was awarded a $536,750 Tri-Agency Grant for Regional Conveners, to expand pathways in K-12 work-based learning in high-demand occupations within its workforce development area. WSRCA is one of only 17 industry-led workforce training partnerships across the state of Texas awarded the prestigious Conveners grant, intended to identify, invest in, and designate a convener to oversee the development, implementation, and monitoring of a regional strategy for high-quality career and education pathways into targeted local industries. WSRCA is pleased to share that Heather Thomas has joined the team as the Pathway Development Manager for the Conveners grant. Her goal will be to forge workforce pathways for area students through collaboration with independent school districts, industry partners, and higher education providers.

Thomas brings a background in Career and Technical Education (CTE) through teaching and coaching school districts in setting up successful CTE programs using labor market data. She holds a Bachelor's degree in Business Administration from Radford University and a Master's in Education from Lamar University. Thomas will report to Kelly Moreno, WSRCA Chief Solutions Officer.
"It's an honor to be awarded the Conveners grant, which will assist us in pulling together our many 'Future Ready' K-12 Career and Education Engagement projects into a comprehensive, overall strategy for our workforce development area," WSRCA CEO Paul Fletcher said. "As an experienced CTE teacher and specialist in expanding industry-aligned youth upskilling initiatives in schools, Heather is a vital addition to our WSRCA team, who will help us strengthen partnerships across the region to better empower young Texans to prepare for success in the classroom – and on the job."
"I'm excited about this new opportunity with WSRCA to help the team continue to align community, industry, and training resources to empower area students to discover meaningful careers and secure a bright future," Thomas said. "Throughout my professional career, I have focused on finding new ways to educate, advocate, and inspire youth to bridge their educational journey with real-world experiences to help them stack credentials and succeed in their chosen career paths. Thanks to workforce development innovation and investment, there is a wealth of opportunities here in Central Texas to build and sustain a fulfilling workforce journey. As the Pathway Development Manager, I am committed to connecting classrooms to careers to prepare students to succeed in a rapidly changing economy."
The Tri-Agency Grant for Regional Conveners aims to identify, train, and designate regional conveners in each of Texas' 28 workforce development areas. Eligible applicants included education service centers, institutions of higher education, workforce development boards, and nonprofit organizations. These entities were encouraged to apply for up to $600,000 in funding to establish the infrastructure needed to support the planning and implementation of high-quality career and education pathways across their workforce development area. Designated regional conveners will join the Texas Regional Pathways Network (TRPN), a growing community of regional partners committed to building regional talent pipelines to targeted industries that will spur economic growth across the state.
###
About the Texas Education Agency:
The Texas Education Agency (TEA) is the state agency that oversees primary and secondary public education in the state of Texas. TEA's mission is to improve outcomes for all public school students in the state by providing leadership, guidance, and support to school systems. It helps deliver education to more than five million students. TEA coordinates with 20 Regional Education Service Centers (ESCs) that provide support to school districts and charters. They provide a wide array of training, services such as handling payrolls for districts, meeting space and much more to Texas schools. The agency also has programs supporting military families and homeless students and provides up-to-date information on weather and other disasters affecting Texas school districts.
About the Tri-Agency Initiative:
The Tri-Agency Workforce Initiative, launched by Governor Greg Abbott in 2016, seeks to achieve the ambitious goal of ensuring that all Texans achieve their full potential and contribute to the state's continued economic growth. The Texas Education Agency, Texas Higher Education Coordinating Board, and Texas Workforce Commission are working collaboratively to implement the vision of House Bill 3, the transformative school finance legislation passed in 2019, and to integrate the goals of that legislation with the goals in Building a Talent Strong Texas, the state's strategic plan to increase higher education completion and workforce readiness. The Tri-Agency partners have numerous ongoing projects that will advance this work and have identified additional priorities and action items in support of the Tri-Agency vision and mission.
About Workforce Solutions Rural Capital Area:
Workforce Solutions Rural Capital Area (WSRCA) develops talent for employers by coaching Texans to employment. WSRCA is a nonprofit 501(c)(3) community partnership providing comprehensive no-cost recruitment, employment services, and early-learning child care tuition scholarships to empower employers and job seekers in the Rural Capital Area of Central Texas. This nine-county region includes Bastrop, Blanco, Burnet, Caldwell, Fayette, Hays, Lee, Llano, and Williamson counties. WSRCA helps employers find quality candidates by providing services that include candidate referrals, customized job training programs, job listings, job fair assistance, labor market information, testing and assessment, outplacement services, and layoff aversion strategies. WSRCA guides job seekers to find and retain employment by providing services that include job referrals, job application assistance, job readiness and job search workshops, career exploration, child care assistance, unemployment insurance information, and GED assistance.