Rural Capital Area Labor Force, Employment Swell in July; Unemployment at 3.9%
Aug 18, 2023
Workforce Solutions Rural Capital Area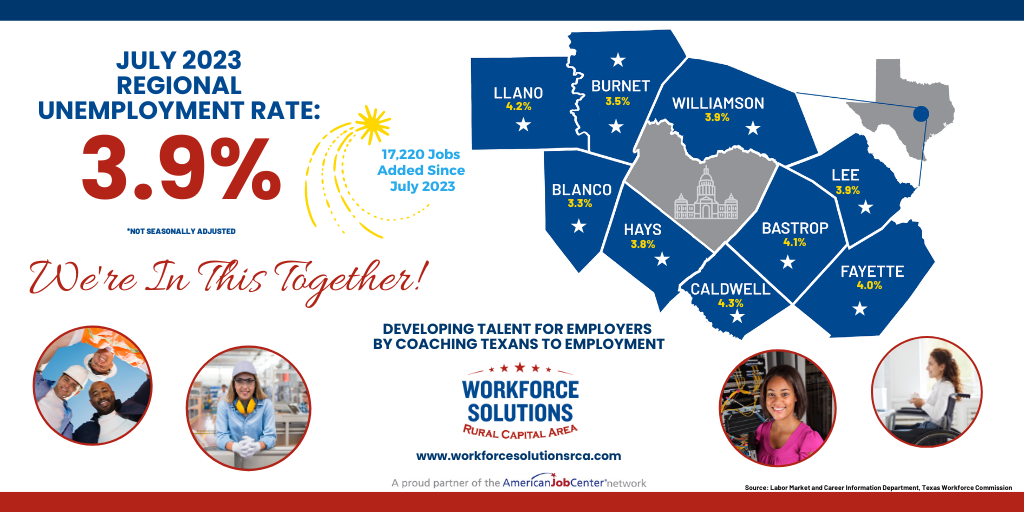 CEDAR PARK, Texas ⎯ The economy of the Rural Capital Area of Central Texas continues to experience remarkable growth, fueled by innovative employers expanding their operations to leverage the region's exceptional workforce while also attracting new residents who are seeking to enhance their skills for local careers in high-demand fields. While the unadjusted unemployment rate in the region edged up to 3.9 percent in July 2023, up from June's 3.5 percent, the available labor force in the area grew by 4,802 residents. Employment also saw an uptick as 2,427 more workers connected with employers, according to figures released today by the Texas Workforce Commission (TWC).

Since July 2022, the local labor force has expanded by 23,014 residents, with 17,220 securing local employment. The 3.9 percent unemployment rate in the nine-county Workforce Solutions Rural Capital Area (WSRCA) accounts for 25,645 residents seeking work in July. Additionally, employers posted 25,377 job openings online across various industries. In comparison, the region's unemployment numbers in July remained lower than the Texas rate, which climbed to 4.5 percent**, and was slightly higher than the national rate of 3.8 percent**, which remained unchanged.
In July, unemployment rates in the WSRCA counties were as follows: Blanco at 3.3 percent (up from 2.9 percent in June), Burnet at 3.5 percent (up from 3.2 percent), Hays at 3.8 percent (up from 3.5 percent), Lee and Williamson at 3.9 percent (both up from 3.6 percent), Fayette at 4.0 percent (up from 3.7 percent), Bastrop at 4.1 percent (up from 3.7 percent), Llano at 4.2 percent (up from 3.6 percent), and Caldwell at 4.3 percent (up from 3.8 percent in June).
For more detailed information on regional unemployment claims based on demographics, skills impact, and zip codes, visit TWC's resources.
The WSRCA team is available to assist you in finding workforce solutions. Visit a nearby Rural Capital Area career center or access virtual services for immediate workforce needs. Utilize the Interactive Skill-Based Career Progression Lattices to develop a customized training plan and enhance your skills for sustainable career outcomes.
If you're seeking employment, join the Workforce Wednesdays Virtual Career Expo, connecting job seekers and employers weekly. Employers interested in hosting hiring booths and interview sessions can contact the WSRCA Business Services Team at businessservices@ruralcapital.net.
Enhance your skills and marketability for local high-demand careers through WSRCA's partnerships, offering over 20,000 free online courses via SkillUp Rural Capital, Metrix Learning, and LinkedIn Learning.
WSRCA's Child Care Services Team provides eligible families with early-learning child care tuition scholarships and professional development opportunities. Child care assistance is available for job seekers, workers, and those training for high-demand careers. Enroll in local child care programs to receive support and financial relief. Apply today: https://bit.ly/childcarehelpnow.
The WSRCA Mobile App offers customized workforce solutions through your smartphone. Download the app from the iOS App Store or Google Play Marketplace to connect with job opportunities, upskilling tools, workshop calendars, and more.
For further information, visit WSRCA at www.workforcesolutionsrca.com, call toll-free at 1-844-344-2780, and begin your job search at www.workintexas.com.
Employment estimates released by TWC are produced in cooperation with the U.S. Department of Labor's Bureau of Labor Statistics. All estimates are subject to revision. To access this and more employment data, visit texaslmi.com.
*Source: JobsEQ® - Online job postings across nine counties active from 7/01/2023 to 8/18/2023
**All unemployment rates listed are not seasonally adjusted.
###
About Workforce Solutions Rural Capital Area:
Workforce Solutions Rural Capital Area (WSRCA) develops talent for employers by coaching Texans to employment. WSRCA is a non-profit 501(c)(3) community partnership providing comprehensive no-cost recruitment, employment services, and early-learning child care tuition scholarships to empower employers and job seekers in the Rural Capital Area of Central Texas. This nine-county region includes Bastrop, Blanco, Burnet, Caldwell, Fayette, Hays, Lee, Llano, and Williamson counties. WSRCA helps employers find quality candidates by providing candidate referrals, customized job training programs, job listings, job fair assistance, labor market information, testing and assessment, outplacement services, and layoff aversion strategies. WSRCA guides job seekers to find and retain employment by providing job referrals, job application assistance, job readiness and job search workshops, career exploration, child care assistance, unemployment insurance information, and GED assistance.