Elevating Opportunities: Launch of Plumbing Apprenticeship Training Programs in Taylor Mark New Era of Upskilling in Central Texas
Aug 11, 2023
Workforce Solutions Rural Capital Area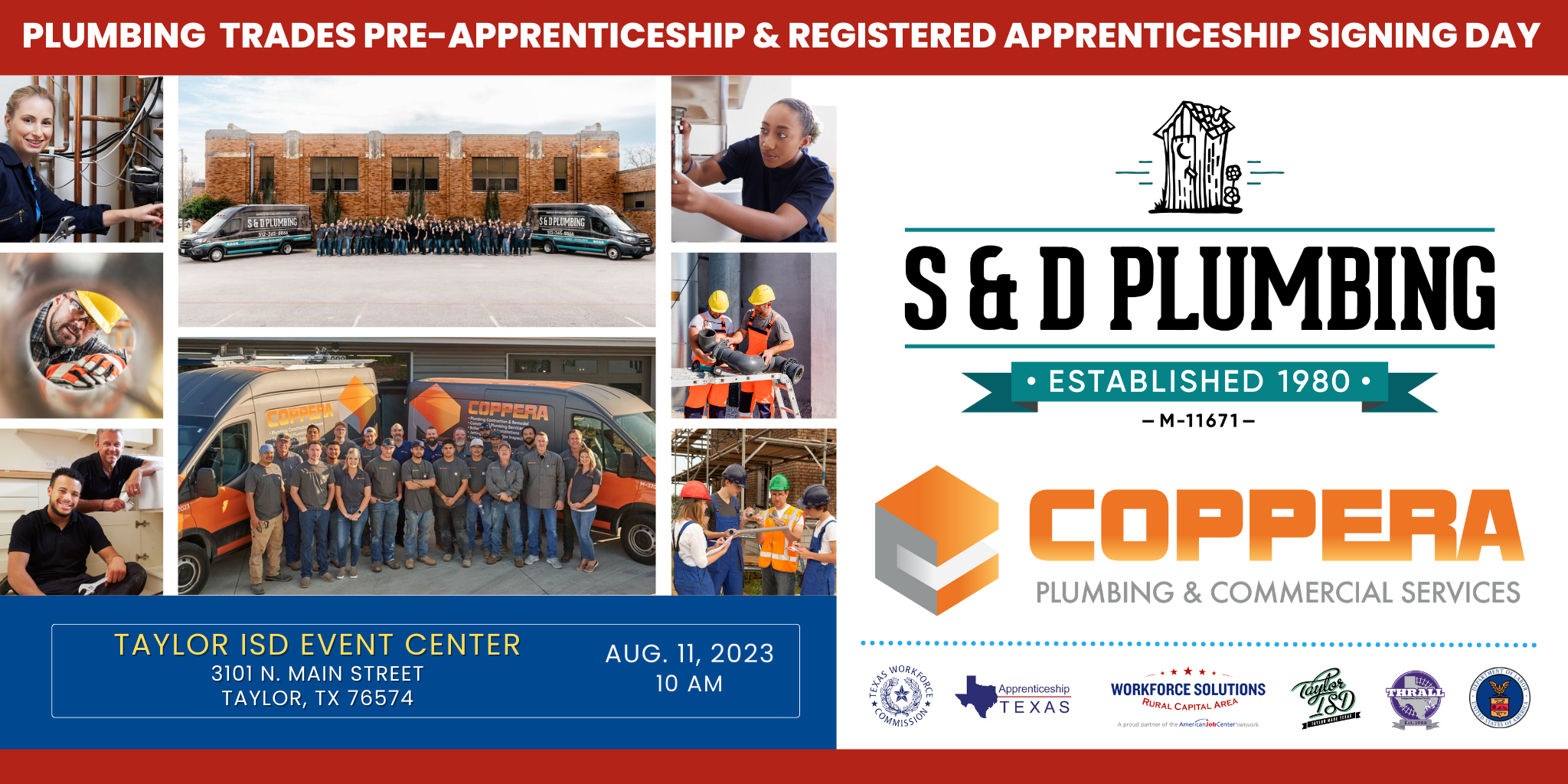 CEDAR PARK, Texas ⎯ The future of Central Texas workforce development takes a significant leap forward as industry innovation leaders S&D Plumbing and Coppera Plumbing & Commercial Services, in partnership with Workforce Solutions Rural Capital Area (WSRCA), proudly unveil comprehensive non-unionized Pre-Apprenticeship and Registered Apprenticeship training programs in Taylor, Texas. This transformative initiative, endorsed by the U.S. Department of Labor (DOL), sets the stage for a momentous signing day event today, August 11, 2023, at 10 a.m., hosted at the Taylor Independent School District Event Center.

The ceremony signifies a pivotal moment within the local community, demonstrating an unwavering collaborative commitment to cultivating a strong and sustainable workforce training pipeline for residents of the area. S&D Plumbing and Coppera Plumbing lead in this endeavor, initiating a pathway that starts in local high schools. This proactive approach empowers Central Texans to acquire nationally recognized credentials, unlocking promising career prospects within the dynamic plumbing industry.
Sam Dowdy, the visionary Founder and President of S&D Plumbing, stated, "For more than two decades, we've dedicated ourselves to delivering exceptional plumbing services and unwavering customer support. Our commitment to recruiting and continually training top-tier technicians and staff positions us to address diverse residential and commercial plumbing needs. As proud Taylor residents, launching plumbing pre-apprenticeship and registered apprenticeship training opportunities in our community embodies our enduring mission to empower through prosperous plumbing careers."
WSRCA CEO Paul Fletcher emphasized the industry's pivotal role: "The plumbing sector is a cornerstone of community success, offering Central Texans avenues to build lasting careers. The launch of this pre-apprenticeship and registered apprenticeship pipeline by S&D Plumbing and Coppera Plumbing marks a momentous step, empowering the next generation of skilled trades professionals and securing the foundation of Central Texas's future."
Registered Apprenticeship is a proven and versatile model of tailored training that is industry-vetted, approved, and validated by DOL and aligns workers with evolving business needs, paving the way for impactful careers. Through a dynamic "earn-while-you-learn" approach, participants engage in paid on-the-job training and curated job-related instruction. This comprehensive process culminates in nationally recognized skills standards, driving progressive career development and wage growth. Businesses benefit from this agile and customized training strategy by establishing a pipeline of fresh talent and upskilled employees to grow their operations.
Pre-Apprenticeship programs form the gateway to thriving Registered Apprenticeships, providing comprehensive preparation for a successful journey while students are still in high school. These programs serve as a launchpad for individuals seeking well-paying roles with avenues for unlimited advancement upon graduation.
Signing Event Keynote Speakers Include:
Paul Fletcher, Chief Executive Officer, Workforce Solutions Rural Capital Area
Frank Leonardis, Chairman, Workforce Solutions Rural Capital Area Board of Directors
Adriana Cruz, Executive Director of Economic Development & Tourism, Office of Governor Greg Abbott
Aaron Demerson, Commissioner Representing Employers, Texas Workforce Commission
Lee Price, Texas State Director, U.S. Department of Labor, Office of Apprenticeship
Frank Denton, Chairman, Texas State Board of Plumbing Examiners
The Honorable John Carter, U.S. Representative, 31st Congressional District of Texas
The Honorable Bill Gravell, Williamson County Judge
The Honorable Brandt Rydell, Mayor, City of Taylor
Tommy Hooker, Superintendent, Thrall Independent School District
Rachelle Finck, Director of Guidance & Counseling, Taylor Independent School District
Sam Dowdy, Sr., Owner/Operator of S&D Plumbing
Sam Dowdy, Jr., Owner/Operator Coppera Plumbing & Commercial Services
Lindsie O'Neill Almquist, Ed.D., Chief Culture Officer, Coppera Plumbing & Commercial Services
Carson Chapman, Plumbing Apprentice, S&D Plumbing
Registration:
Register online for the event at: https://bit.ly/plumbingapprenticeshipsigningday.
For comprehensive information about local training programs, including pre-apprenticeship and registered apprenticeship, please explore WSRCA's Upskilling Toolkit.
###
About S&D Plumbing:
S&D Plumbing is a full-service, family-owned and operated residential plumbing company based in Taylor, Texas, specializing in leak detection and investigative plumbing repair. Founders Sam and Rhonda Dowdy and their daughter and son-in-law, Amanda and Brad, oversee the business's day-to-day operations. S&D Plumbing has come a long way since its founding in 1980. While they continue to deliver on their mission of enhancing the plumbing trade and bettering the lives around them, the tools and techniques they use to accomplish this goal have evolved. S&D's team of licensed plumbers now skillfully employ powerful battery-operated hand tools and the latest in cutting-edge leak detection technology to get the job done quickly and efficiently the first time around.
About Coppera Plumbing & Commercial Services:
Coppera Plumbing & Commercial Services was founded in 2007 as S&D Commercial Services. In 2016, the name change took place as the company was growing. Coppera focuses on innovative plumbing solutions for healthcare centers, university/school campuses, hotels, retail properties, restaurants, and other commercial projects. Coppera is certified as a Historically Underutilized Business (HUB) and proudly works with customers across the Central Texas region, including Austin, San Antonio, Waco, and College Station. The company hand picks its team of plumbers based on their motivation and commitment to providing first-rate customer service, who are up to date with the latest in technology, parts, systems, and services. Coppera's active membership in the Central Texas Subcontractor Association (CTSA) keeps it current on industry insights and developments while remaining dedicated to ethical business practices.
About the U.S. Department of Labor:
U.S. Department of Labor (DOL) administers federal labor laws to guarantee workers' rights to fair, safe, and healthy working conditions, including minimum hourly wage and overtime pay, protection against employment discrimination, and unemployment insurance. The apprenticeship system consists of two types of entities responsible for registering and overseeing Registered Apprenticeship Programs (RAPs). These entities include DOL's Office of Apprenticeship (OA) and recognized State Apprenticeship Agencies (SAA).
About the Texas Workforce Commission:
Texas Workforce Commission (TWC) is the state agency charged with overseeing and providing workforce development services such as job matching, recruiting and training to Texas job seekers and employers. TWC also administers the Unemployment Benefits and Unemployment Tax programs. TWC's mission is to promote and support a workforce system that creates value and offers employers, individuals, and communities the opportunity to achieve and sustain economic prosperity. TWC strengthens the Texas economy by providing the workforce development component of the Governor's economic development strategy. Texas boasts an incredibly skilled workforce ready to attract enterprise to the Lone Star State. By focusing on the demands of employers, TWC gives Texas the competitive edge necessary to draw business here.
About Workforce Solutions Rural Capital Area:
Workforce Solutions Rural Capital Area (WSRCA) develops talent for employers by coaching Texans to employment. WSRCA is a non-profit 501(c)(3) community partnership providing comprehensive no-cost recruitment, employment services, and early-learning child care tuition scholarships to empower employers and job seekers in the Rural Capital Area of Central Texas. This nine-county region includes Bastrop, Blanco, Burnet, Caldwell, Fayette, Hays, Lee, Llano, and Williamson counties. WSRCA helps employers find quality candidates by providing services that include candidate referrals, customized job training programs, job listings, job fair assistance, labor market information, testing and assessment, outplacement services, and layoff aversion strategies. WSRCA guides job seekers to find and retain employment by providing services that include job referrals, job application assistance, job readiness and job search workshops, career exploration, child care assistance, unemployment insurance information, and GED assistance.
Plumbing Spotlight Video: "Voices From The Field: Careers In Plumbing"