Rural Capital Area Unemployment Rate Creeps Up in June
Jul 16, 2021
Workforce Solutions Rural Capital Area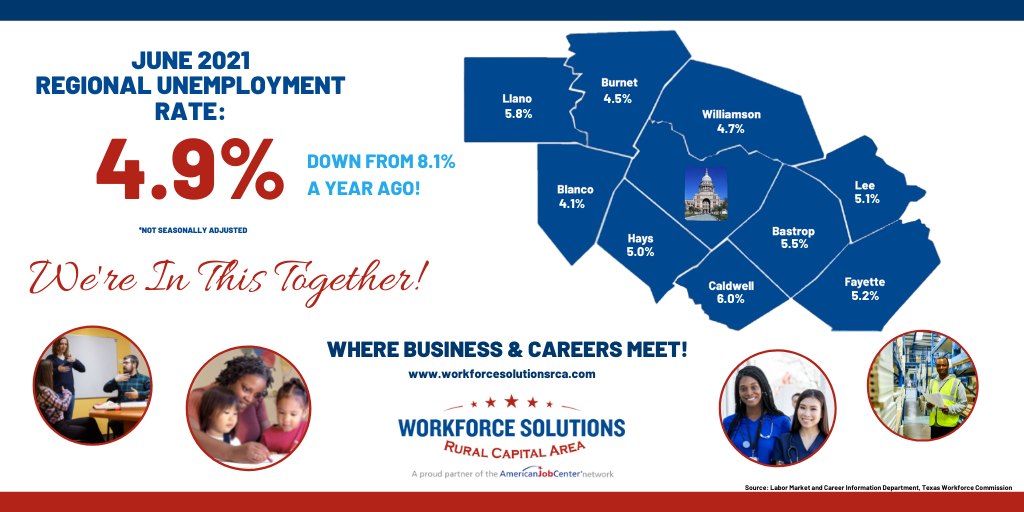 CEDAR PARK, Texas ⎯ The unadjusted unemployment rate of the Rural Capital Area of Central Texas edged up to 4.9 percent in June 2021, from 4.3 percent in May, according to figures released today by the Texas Workforce Commission (TWC). The 4.9 percent unemployment rate in the nine-county Workforce Solutions Rural Capital Area (WSRCA) represented 28,340 residents seeking employment. The region's unemployment rate remained below Texas' (6.6 percent) * and the national (6.1 percent) * rates, which both saw increases in June as well.

Within the WSRCA counties, Blanco recorded the lowest unemployment rate at 4.1 percent in June. Burnet County was at 4.5 percent, and Williamson County came in at 4.7 percent. Hays County was at 5.1 percent, and Lee County was at 5.1 percent. Fayette County was at 5.2 percent, while Bastrop County was at 5.5 percent. Llano County recorded a 5.8 percent unemployment rate in June, and Caldwell came in at 6.0 percent.
For a deeper dive into regional unemployment claims by demographics, skills impact, and zip code, please visit WSRCA's interactive COVID-19 Workforce Impact Report and review the Unemployment Claims Snapshot. To review unemployment claims data at the state level, please visit TWC's resources.
The WSRCA team is eager to help you find workforce solutions. All Rural Capital Area career centers are open and accepting appointments across the nine-county region to empower your workforce journey. Services continue to remain available virtually to meet your immediate workforce needs. Utilize our Skill-Based Career Progression Lattices and work with our teams to develop a customized training plan to help you enhance your skills and create sustainable career outcomes.
Are you looking for work? The Workforce Wednesdays Virtual Career Expo connects employers and job seekers at weekly online hiring events. Workforce Wednesdays represent a collective effort among Rural Capital Area communities and industries to empower their workforce through virtual interactive events and continue to help the region compete globally.
Employers looking to host free hiring booths and interview sessions should email the WSRCA Business Services Team at businessservices@ruralcapital.net.
There's no better time to ramp up your skills and marketability for local careers in high-demand industries.
Through our partnerships, WSRCA offers more than 20,000 free online courses in various occupations through SkillUp Rural Capital, Metrix Learning, LinkedIn Learning, and the Dynamic Works Institute's 5-Minute Countdown Series. Are you looking to earn a recognized industry credential to enhance your current career track? Explore no-cost online training for employees and jobseekers through PATHS For Texas, a statewide initiative to provide industry and nationally-recognized training opportunities to improve employee retention, support career advancement, and promote success for workers in customer-facing industries.
We are proud to continue innovating our service offerings to maximize our ability to deliver customized and sustainable outcomes for you. For more information, please visit WSRCA at www.workforcesolutionsrca.com, call toll-free at 1-844-344-2780, and begin your job search on www.workintexas.com.
Employment estimates released by TWC are produced in cooperation with the U.S. Department of Labor's Bureau of Labor Statistics. All estimates are subject to revision. To access this and more employment data, visit texaslmi.com.
Workforce Solutions Rural Capital Area is a nonprofit community partnership providing no-cost recruitment, employment services, and childcare assistance to businesses, employers, and job seekers in the Rural Capital Area of Central Texas. This nine-county region includes Bastrop, Blanco, Burnet, Caldwell, Fayette, Hays, Lee, Llano, and Williamson counties. For more details on WSRCA and the services it offers, visit www.workforcesolutionsrca.com.
*All unemployment rates listed are not seasonally adjusted.