WSRCA Expands Upskilling Opportunities; Offers Texans Free Access to 5-Minute Countdown Series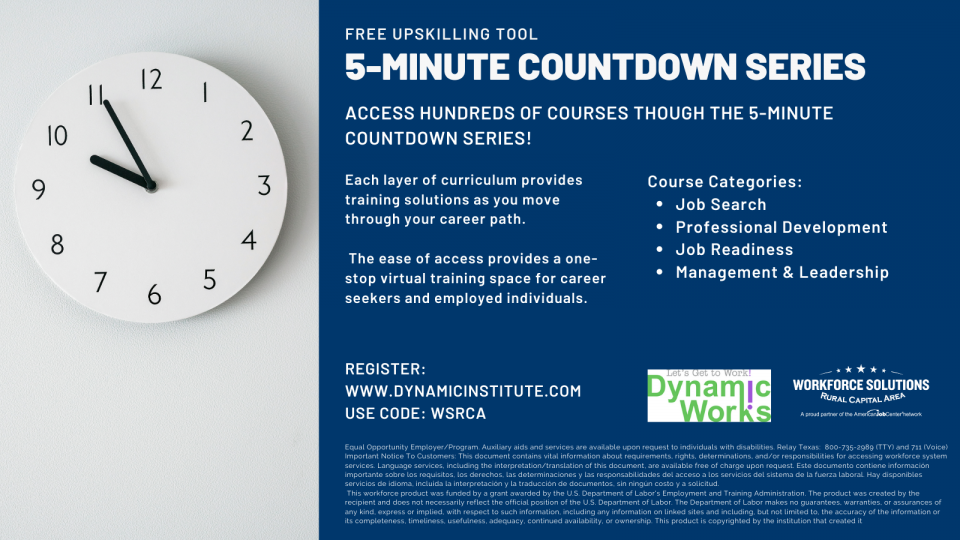 Workforce Solutions Rural Capital Area (WSRCA) is proud to continue offering Central Texans expanded upskilling opportunities by providing free access to the 5-Minute Countdown Series hosted by the Dynamic Works Institute (DWI).
DWI offers hundreds of virtual, interactive courses, coaching, and live webinars to transform the value and success individuals, corporations, and community-based organizations derive from their work.
DWI is centered on person-centered coaching for individuals and organizations to transform workplace experiences.
Individuals. Whether you are just starting your career, are between jobs, re-entering the workplace, or gainfully employed, DWI has a customized, affordable suite of courses that will make you more confident, marketable, and prepared.
Businesses. With hundreds of courses in its portfolio, DWI fills the gaps in your staff training initiatives, providing compliance training, leadership development, coaching, and the resources to build a robust talent management program.
Community-Based Organizations. From entry-level workplace skills to serving special populations – and even developing your supervisors and case managers – DWI provides training and certifications that reinforce your organization's good works.
When combined with the 5,000 courses the Texas Workforce Commission is offering through Metrix Learning, and the 16,000-plus virtual courses WSRCA offers through LinkedIn Learning, as well as Academy, there's no better time to ramp up your skills and marketability for local careers in high-demand industries.
Get Started:

Step 1: Visit Dynamic Works Institute and click on My Courses

Step 2: Enter registration code WSRCA and click Register
Step 3: Complete required fields
Step 4: Check your email to verify your account
Step 5: Get your Upskill on! Begin your 5-Minute Countdown Series.
Guides:
---