Workforce Solutions Rural Capital Area Welcomes David Stedman, President/CEO of Giddings EDC, to its Board of Directors
Dec 19, 2022
Workforce Solutions Rural Capital Area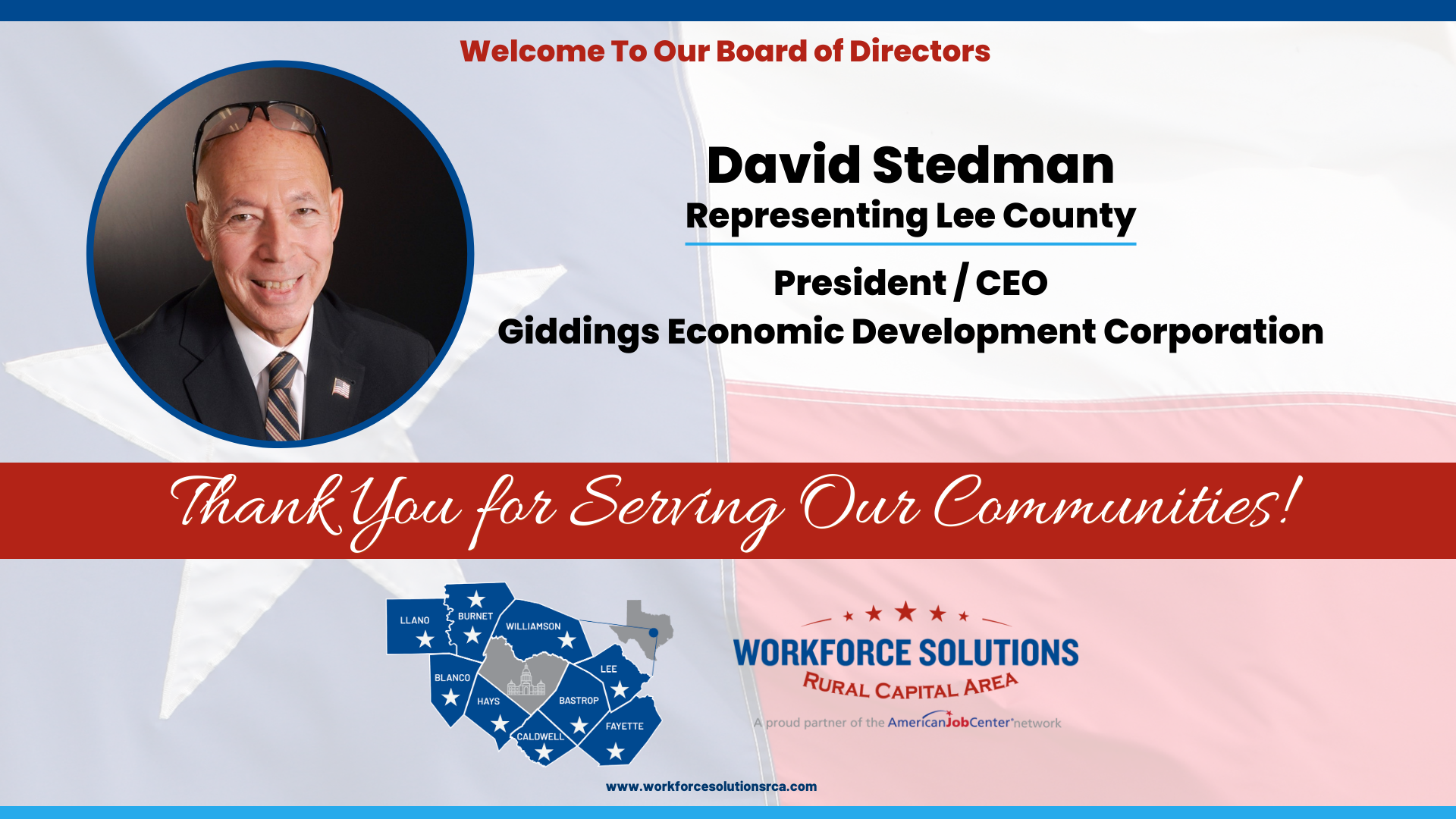 CEDAR PARK, Texas ⎯ Workforce Solutions Rural Capital Area (WSRCA), the facilitator of workforce development services for the nine-county Rural Capital Area of Central Texas, is pleased to announce the appointment of David Stedman, President/CEO of the Giddings Economic Development Corporation, to its Board of Directors.

WSRCA Board Members bring their expertise, knowledge, and goals to enhance workforce opportunities across the region, as they serve a term of 2-year appointments; they are vital advocates for the employers and job seekers in each community. Board members play a critical role in ensuring the success of customized workforce development efforts in each of the 28 local workforce areas across Texas. Each Board member is carefully selected by the Chief Elected Official in each region and recommended to the Board as a nominee for appointment representing multiple categories, including private sector employers, organized labor and community-based organizations, educational agencies, economic development agencies, public assistance agencies, vocational rehabilitation agencies, public employment service, local literacy councils, and adult basic and continuing education organizations. Nominees are reviewed and approved by both the Board, and the Texas Workforce Commission.
"We're fortunate to be led by an all-volunteer Board of Directors, comprised of recognized community leaders across many areas of expertise, who contribute significant amounts of time, talent, and energy to further our organizational mission of empowering the workforce of our region," said WSRCA CEO Paul Fletcher. "As we celebrate our 35th anniversary this year, we thank our current and past Board of Directors for their investments in our community and welcome our new members to the Board. We're excited to tap into their vast experience and insights to enhance our employer-driven workforce system and create new opportunities for Central Texans to gain the competencies, skills, and education to become self-sufficient and live a quality life."
"Working with WSRCA has shown me the power of regional cooperation in forging workforce initiatives that are moving Rural Capital Area to the forefront of economic development," said Stedman. "So, I'm honored and grateful to serve on the Board of Directors. I look forward to working with Paul Fletcher and the Board. Together we will help Texas extend its leadership in recruiting and in business expansion."
The WSRCA Board of Directors includes the following 31 members:
Officers:
Board Chair: Frank Leonardis of Ember Industries, representing Hays County
Vice Chair: Alfonso Sifuentes of Central Texas Refuse, representing Caldwell County
Treasurer: Rene Flores of Amplify Credit Union, representing Williamson County
Directors:
Hector Aguilar of Austin Community College, representing Williamson County
Ben Brenneman of the International Brotherhood of Electrical Workers Local 520, representing Williamson County
Debbie Burkhard of Old Annex Office Solutions, representing Blanco County
Jennifer Carter of Goodwill Central Texas, representing Williamson County
Camille Clay of Leander Independent School District, representing Williamson County
Marco Cruz of Opportunities for Williamson & Burnet Counties, representing Burnet and Williamson Counties
Sandra Dillett of Texas Health and Human Services Commission, representing Williamson County
Sam Dowdy of S & D Plumbing, representing Williamson County
Woody Engebretson of the Rotary Club of Cedar Park-Leander, representing Williamson County
Jenna Fohn Thomas of Bluebonnet Electric Cooperative, representing Bastrop County
Becky Garlick of Blinn College at Schulenburg, representing Fayette County
Michele Glaze of Samsung Austin Semiconductor, representing Williamson County
Kimberly Goode of the Literacy Council of Williamson County, representing Williamson County
Tracy Jackson of TASUS Texas Corporation, representing Williamson County
Susan Kimball of the Dripping Springs Chamber of Commerce, representing Hays County
Laura Krcmar of First National Bank of Bastrop, representing Bastrop County
Jeff Light of Hoar Construction, representing Hays County
Margaret Lindsey, Ex Officio Board Member - Former Board Chair
Cassandra Moya of Texas Workforce Solutions-Vocational Rehabilitation Services, representing Hays County
Doug Mudd of Community Action, Inc. of Central Texas, representing all 9 Counties
Tim Ols of Baylor Scott & White Health - Hill Country Region, representing Burnet County
Deokie Ramlochan of AlgEternal Technologies, representing Fayette County
Eben Riggs of the Texas Workforce Commission, representing Williamson County
Hatch Smith of MidCoast Central Medical Center, representing Llano County
Nikki Stallings of NOV Wellbore Technologies, representing Williamson County
David Stedman of the Giddings Economic Development Corporation, representing Lee County
Becki Womble of the Bastrop Chamber of Commerce, representing Bastrop County
Elva Zdeb of Gary Job Corps Center, representing Hays County
###
Workforce Solutions Rural Capital Area is a nonprofit community partnership providing no-cost recruitment, employment services, and childcare assistance to businesses, employers, and job seekers in the Rural Capital Area of Central Texas. This nine-county region includes Bastrop, Blanco, Burnet, Caldwell, Fayette, Hays, Lee, Llano, and Williamson counties. For more details on WSRCA and the services it offers, visit www.workforcesolutionsrca.com.