WSRCA Honored with Gold AVA Digital Awards for Outstanding Nonprofit Video Focused on Local Manufacturing Careers
Jan 17, 2023
Workforce Solutions Rural Capital Area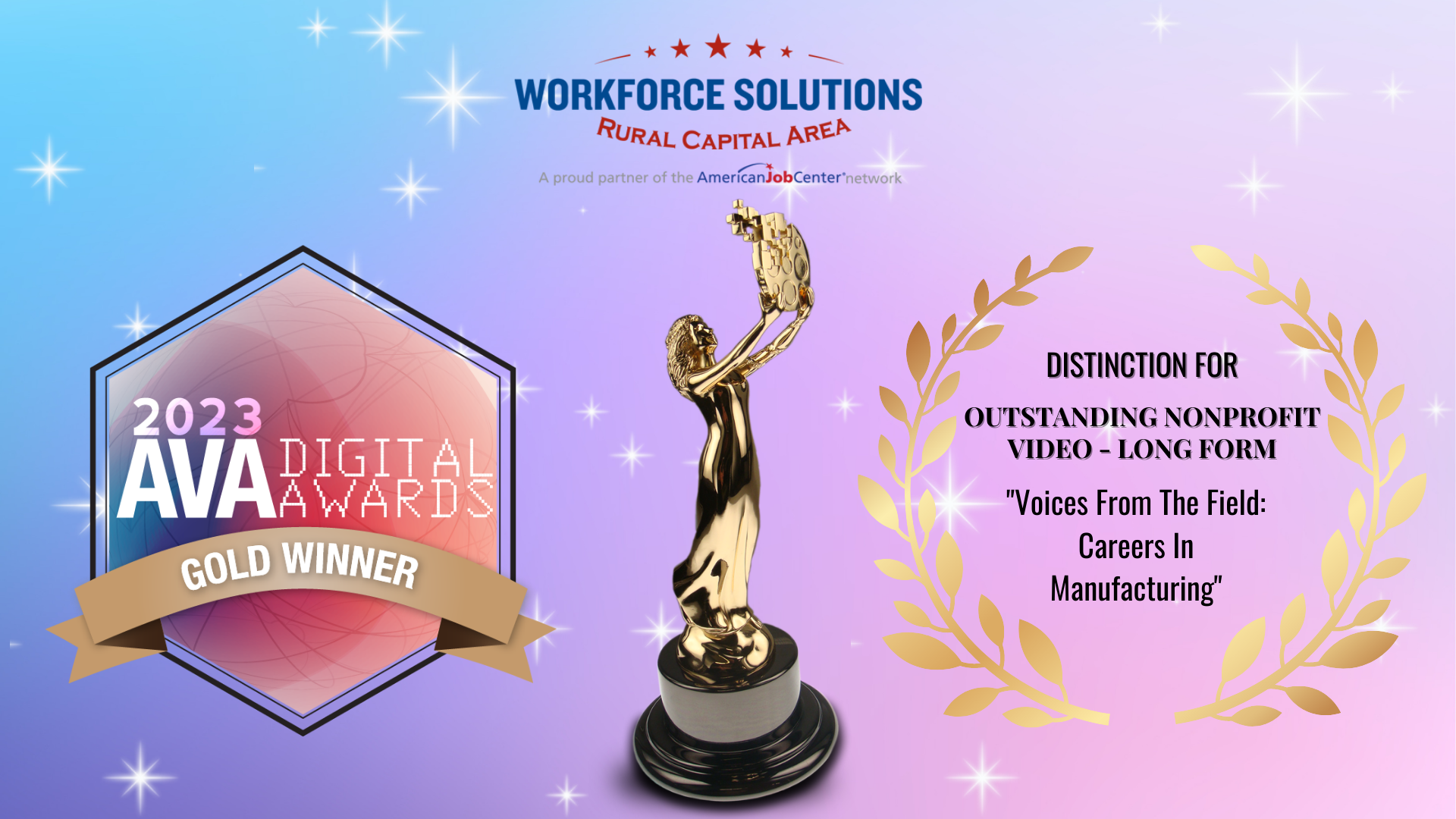 CEDAR PARK, Texas ⎯ The winners of the 16th Annual AVA Digital Awards were announced today by the Association of Marketing and Communication Professionals (AMCP), and Workforce Solutions Rural Capital Area (WSRCA) was recognized with a Gold Award for Outstanding Nonprofit Video. The award-winning content includes WSRCA's new video series, "Voices From The Field: Careers In Manufacturing," featuring local workers at TASUS Corporation in Georgetown, TX, sharing what they love most about their manufacturing careers and the lifestyle benefits they enjoy as a result of their professions.

The recognition by the AVA Digital Awards comes after WSRCA was honored last year with eight awards for Best Nonprofit Videos by the 27th Annual Viddy Awards, 18th Annual MarCom Awards, the 17th Annual w3 Awards, and for Best Integrated Nonprofit Outreach Campaign by the 28th Annual Communicator Awards, and by the 43rd Annual Telly Awards.
AVA Digital recognizes outstanding achievements by creative professionals involved in the concept, direction, design, and production of media that is part of the evolution of digital communication. Work ranges from audio and video productions – to websites and social media sites that present interactive components such as video, animation, blogs, and podcasts – to other forms of user-generated digital communication.
Winners of the AVA Digital Awards are selected from among thousands of submissions spanning over 200 categories in Audio, Video, and Web-based production. The Gold Award is awarded for projects that exceed industry standards.
AMCP judges are industry professionals who look for companies and individuals whose talent exceeds a high standard of excellence and whose work serves as a benchmark for the industry.
"The Manufacturing Sector across our region of Central Texas is expanding rapidly and we're committed to ensuring these employers can recruit Texans with the skills needed to enhance their operations," said WSRCA CEO Paul Fletcher. "We're thankful for the support of TASUS Corporation and its team in Georgetown, TX, in the development of this video to showcase the sustainable work-life integration available locally through great manufacturing careers."
"Professional development opportunities, organizational culture, and flexibility around lifestyle, are some of the most sought-after benefits our multi-generational workforce in Central Texas is seeking in their next employer," said WSRCA Chief Storyteller Brian Hernandez. "The 'Voices From The Field' video series highlights good-paying and meaningful careers in growing local industries by introducing audiences to workers at different levels of their workforce journey, sharing how their rewarding careers create lifestyle opportunities for their families. A special thanks go out to Tracy Jackson, Sergio Palomo, Lorena Arriza, and Steven Rodriguez with TASUS Corporation for their participation in this project, and Red Jarrah Productions, for helping us deliver on our collective vision."
To explore the full list of award winners and their submissions, please visit the AVA Awards Website at www.avaawards.com. To review WSRCA services, solutions, and upcoming events, please visit: www.workforcesolutionsrca.com.
Watch the Award-Winning Video:
Workforce Solutions Rural Capital Area is a nonprofit community partnership providing no-cost recruitment, employment services, and early-learning child care tuition scholarships to empower businesses, employers, and job seekers in the Rural Capital Area of Central Texas. This nine-county region includes Bastrop, Blanco, Burnet, Caldwell, Fayette, Hays, Lee, Llano, and Williamson counties. For more details on WSRCA and the services it offers, visit www.workforcesolutionsrca.com.