Rural Capital Area Caps Off 2022 by Adding 14K Jobs, December Unemployment Rate Plummeting to 2.8%
Jan 20, 2023
Workforce Solutions Rural Capital Area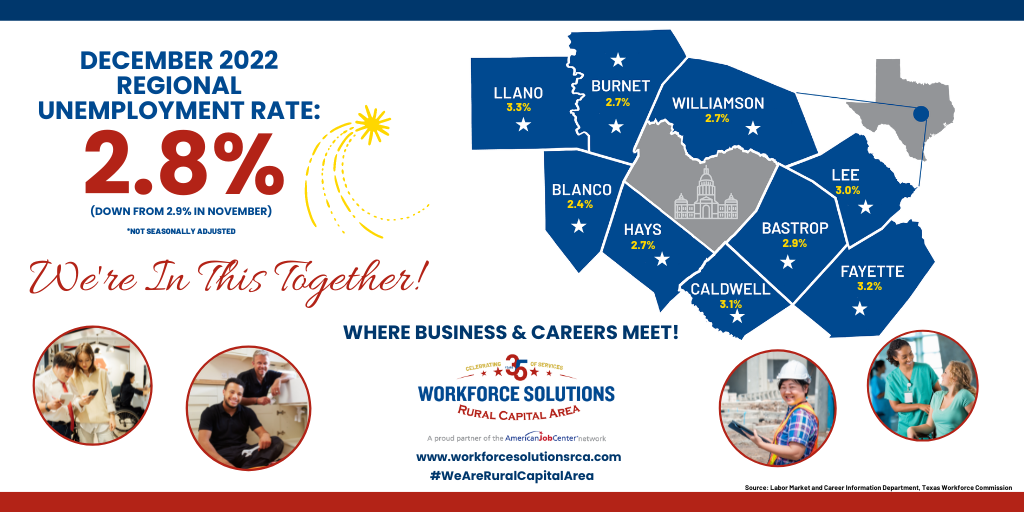 CEDAR PARK, Texas ⎯ The economy of the nine-county Workforce Solutions Rural Capital Area (WSRCA) capped off another year of pandemic recovery in December 2022, with 14,684 jobs created throughout the nine-county region compared to December 2021—an annual growth rate of 2.5 percent. The unadjusted unemployment rate for the WSRCA workforce development area plummeted to 2.8 percent in December, down from a consistent 2.9 percent the previous three months, according to figures released today by the Texas Workforce Commission (TWC). The 2.8 percent unemployment rate represented 17,657 residents seeking employment in December, with more than 26,870 open jobs posted across all counties and industries.* The region's unemployment in December remained below the Texas (3.6 percent)** and national (3.3 percent)** rates, which also saw rate drops.

Within the WSRCA counties, Blanco recorded the lowest unemployment rate at 2.4 percent (down from 2.5 percent in November), followed by Burnet, Hays, and Williamson counties at 2.7 percent (dropping from 2.8 percent, 2.9 percent, and 2.8 percent, respectively). Bastrop County slid to 2.9 percent (dropping from 3.1 percent), and Lee County's unemployment rate remained unchanged from November at 3.0 percent. Caldwell County was at 3.1 percent (down from 3.2 percent), while Fayette County came in at 3.2 percent (down from 3.3 percent), and Llano County was at 3.3 percent (down from 3.5 percent in November).
For a deeper dive into regional unemployment claims by demographics, skills impact, and zip code, please visit TWC's resources.
The WSRCA team is eager to help you find workforce solutions. Visit a Rural Capital Area career center near you to empower your workforce journey. Services are also available virtually to meet your immediate workforce needs. Utilize our Interactive Skill-Based Career Progression Lattices and work with our teams to develop a customized training plan to help enhance your skills and create sustainable career outcomes.
Are you looking for work? The Workforce Wednesdays Virtual Career Expo connects employers and job seekers at weekly online hiring events. Workforce Wednesdays represent a collective effort among Rural Capital Area communities and industries to empower our workforce through virtual interactive events. Employers looking to host free hiring booths and interview sessions should email the WSRCA Business Services Team at businessservices@ruralcapital.net.
There's no better time to ramp up your skills and marketability for local careers in high-demand industries. Through our partnerships, WSRCA offers over 20,000 free online courses in various occupations through SkillUp Rural Capital, Metrix Learning, and LinkedIn Learning.
Early care and education are essential to the development of children. We understand that quality child care is expensive. Next to housing, child care is the largest expense in most families' budgets. Through federal, state, and local funding, WSRCA's Child Care Services Team provides Early-Learning Child Care Tuition Scholarships for eligible families and offers professional development opportunities for early care and education providers. Child care assistance is available for families searching for work, those who are working, and those looking to train for careers in high demand. Local child care providers are enrolling today; give your family the support and financial relief you need. You are not taking a spot from anyone else—apply today at https://bit.ly/childcarehelpnow.
Central Texans throughout the Rural Capital Area also have a new way to connect with customized workforce solutions from the convenience of their smartphones. The WSRCA Mobile App is a first of its kind in Central Texas. It seamlessly links Workforce Solutions customers with no-cost services for job seekers, employers, and families seeking early-learning child care tuition assistance. The application's rich feature set offers residents an all-in-one platform to engage with workforce center staff, explore upskilling tools, review workshop calendars, register for weekly hiring events, and apply for immediate jobs on WorkinTexas. Additional resources include access to Jobs Now Employer Spotlights, and WSRCA Customer Testimonials, with new value-driven content added to the application regularly. Anyone can download the easy-to-use application through the iOS App Store and the Google Play Marketplace.
We are proud to continue innovating our service offerings to maximize our ability to deliver customized and sustainable outcomes for you. For more information, please visit WSRCA at www.workforcesolutionsrca.com, call toll-free at 1-844-344-2780, and begin your job search on www.workintexas.com.
Employment estimates released by TWC are produced in cooperation with the U.S. Department of Labor's Bureau of Labor Statistics. All estimates are subject to revision. To access this and more employment data, visit texaslmi.com.
Workforce Solutions Rural Capital Area is Where Business and Careers Meet! We're a nonprofit community partnership providing no-cost recruitment, employment services, and early-learning tuition scholarships to empower employers and job seekers in the Rural Capital Area of Central Texas. This nine-county region includes Bastrop, Blanco, Burnet, Caldwell, Fayette, Hays, Lee, Llano, and Williamson counties. For more details on WSRCA, and the services we offer, please visit www.workforcesolutionsrca.com.
*Source: JobsEQ® - Online job postings across nine counties active from 12/01/2022 to 1/18/2023
**All unemployment rates listed are not seasonally adjusted.