WSRCA CEO Paul Fletcher Honored with 2022 Friend of Manufacturing Award by ARMA
Feb 01, 2023
Workforce Solutions Rural Capital Area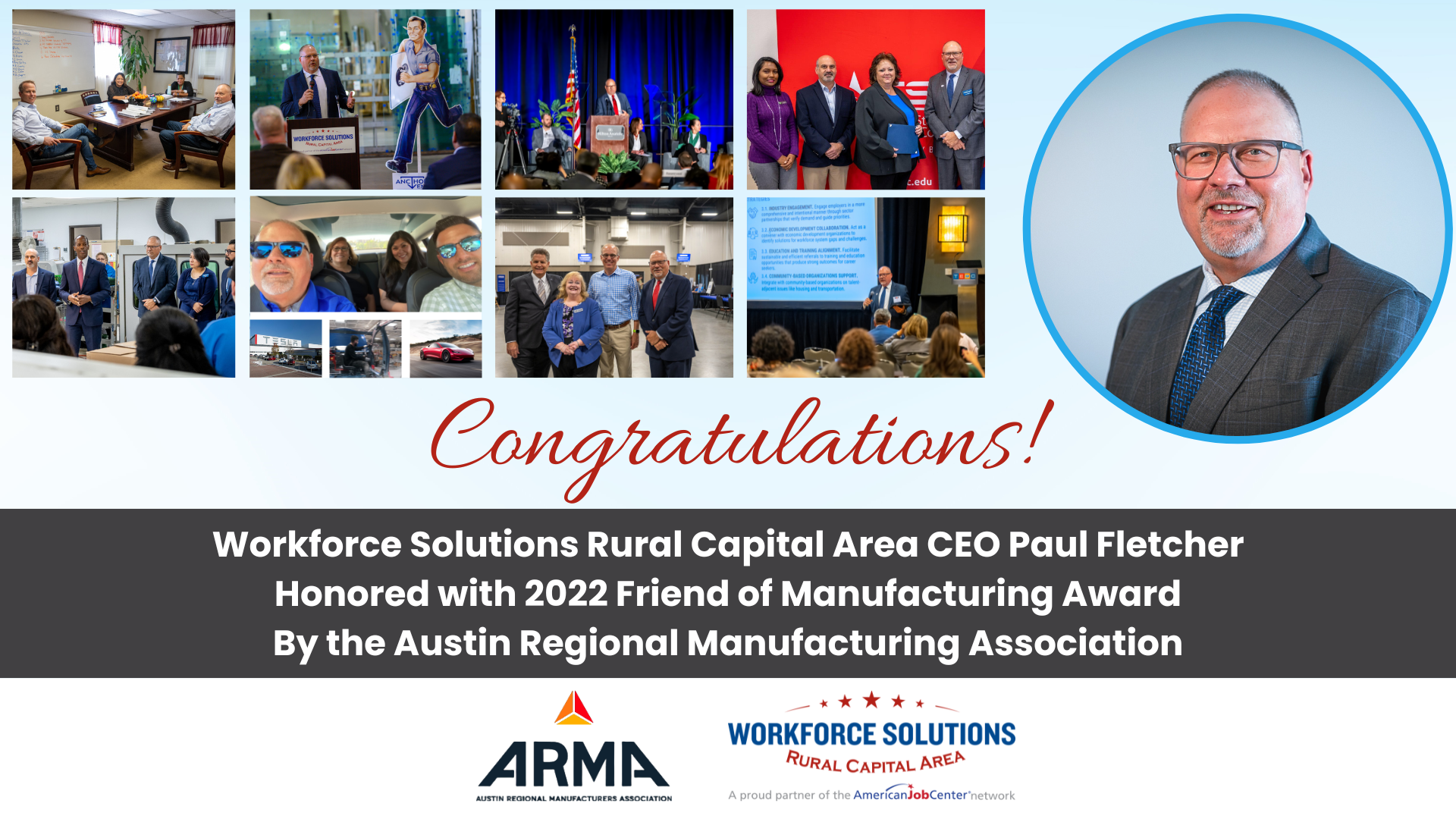 CEDAR PARK, Texas ⎯ The Austin Regional Manufacturers Association (ARMA) announced that Workforce Solutions Rural Capital Area (WSRCA) Chief Executive Officer, Paul Fletcher, has been recognized with its Friend of Manufacturing Award for 2022.

In its award announcement, ARMA shared that Fletcher "has a keen interest in manufacturing and has been a key partner in ARMA's workforce sector partnership. This work includes helping to build a stronger manufacturing workforce pipeline, supporting new manufacturers in the region, and engaging and developing two new apprenticeship programs, one for machinists and one for plastic injection."
"I'm honored by the recognition from ARMA and their continued partnership in helping us key in on the workforce needs of Central Texas manufacturers and delivering results to empower our communities," said Fletcher. "Our local manufacturing sector is a strong economic driver for workforce prosperity in our region. We're excited to ramp up our collective efforts to build a world-class talent supply chain that will help local companies continue to innovate and compete globally."
Fellow current and past honorees of ARMA's prestigious Friend of Manufacturing Award include Dr. Laura Marmolejo, Associate Dean of Manufacturing at Austin Community College; Eric Shaffer, Engineering Teacher and Career and Technical Education Department Chair with the Austin Independent School District; Veronica Briseño, Assistant City Manager for the City of Austin; and Charisse Bodisch, Senior Vice President of Economic Development with the Austin Chamber of Commerce.
WSRCA offers extensive resources at no cost, to help employers and job seekers connect at weekly online career fairs every Wednesday and through job search listings on RuralCapitalHeadlight.com. WSRCA's Interactive Skill-Based Career Progression Lattices are also available to help Texans visually navigate their way to career success in manufacturing roles and more than 380 occupations across local industries.
###
About ARMA:
ARMA's mission is to strengthen the Central Texas manufacturing community through advocacy, workforce development, and networking. We are the voice of a vibrant, growing, prosperous manufacturing company. For more information on ARMA and its services, please visit www.arma-tx.org
About WSRCA:
Workforce Solutions Rural Capital Area is a nonprofit community partnership providing no-cost recruitment, employment services, and early-learning child care tuition scholarships to empower businesses, employers, and job seekers in the Rural Capital Area of Central Texas. This nine-county region includes Bastrop, Blanco, Burnet, Caldwell, Fayette, Hays, Lee, Llano, and Williamson counties. For more details on WSRCA and the services it offers, visit www.workforcesolutionsrca.com.