Workforce Solutions Rural Capital Area Honored with Telly Award for Pandemic Response Video Outreach Campaign
May 24, 2022
Workforce Solutions Rural Capital Area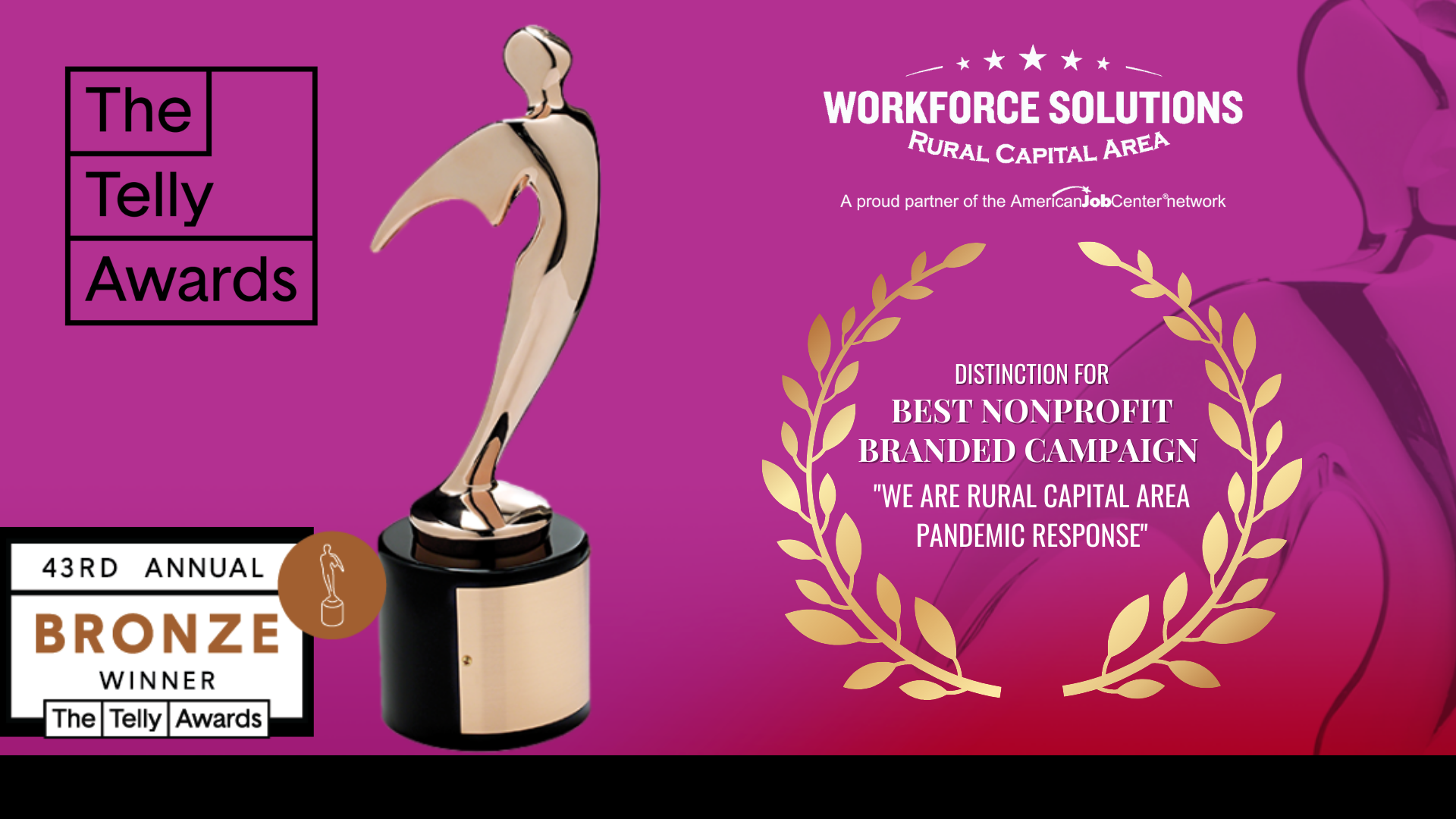 CEDAR PARK, Texas ⎯ Workforce Solutions Rural Capital Area (WSRCA) announced today its "We Are Rural Capital Area - Pandemic Response" video series has been named a Bronze Award winner for Best Nonprofit Branded Campaign in the 43rd Annual Telly Awards. The Telly Awards honors excellence in video and television across all screens and is judged by leaders from video platforms, television, streaming networks, and production companies, including Adobe, Netflix, Dow Jones, Duplass Brothers Productions, Complex Networks, Jennifer Garner, A&E Networks, Hearst Media, Nickelodeon, ESPN Films, RYOT, Partizan and Vimeo. The award comes two weeks after WSRCA was recognized for distinction by the 28th Annual Communicator Awards for its integrated nonprofit outreach campaign, "We Are Rural Capital Area."
The Telly Awards is the world's largest honor for video and television content across all screens, with over 11,000 entries submitted in 2022, and increasing global submissions. Founded in 1979 to honor commercials made for cable and local TV, The Telly Awards has continually refreshed its categories to honor the evolving, broad range of work being made — including branded content, social video, and animation.
"This video campaign was launched and maintained throughout the pandemic to connect our communities with immediate assistance for their workforce needs," said WSRCA CEO Paul Fletcher. "We are proud that the series has been recognized globally for its merits, but even more so because it continues to create value for Central Texans by focusing on local workforce development solutions offered by our teams."
"All of our audience-driven outreach campaigns are truly collaborative projects brought to life by our Board of Directors and put into production and distribution by our talented teams," said WSRCA Chief Storyteller Brian Hernandez. "This award demonstrates our team's commitment to effective storytelling, innovation, and exceptional service delivery, and it's a great honor to be recognized. Thank you to The Telly Awards Judging Council for celebrating our campaign and to our video vendor, Andy Brooksbank of Red Jarrah Productions, for helping us regularly deliver on our collective vision."
Today's winner's announcement caps a year-long celebration of creators producing work with a new point of view and a refreshed creativity, reflecting an ever-changing landscape emerging from the difficulties and opportunities of the last few years.
"Now, more than ever, it is necessary to celebrate video work that reflects the top tier of our industry, such as the 'We Ae Rural Capital Area' campaign by Workforce Solutions Rural Capital Area," said Telly Awards Executive Director Sabrina Dridje. "This year's submissions reflect an industry that has returned to the important work of storytelling, one that has returned with a new perspective that values innovation, agility, equity, and tenacious creativity."
Telly Award Winners in 2022 included, ViacomCBS, Warner Bros. Worldwide TV Marketing, Nice Shoes, Chop & Hue, Feed the Children, Smithsonian's National Museum of African American History and Culture, FORTUNE Brand Studio, Sony Music Entertainment, Microsoft, and ESPN.
To explore the full list of award winners and their submissions, please visit The Telly Awards Website at www.tellyawards.com. To review WSRCA services, solutions, and upcoming events, please visit, www.workforcesolutionsrca.com.
Video Campaign Examples:

Workforce Solutions Rural Capital Area is a nonprofit community partnership providing no-cost recruitment, employment services, and childcare assistance to businesses, employers, and job seekers in the Rural Capital Area of Central Texas. This nine-county region includes Bastrop, Blanco, Burnet, Caldwell, Fayette, Hays, Lee, Llano, and Williamson counties. For more details on WSRCA and the services it offers, visit www.workforcesolutionsrca.com.