Workforce Solutions Rural Capital Area Honored with Communicator Award for Nonprofit Outreach Campaign
May 10, 2022
Workforce Solutions Rural Capital Area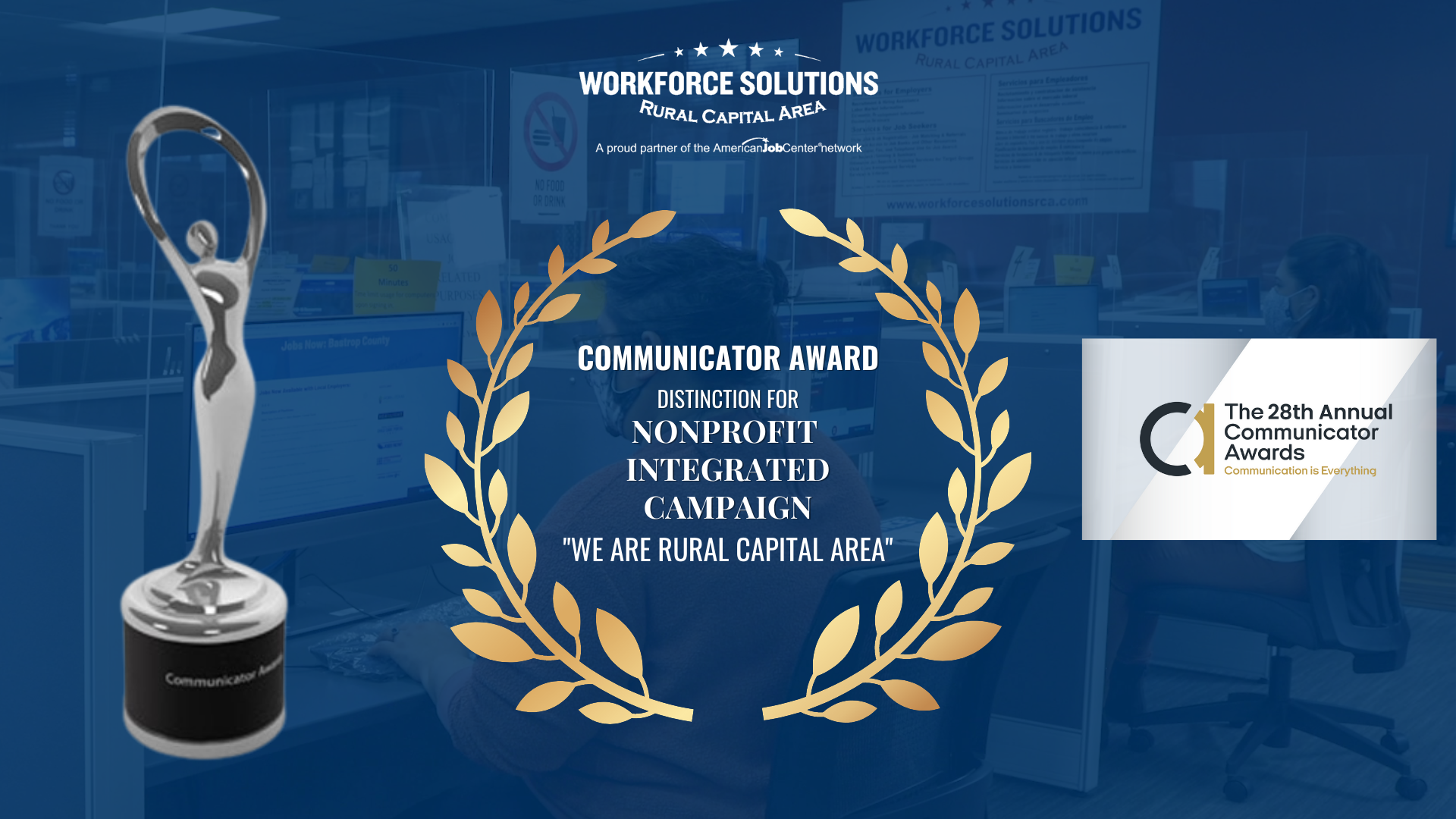 CEDAR PARK, Texas ⎯ Workforce Solutions Rural Capital Area (WSRCA), the nonprofit community partnership developing talent for employers to empower the nine-county Rural Capital Area of Central Texas, announced that it has been recognized for distinction by the 28th Annual Communicator Awards for its integrated nonprofit outreach campaign, "We Are Rural Capital Area." This campaign was launched to help connect the community to the innovative, customized workforce solutions offered by WSRCA to help employers build a highly skilled and educated workforce and ensure residents will have the competencies, skills, and education to become self-sufficient and live a quality life.

The Communicator Awards are dedicated to recognizing excellence, effectiveness, and innovation across all areas of communication and are the leading international awards program honoring talent in this highly competitive field. Founded nearly three decades ago, The Communicator Awards receives almost 5,000 entries annually from companies, agencies, studios, and boutique shops of all sizes, making it one of the largest awards shows globally. The Communicator Awards are judged by the Academy of Interactive & Visual Arts (AIVA). AIVA sanctions all judging for multiple international awards programs.

"Together with our community partners, we're building a world-class workforce for Texas, and the key to that collaboration is effective communication," said WSRCA CEO Paul Fletcher. "We're proud to be recognized for our workforce development outreach because it reflects how our teams are enhancing lives every day, simply by being good neighbors and investing in the success of each customer."
"This award is a great honor for our entire team and reflects our intentional efforts to create value for our workforce customers in-person and on the platforms they use most," said WSRCA Chief Storyteller Brian Hernandez. "We are Texans Helping Texans. Our brand and our messaging are human-focused. Our outreach strategy is driven by demonstrating our proof of performance through customer testimonials, community partner advocacy, and team spotlights to celebrate what makes our organization and our region unique: our people."
To explore the full list of award winners and their submissions, please visit The Communicator Awards Website at www.communicatorawards.com. To review WSRCA services, solutions, and upcoming events, please visit, www.workforcesolutionsrca.com.
Campaign Examples:
Workforce Solutions Rural Capital Area is a nonprofit community partnership providing no-cost recruitment, employment services, and childcare assistance to businesses, employers, and job seekers in the Rural Capital Area of Central Texas. This nine-county region includes Bastrop, Blanco, Burnet, Caldwell, Fayette, Hays, Lee, Llano, and Williamson counties. For more details on WSRCA and the services it offers, visit www.workforcesolutionsrca.com.