Workforce Solutions Rural Capital Area Honored with a Platinum, 2 Gold Viddy Awards for Best Nonprofit Videos
Nov 15, 2022
Workforce Solutions Rural Capital Area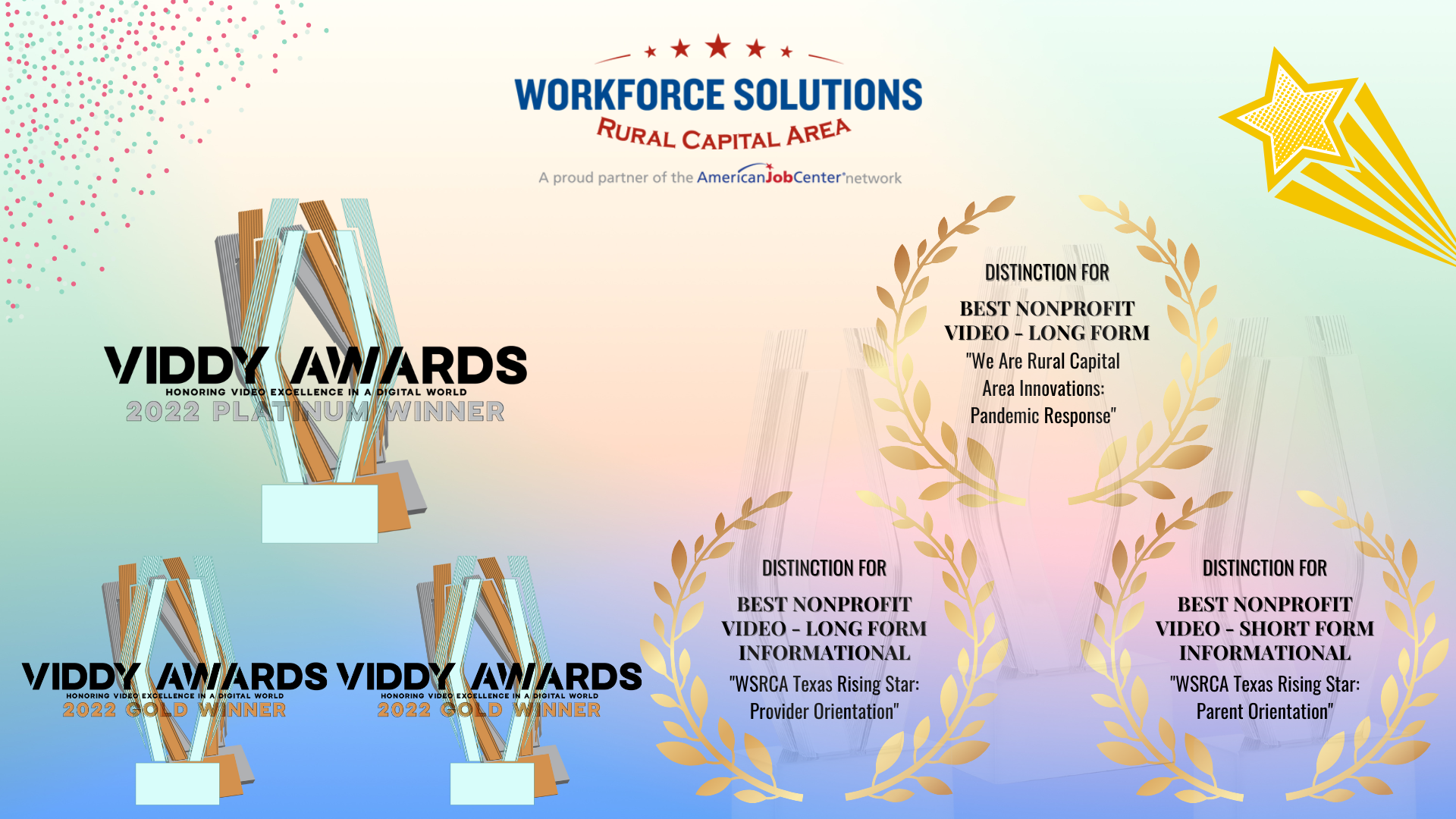 CEDAR PARK, Texas ⎯ The winners of the 27th Annual Viddy Awards were announced this week by the Association of Marketing and Communication Professionals (AMCP), and Workforce Solutions Rural Capital Area (WSRCA) was recognized for outstanding achievement in video and digital production skills, with a Platinum Award and two Gold Awards for Best Nonprofit Videos. The award-winning content includes WSRCA's "We Are Rural Capital Area Innovations: Pandemic Response" video, its "Texas Rising Star Parent Orientation" video, and its "Texas Rising Star Provider Orientation" video. WSRCA's "35th Anniversary Celebration" video was also recognized with an Honorable Mention by the AMCP.

The recognition by the Viddy Awards comes after WSRCA was honored this year for Best Nonprofit Videos by the 18th Annual MarCom Awards, the 17th Annual w3 Awards, and for Best Integrated Nonprofit Outreach Campaign by the 28th Annual Communicator Awards, and by the 43rd Annual Telly Awards.
The Viddy Awards, formerly the Videographer Awards, is one of the most coveted awards in the video industry. Since 1994, thousands of production and communication professionals have entered their best and most creative work. The goal of the Viddy Awards is to identify and recognize the video artisans who excel in the scope of their own environment. Winners range from network news operations to local cable access, from large production companies to freelancers, and from international advertising agencies to student producers.
Each year over 2,500 video entries are submitted from the United States, Canada, and many other countries. Winners are selected from hundreds of categories under the headings of NonBroadcast, Broadcast/Cable/Subscription TV, Commercials, Pro Bono, and Achievement. The Platinum Award is awarded to those projects that the judges deem are written, produced, shot and/or edited in an exceptional manner. The Gold Award is awarded for projects that exceed industry standards.
AMCP judges are industry professionals who look for companies and individuals whose talent exceeds a high standard of excellence and whose work serves as a benchmark for the industry.
"Our outreach strategy has always been focused on creating value for Central Texas employers and their workforce, and we're proud that our videos and campaigns continue to be recognized for their creativity in delivering on that vision," said WSRCA CEO Paul Fletcher. "It's an honor to produce award-winning content that spotlights our world-class public workforce system here in Texas, and builds advocacy for our continuing mission."
"There are countless stories to be shared about our amazing Central Texas Workforce, and the efforts by our teams to empower our industries and communities to compete at a global level," said WSRCA Chief Storyteller Brian Hernandez. "We're grateful to the Viddy Awards for celebrating our storytelling innovations, and for helping us spread the word about the customized workforce solutions and opportunities we offer Texans. A special thanks go out to our partners at Red Jarrah Productions, and Woody Harrison Films, for helping us deliver on our collective vision."
To explore the full list of award winners and their submissions, please visit the Viddy Awards Website at www.viddyawards.com. To review WSRCA services, solutions, and upcoming events, please visit: www.workforcesolutionsrca.com.
Watch the Award Winning Videos Below:
Workforce Solutions Rural Capital Area is a nonprofit community partnership providing no-cost recruitment, employment services, and childcare assistance to businesses, employers, and job seekers in the Rural Capital Area of Central Texas. This nine-county region includes Bastrop, Blanco, Burnet, Caldwell, Fayette, Hays, Lee, Llano, and Williamson counties. For more details on WSRCA and the services it offers, visit www.workforcesolutionsrca.com.