Workforce Solutions Rural Capital Area Honored with W3 Award for Best Nonprofit Video
Oct 04, 2022
Workforce Solutions Rural Capital Area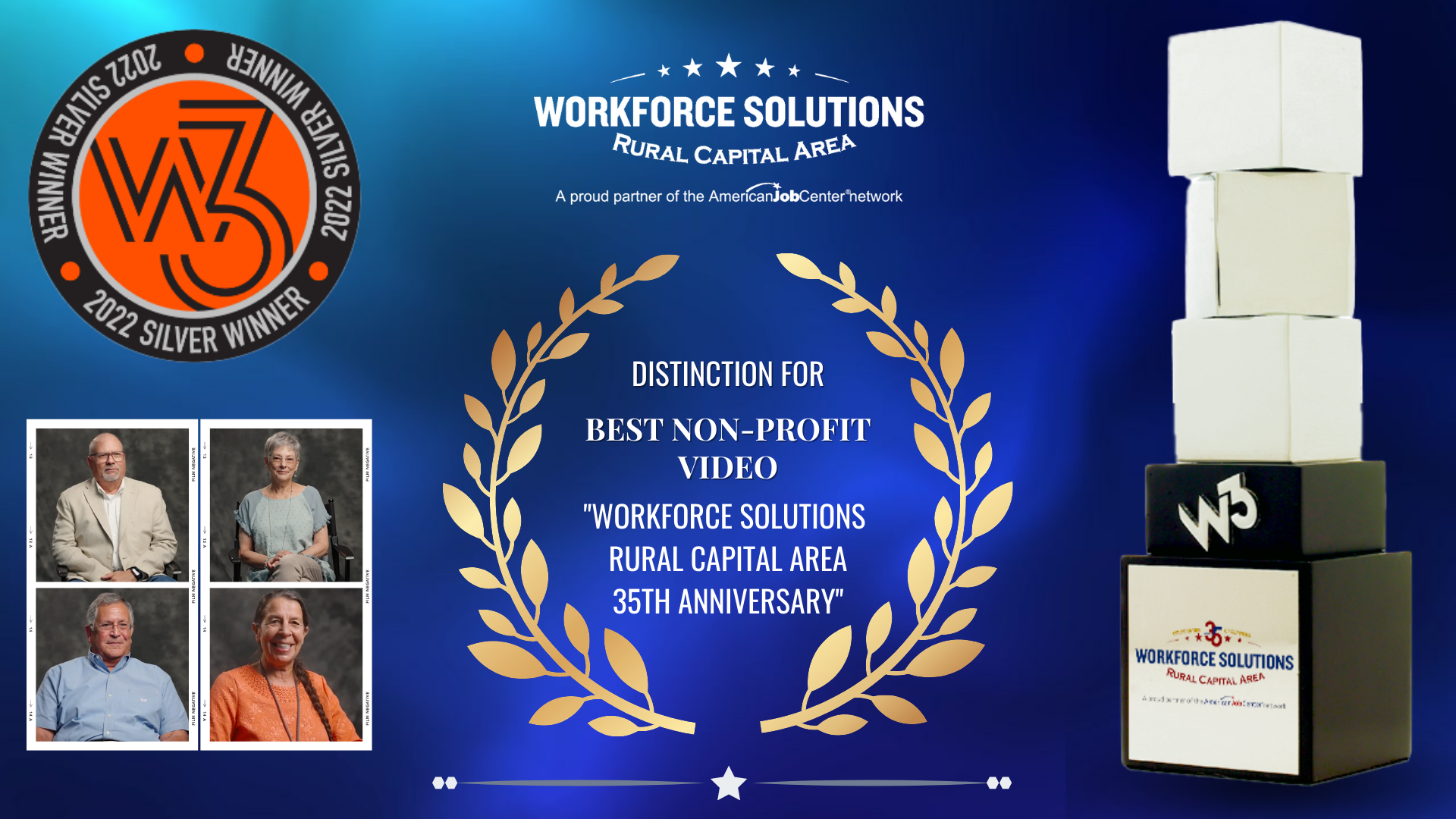 CEDAR PARK, Texas ⎯ The winners of the 17th Annual w3 Awards were announced by the Academy of Interactive and Visual Arts today, and Workforce Solutions Rural Capital Area (WSRCA) was recognized for distinction with a Silver Award for Best "Non-Profit Video" for its 35th Anniversary Celebration project. The video features WSRCA Chief Executive Officer Paul Fletcher, Child Care Services Director Sandy Anderson, former Chief Contracts Officer Jenna Akridge, and former Chief Operating Officer Al Lopez, looking back on the Board's three-and-a-half decades of delivering customized workforce and child care solutions for Central Texans.
The w3 Awards recognition comes after WSRCA was honored earlier this year for Best Integrated Nonprofit Outreach Campaign by the28th Annual Communicator Awards and by the 43rd Annual Telly Awards.
The w3 Awards honor outstanding Websites, Marketing, Video, Mobile, Social, and Podcasts created by some of the best digital content creators across the industry. Receiving over 3,000 entries annually from across the globe, the w3 Awards illuminates creative excellence and recognizes the creative and marketing professionals behind award-winning content.

"Our ability to share our story is a vital component of building stronger relationships with our customers and communities," said Fletcher. "We're proud to be recognized for this video project because it represents the investments of hundreds of current and past WSRCA staff members and partners, who have dedicated themselves to enhancing workforce opportunities for our neighbors."
"Our communications strategy is founded on effective storytelling delivered through value-driven testimonials demonstrating our proof of performance," said WSRCA Chief Storyteller Brian Hernandez. "I'm so grateful for our Board's unwavering support of this project and for the participants' contributions, who shared their unique experiences that continue to inspire. Thanks to the w3 Awards for celebrating this project, and to Red Jarrah Productions, and Woody Harrison Films, for helping us deliver on our collective vision."
To explore the full list of award winners and their submissions, please visit the w3 Awards Website at www.w3award.com. To review WSRCA services, solutions, and upcoming events, please visit: www.workforcesolutionsrca.com.
Award-Winning VIdeo Featured Below:
Workforce Solutions Rural Capital Area is a nonprofit community partnership providing no-cost recruitment, employment services, and childcare assistance to businesses, employers, and job seekers in the Rural Capital Area of Central Texas. This nine-county region includes Bastrop, Blanco, Burnet, Caldwell, Fayette, Hays, Lee, Llano, and Williamson counties. For more details on WSRCA and the services it offers, visit www.workforcesolutionsrca.com.