Rural Capital Area Unemployment Rate Continues Slide to Pre-COVID Levels; Drops to 5.1% in August
Sep 18, 2020
Workforce Solutions Rural Capital Area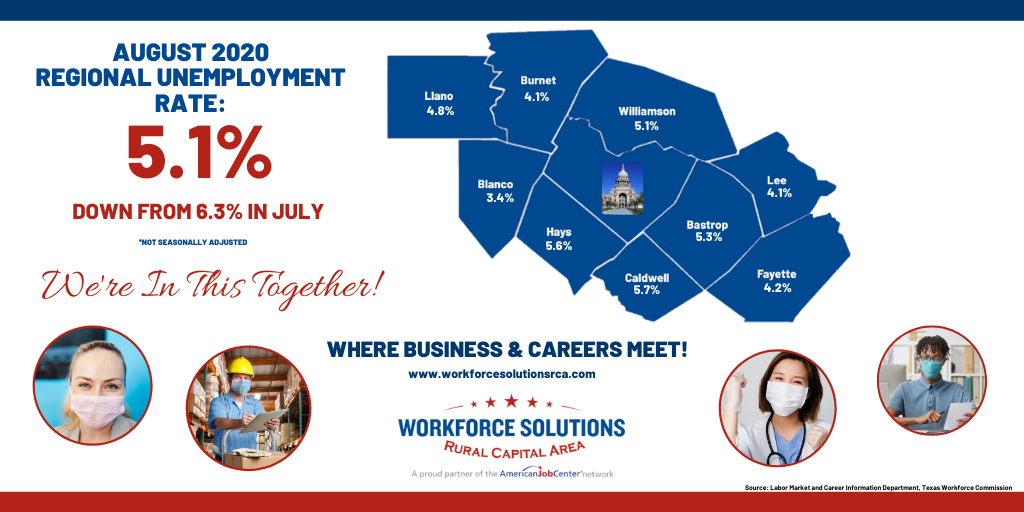 CEDAR PARK, Texas ⎯ The unadjusted unemployment rate in the Rural Capital Area of central Texas has continued its three month slide to pre-pandemic levels, dropping to 5.1 percent in August 2020, down from 6.3 percent in July, according to figures released today by the Texas Workforce Commission (TWC). The 5.1 percent unemployment rate in the nine-county Workforce Solutions Rural Capital Area (WSRCA), represented 29,333 residents seeking employment. The region's unemployment rate remained below both the Texas (7 percent)* and national (8.5 percent)* rates.

Within the WSRCA counties, Blanco recorded the lowest unemployment rate at 3.4 percent in August. Burnet and Lee counties came in at 4.1 percent. Fayette County was at 4.2 percent, while Llano County was at 4.8 percent. Williamson County was at 5.1 percent, Bastrop County was at 5.3 percent, while Hays County came in at 5.6 percent and Caldwell County was at 5.7 percent.
"We're excited to help fuel the economies of our communities by empowering Rural Capital Area employers to grow their operations, with a talented, world-class workforce of all ages and abilities, that continues to upskill to meet industry demands," said WSRCA CEO Paul Fletcher. "Utilize our Skill-Based Career Progression Lattices and work with our teams to develop a customized training plan to help you enhance your skills and create sustainable career outcomes."
"We're pleased that our partners at TWC have begun to offer free online training courses for unemployment customers through Metrix Learning's Skillsoft courseware," said WSRCA COO Diane Tackett. "When combined with the 16,000-plus virtual courses our teams offer through LinkedIn Learning as well as Academy, there's no better time to ramp up your skills and marketability for local careers in high-demand industries."
The WSRCA team is eager to help you find workforce solutions in person and has begun a phased reopening of our offices for curbside and in-center customers with appointments. Services continue to be available virtually. For more information please visit our website at www.workforcesolutionsrca.com, call us toll free, at 1-844-344-2780, and begin your job search on www.workintexas.com.
Employment estimates released by TWC are produced in cooperation with the U.S. Department of Labor's Bureau of Labor Statistics. All estimates are subject to revision. To access this and more employment data, visit texaslmi.com.
Workforce Solutions Rural Capital Area is a nonprofit community partnership providing no cost recruitment, employment services and childcare assistance, to businesses, employers, and job seekers in the Rural Capital Area of central Texas. This nine-county region includes Bastrop; Blanco; Burnet; Caldwell; Fayette; Hays; Lee; Llano; and Williamson counties. For more details on WSRCA, and the services it offers, visit www.workforcesolutionsrca.com.
*All unemployment rates listed are not seasonally adjusted.
Click to see a printable version of this release, as well as additional labor market information.