WSRCA Celebrates 35 Years of Service to the Rural Capital Area of Texas
Jun 30, 2022
Workforce Solutions Rural Capital Area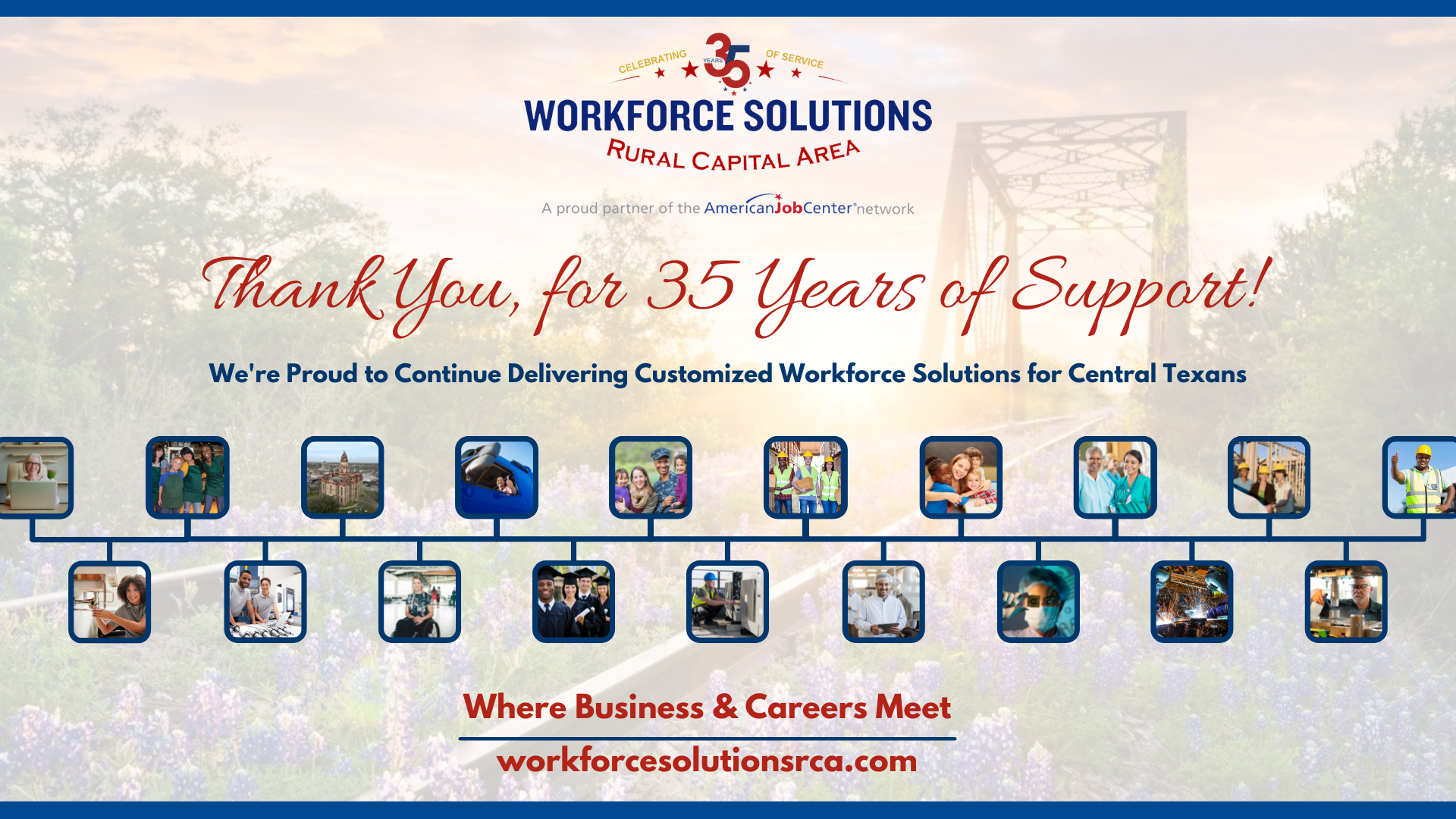 CEDAR PARK, Texas ⎯ Workforce Solutions Rural Capital Area (WSRCA) is proud to announce its 35th anniversary as the leading workforce development organization serving the nine-county Rural Capital Area of Texas. Since its incorporation in 1987, WSRCA has provided customized workforce solutions to thousands of Central Texas employers and residents to help expand the region's economy, fuel market-leading industry innovations, and build a world-class workforce for Texas.

In recognition of over three decades of service to the region, Governor Greg Abbott and county judges and commissioners representing each of the nine counties across the Rural Capital Area issued state-level and county proclamations to express their appreciation for WSRCA's leadership in all areas of workforce development. WSRCA's partners at the Texas Workforce Commission, the Governor's Office of Economic Development and Tourism, and fellow Boards in the Texas Workforce Solutions Network, also shared remarks and messages of support.
Paul Fletcher, WSRCA CEO, reflected on the organization's anniversary by saying, "Our success is directly attributed to the dedication of our Board of Directors, staff, contractors, and partners to deliver results for our communities. Our customers come to us for proven solutions. We're proud to create value for employers and Texans by providing customized recruiting and retention strategies, career coaching and upskilling opportunities, and early learning child care scholarships to empower our neighbors to achieve and sustain economic prosperity.
"On behalf of our teams, thank you for your continued trust and support; we're excited for all the new workforce opportunities coming soon to our communities. Together we're delivering solutions to strengthen opportunities for Central Texas families," Mr. Fletcher concluded.
To mark its 35th anniversary, WSRCA held a ceremony during its June Board of Director's meeting, released a look back video featuring current and former staff members discussing the history of the Board, as well as a video featuring community partner messages.
The economy of the Rural Capital Area of Central Texas is continuing its historic rebound, plunging to a pre-pandemic unemployment rate of 2.8 percent in May 2022, down from an all-time high of 11 percent, recorded in April 2020.
In 2021, WSRCA invested about $35 million in local workforce development funding. That investment is increasing to $45 million in 2022, to continue fueling the economic recovery of the region. Historically, for every dollar invested by WSRCA in workforce development programs, there is a return of $2.91 put back into the communities of the nine-county region from wages. For every dollar invested in early learning child care scholarships, there is a return of $1.19 put back into the local communities from job retention and additional earnings.
WSRCA and its teams are proud to continue innovating its service offerings to maximize its ability to deliver customized and sustainable outcomes for you. For more information, please visit WSRCA at www.workforcesolutionsrca.com, call toll-free at 1-844-344-2780, and begin your job search on www.workintexas.com.
About WSRCA
WSRCA is a nonprofit community partnership providing no-cost recruitment, employment services, and childcare assistance to businesses, employers, and job seekers in the Rural Capital Area of Texas. This nine-county region includes Bastrop, Blanco, Burnet, Caldwell, Fayette, Hays, Lee, Llano, and Williamson counties. WSRCA's integrated, employer-driven workforce system actively involves employers in workforce decisions that allow them to: identify labor and economic trends, define skills and training standards and hire high skilled workers while simultaneously providing job seekers with information, advice, job search assistance, supportive services, and training in the employer identified industries and occupations so they will attain cutting edge skills that will lead to self-sufficient employment.
WSRCA offers an array of no-cost services and programs designed to help job and career seekers at different stages of their search. Through its community partnerships and funding programs, WSRCA is also able to help host continuing education certification training in high-demand industries such as healthcare, manufacturing, and skilled trades. For more details on WSRCA and the services it offers, please visit www.workforcesolutionsrca.com.
About the WSRCA Board of Directors
WSRCA is led by an all-volunteer Board of Directors comprised of community leaders appointed by local elected officials and charged with planning and oversight responsibilities for workforce programs and services in the nine-county region. Board members are the "trustees" or guardians of the state's workforce development system. WSRCA has 27 recognized community leaders serving on its Board from many areas of expertise, including business, community-based organizations, economic development, education, government, literacy, labor, and vocational rehabilitation. The WSRCA Board of Directors contributes significant amounts of time, talent, and energy to further our organizational mission of empowering the workforce of the Rural Capital Area.
About the Texas Workforce Solutions Network
Texas Workforce Solutions is comprised of the Texas Workforce Commission and a statewide network of 28 Workforce Development Boards (Boards) for regional planning and service delivery, their contracted service providers and community partners, and the TWC unemployment benefits Tele-Centers. This network gives customers local access to workforce solutions and statewide services at numerous Workforce Solutions offices and five Tele-Centers.
Texas Workforce Solutions provide workforce development services that help workers find and keep good jobs, and help employers hire the skilled workers they need to grow their businesses. Workforce partners include community colleges, adult basic education providers, local independent school districts, economic development groups, businesses and other state agencies. Collaboration and coordination among all partners play a critical role in the success of the Texas workforce system.
Boards are responsible for the strategic planning of workforce services for employers and job seekers. The integrated workforce delivery system maximizes funding and productivity while eliminating duplicate efforts. Through performance-based contracts, TWC monitors and holds the Boards accountable for program performance and provides technical assistance.
Workforce Solutions continues to cultivate emerging industries, support existing businesses, and enhance the skills development of the Texas workforce, taking advantage of strategic opportunities provided by swift economic change. The network is dedicated to leading a market-driven workforce system that meets the needs of employers and workers and helps Texans prosper.