Rural Capital Area Unemployment Rate Drops to 7.1% in June; Continues Slide to Pre-COVID-19 Levels
Jul 17, 2020
Workforce Solutions Rural Capital Area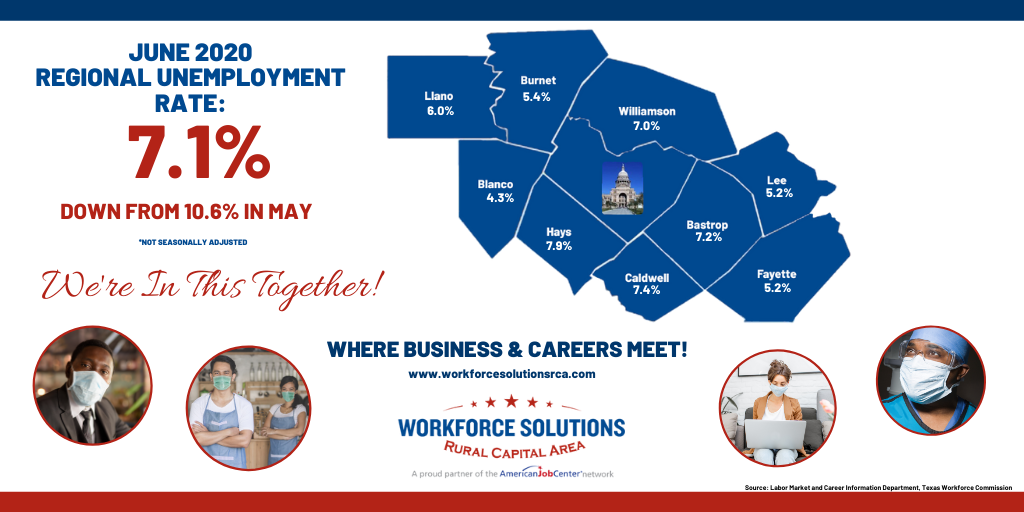 CEDAR PARK, Texas ⎯ The unadjusted unemployment rate in the Rural Capital Area of central Texas continues to trend down towards pre-COVID-19 levels, sliding to 7.1 percent in June 2020, down from 10.6 percent in May, according to figures released today by the Texas Workforce Commission (TWC). The 7.1 percent unemployment rate in the nine-county Workforce Solutions Rural Capital Area (WSRCA), represented 38,305 residents seeking employment; a decline of more than 31 percent from the month prior. The region's unemployment rate remained below both the Texas (8.9 percent)* and national (11.2 percent)* rates.

Within the WSRCA counties, Blanco recorded the lowest unemployment rate at 4.3 percent in June. Fayette and Lee counties came in at 5.2 percent. Burnet County was at 5.4 percent, while Llano County was at 6.0 percent. Williamson County was at 7.0 percent, Bastrop County was at 7.2 percent, while Caldwell County came in at 7.4 percent and Hays County was at 7.9 percent. Some of the largest cities in the region saw their unemployment rates drop from three to almost five points month-to-month in June.
To keep our Rural Capital Area community, industries and partnerships informed on the impact of COVID-19 concerns upon our regional workforce, we are providing weekly unemployment claims snapshots through our Workforce Impact Report. Review claims by demographics, skills impact, and zip code: https://workforcesolutionsrca.com/board/covid-19-workforce-impact-report
As Governor Greg Abbott has declared a state of disaster in Texas due to COVID-19, and our communities continue to feel the increased impact of its global effects, the WSRCA team has mobilized to ensure the health and safety of customers and staff, while ensuring that our business services, early childhood development programs and workforce services, continue throughout our Rural Capital Area communities.
"We know this is a difficult time for our Rural Capital Area families and businesses, but we're committed to empowering our world-class workforce as our Texas economy reopens," said WSRCA CEO Paul Fletcher. "Our talented workforce and child care services teams are available to ensure immediate accessibility for our communities, and we are ready and eager to help people transition back to employment. We are reaching out to people and welcome their reaching out to us, to ensure they get the assistance they need to make that transition and find sustainable workforce solutions."
The WSRCA team is eager to help you find workforce solutions in person and has begun a phased reopening of our offices for customers with appointments. Services continue to be available virtually. For more information please visit our website at www.workforcesolutionsrca.com, call us toll free, at 1-844-344-2780, and begin your job search on www.workintexas.com.
As local employers within our nine-county region contact us with job openings they need to fill immediately, we are posting them to the Jobs Now! section of our website by county, to connect job seekers to these opportunities. We are also hosting free virtual career workshops, hiring events and seminars to meet the needs of our communities. Visit the events section of our website for the latest schedule.
For our business community, we have set up the email address, rapidresponse@ruralcapital.net, to connect employers with a Rapid Response specialist, for assistance with customized proactive outplacement services or layoff aversion strategies at no cost. Our Rapid Response services are tailored to each company, based on the needs of the affected employees.
Employment estimates released by TWC are produced in cooperation with the U.S. Department of Labor's Bureau of Labor Statistics. All estimates are subject to revision. To access this and more employment data, visit texaslmi.com.
Workforce Solutions Rural Capital Area is a nonprofit community partnership providing no cost recruitment, employment services and childcare assistance, to businesses, employers, and job seekers in the Rural Capital Area of central Texas. This nine-county region includes Bastrop; Blanco; Burnet; Caldwell; Fayette; Hays; Lee; Llano; and Williamson counties. For more details on WSRCA, and the services it offers, visit www.workforcesolutionsrca.com.
*All unemployment rates listed are not seasonally adjusted.
Click to see a printable version of this release and additional labor market information.