Workforce Solutions Rural Capital Area Announces Executive Leadership Changes in Communications
Sep 29, 2023
Workforce Solutions Rural Capital Area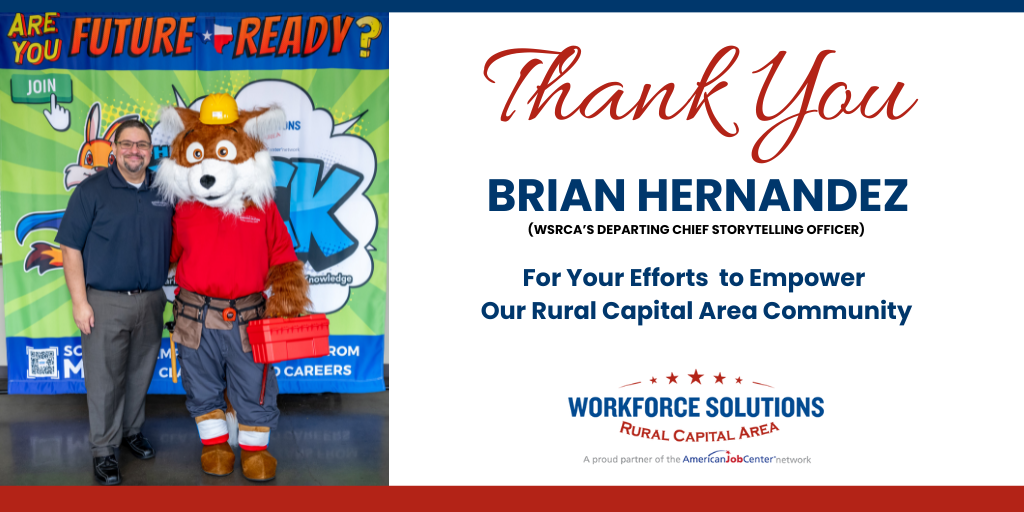 CEDAR PARK, Texas ⎯ Workforce Solutions Rural Capital Area (WSRCA), the facilitator of workforce development services for the nine-county Rural Capital Area of Central Texas, today announced that Chief Solutions Officer Kelly Moreno would begin overseeing outreach efforts for the communications team representing the Board of Directors after Chief Storytelling Officer Brian Hernandez announced that he was stepping down after almost five years with the Board to launch his own business venture, Phalanx Outreach Solutions, a media agency specializing in workforce development strategic outreach.

Moreno has played a crucial role in expanding community engagement and advocacy throughout the region to bolster opportunities for employers, job seekers, and families seeking early-learning child care assistance. Moreno has also led the charge to expand awareness of local careers in high demand with K-12 administrators, faculty, and students across 36 Independent School Districts in Central Texas.
"Brian has been instrumental in revolutionizing how workforce development organizations nationwide cultivate advocacy for their brands and services through impactful storytelling," remarked Paul Fletcher, Chief Executive Officer of WSRCA. "We extend our gratitude to Brian for consistently discovering new ways to promote awareness about our Board and its offerings by showcasing the stories of our customers and community partners. We look forward to his ongoing innovations as an entrepreneur and wish him great success in this new phase of his career. Our communications efforts continue to be in great hands, and we have full confidence in Kelly's stewardship of our outreach strategy."
"I am enthusiastic about carrying forward the momentum that Brian established for our outreach initiatives, and I extend my gratitude to the Board of Directors for their ongoing guidance and support," Moreno expressed. "Brian set a commendable standard for workforce development storytelling nationwide, and we greatly appreciate his efforts in advancing advocacy for our Board. Our dedicated team of outreach specialists remains steadfast in their efforts to amplify awareness about WSRCA and its diverse range of services."
"When I left the news business after almost two decades of multi-platform storytelling, I was fortunate to find that my skills and experience would be useful in promoting the amazing work of the Texas Workforce Solutions Network," shared Hernandez. "I'm proud of the strong collaborations we've built through our shared campaigns across Texas, and the spirit of innovation and commitment to service found throughout our ranks. I will always be grateful to the Rural Capital Area Board of Directors, our community partners, and my teammates for their unwavering support in helping us enhance the lives of Texans through workforce development opportunities."
WSRCA's market-leading storytelling efforts have been praised across Texas for its many innovations to enhance awareness of the customized solutions offered by the Texas Workforce Solutions Network. The Board's campaigns and videos have also been recognized nationally and globally, with over 15 communications awards for outstanding achievement in multi-channel campaign strategy and video production.
###
About Workforce Solutions Rural Capital Area:
Workforce Solutions Rural Capital Area (WSRCA) develops talent for employers by coaching Texans to employment. WSRCA is a non-profit 501(c)(3) community partnership providing comprehensive no-cost recruitment, employment services, and early-learning child care tuition scholarships to empower employers and job seekers in the Rural Capital Area of Central Texas. This nine-county region includes Bastrop, Blanco, Burnet, Caldwell, Fayette, Hays, Lee, Llano, and Williamson counties. WSRCA helps employers find quality candidates by providing services that include candidate referrals, customized job training programs, job listings, job fair assistance, labor market information, testing and assessment, outplacement services, and layoff aversion strategies. WSRCA guides job seekers to find and retain employment by providing services that include job referrals, job application assistance, job readiness and job search workshops, career exploration, child care assistance, unemployment insurance information, and GED assistance.