Workforce Solutions Rural Capital Area Honored with 2 Gold MarCom Awards for Best Nonprofit Videos
Oct 09, 2023
Workforce Solutions Rural Capital Area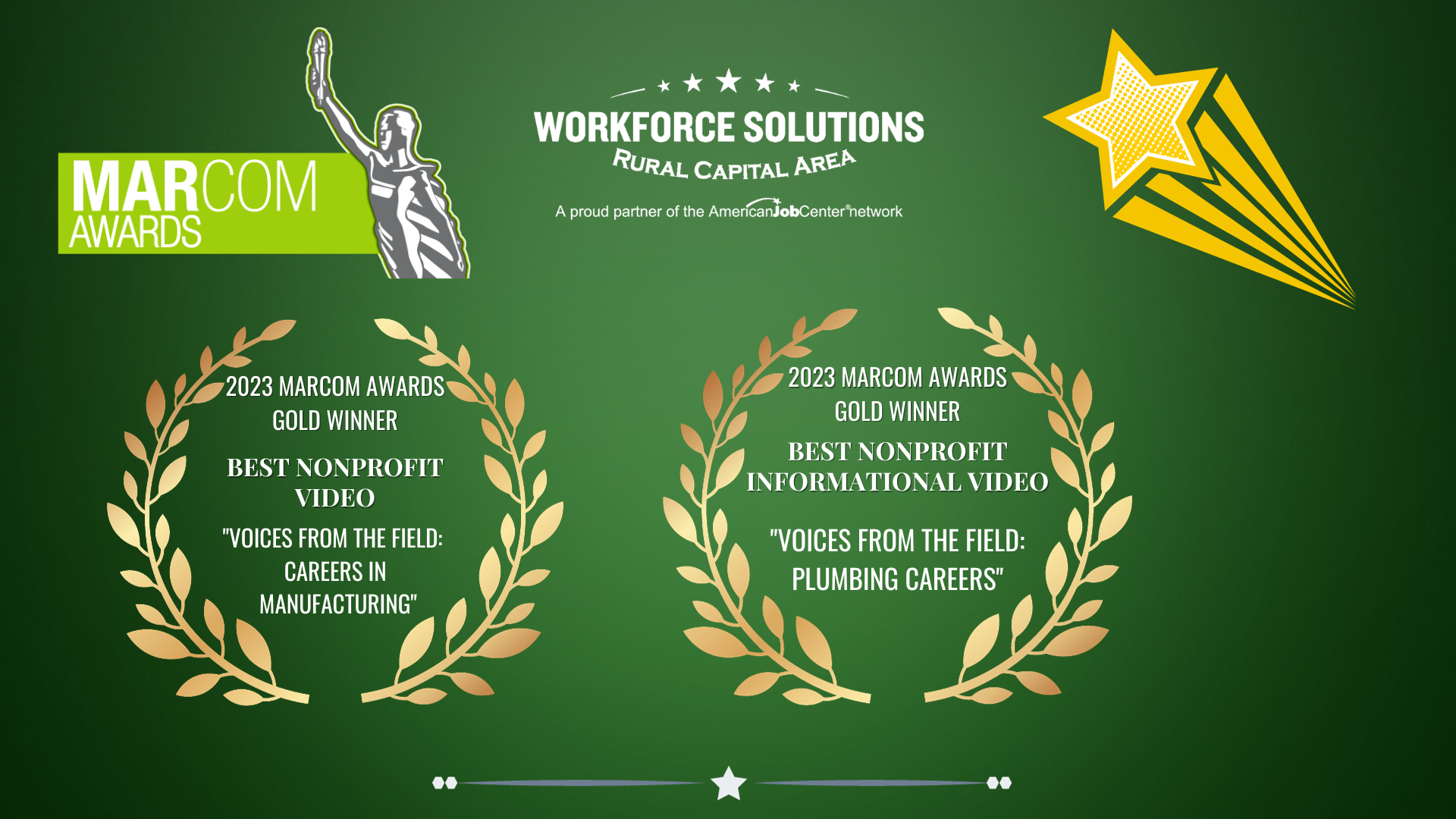 CEDAR PARK, Texas ⎯ The winners of the 19th Annual MarCom Awards were announced this week by the Association of Marketing and Communication Professionals (AMCP), and Workforce Solutions Rural Capital Area (WSRCA) was recognized for distinction with two Gold Awards for Best Nonprofit Videos. The award-winning content includes WSRCA's Voices from the Field Manufacturing Careers and its Voices from the Field Plumbing Careers videos.
The MarCom Awards honor excellence in marketing and communication while recognizing the creativity, hard work, and generosity of industry professionals. Since its inception in 2004, MarCom has evolved into one of the largest, most-respected creative competitions in the world. Each year about 6,500 print and digital entries are submitted from the United States, Canada, and 43 other countries. Winners are selected from over 300 categories in Print, Web, Video, and Strategic Communications.
"Delivering sustainable workforce solutions for our Central Texas industries and communities is the paramount mission of our Board, and we're proud that our targeted outreach is consistently being celebrated for the value it creates for our customers," said WSRCA CEO Paul Fletcher. We are thankful to our parnters TASUS and S & D Plumbing for allowing us to tell their stories. We're honored to be recognized by the MarCom Awards, and we're excited to continue innovating our campaigns to empower more Texans."
To explore the full list of award winners and their submissions, please visit the MarCom Awards Website at www.marcomawards.com. To review WSRCA services, solutions, and upcoming events, please visit: www.workforcesolutionsrca.com.

Watch the winning entries below: