Workforce Solutions Rural Capital Area's 'Voices From The Field: Careers in Manufacturing' Video Honored by 44th Annual Telly Awards
May 24, 2023
Workforce Solutions Rural Capital Area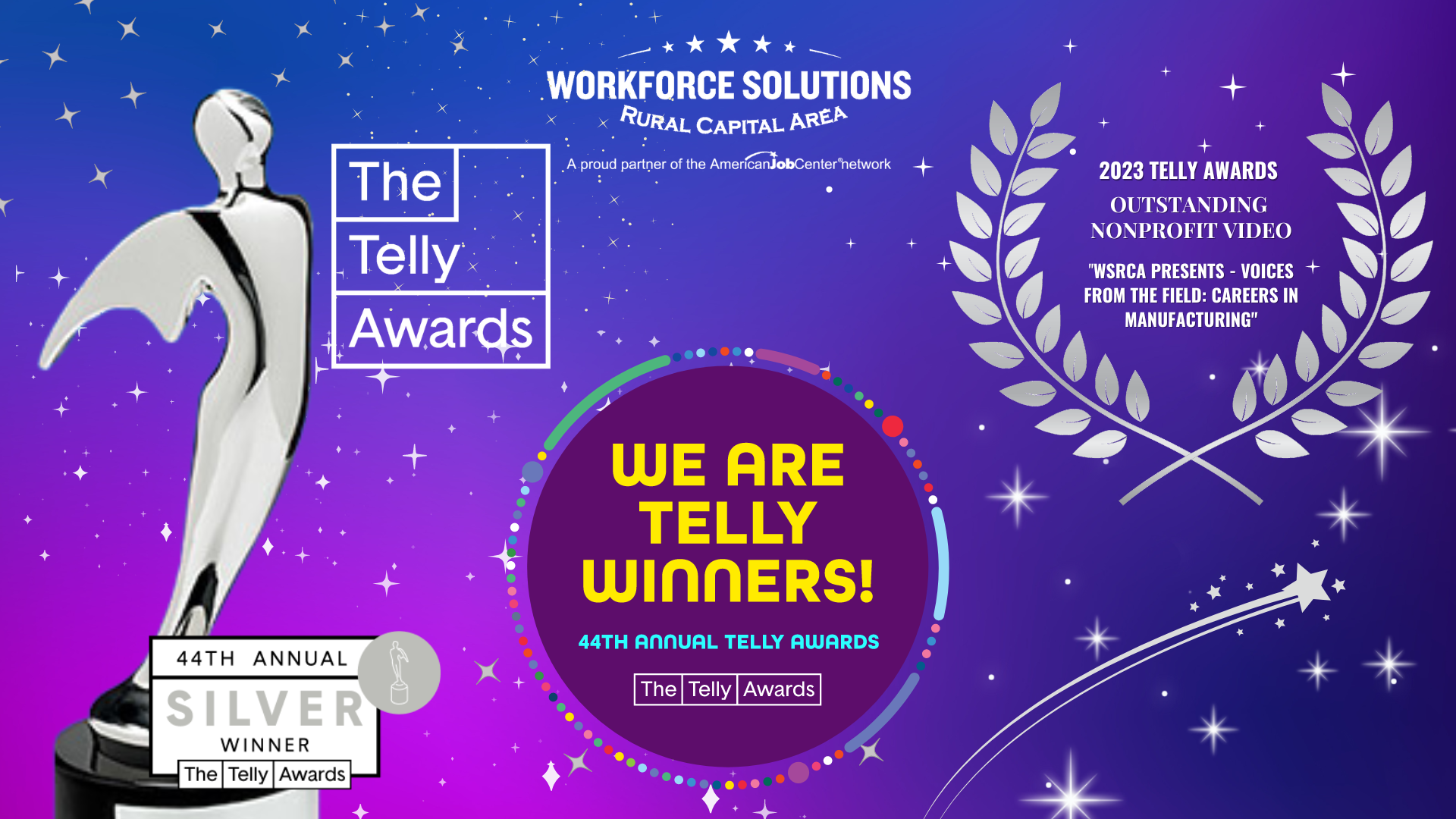 CEDAR PARK, Texas ⎯ The winners of the 44th Annual Telly Awards have been announced, and Workforce Solutions Rural Capital Area (WSRCA) was recognized with one of the competition's highest honors, a Silver Award for Outstanding Nonprofit Video for its new series "Voices From The Field: Careers in Manufacturing." The award-winning video features local workers at TASUS Corporation in Georgetown, Texas, sharing what they love most about their manufacturing careers and the lifestyle benefits they enjoy due to their professions. The Telly's recognition comes after WSRCA has been honored with 11 communications awards for outstanding nonprofit outreach campaigns and videos since the pandemic.

The Telly Awards honors excellence in video and television across all screens and is judged by leaders from video platforms, television, streaming networks, and production companies including Adobe, BBC World Service, Netflix, Dow Jones, Complex Networks, Jennifer Garner, A&E Networks, Hearst Media, Nickelodeon, National Geographic Society, ESPN Films, RYOT, Partizan and Vimeo.
"The caliber of the work this season coming from creators such as Workforce Solutions Rural Capital Area truly has reflected the theme of breaking out and standing out," said Tellys Executive Director Sabrina Dridje. "Our industry is experimenting with new technologies like never before, crafting truly compelling stories to draw attention to some of the world's most pressing issues, and companies big and small are turning to more sustainable practices to break the cycle of past production processes."
"We're committed to celebrating our world-class workforce and showcasing the innovative local employers driving our economic recovery in all we do," said WSRCA CEO Paul Fletcher. "We're proud that the 'Voices' video campaign continues to be recognized for its merits because it reflects an intentional effort by our Board of Directors to create value for residents by humanizing our advanced manufacturing industry in Central Texas. By celebrating the outstanding work/lifestyle integration and professional development offered by great employers such as TASUS, we're empowering the next generation of manufacturing creators to pursue these fulfilling local careers in high demand."
"The advanced manufacturing industry is flourishing in Central Texas because it offers some of the most rewarding and sustainable career tracks for residents," said WSRCA Chief Storyteller Brian Hernandez. "Our 'Voices From The Field' campaign is focused on humanizing our amazing local sectors and pulling back the curtain to help residents learn more about these wonderful careers directly from the local experts — their neighbors — who drive market-leading innovations that enhance our lives every day. Thank you to the Telly Awards for this recognition and to Tracy Jackson, Sergio Palomo, Lorena Arriza, and Steven Rodriguez with TASUS for participating in our 'Voices' project. We'd also like to thank Red Jarrah Productions for helping us create more value for audiences through our videos and features."
Telly Awards organizers shared that this was a record-breaking year with nearly 13,000 entries from across the globe and top video and television content producers such as Airbnb, Audible, BET Networks/BET Digital, BritBox, Disney, FEMA, Gaumont, Golden State Warriors, MediaMonks, NASA, National Geographic Society, Netflix, Paramount, PBS Digital Studios and more. The winner's announcement caps a year-long celebration of creators and talent who truly stand out during a time when the ubiquity of screens brings more clutter than quality into our lives. As the Telly's shared, "These are the creators and innovators who spotlight diverse voices, who are building a more sustainable industry, and who break through the static with their creativity."
To explore the full list of award winners and their submissions, please visit the Telly Awards Website at www.tellyawards.com/winners. To review WSRCA services, solutions, and upcoming events, please visit, www.workforcesolutionsrca.com.
Watch the Award-Winning Video:
###
About The Telly Awards:
The Telly Awards is the premier award honoring video and television across all screens. Established in 1979, The Telly Awards receives over 12,000 entries from all 50 states and 5 continents. Entrants are judged by The Telly Awards Judging Council—an industry body of over 200 leading experts including advertising agencies, production companies, and major television networks, reflective of the multiscreen industry The Telly Awards celebrates. Partners of The Telly Awards include Green The Bid, SeriesFest, Video Consortium, Ghetto Film School, We Are Parable, Future of Film, NAB, Stash, NYWIFT, Production Hub with support from The Commercial Director's Diversity Program.
About WSRCA:
Workforce Solutions Rural Capital Area is a nonprofit community partnership providing no-cost recruitment, employment services, and early-learning child care tuition scholarships to empower businesses, employers, and job seekers in the Rural Capital Area of Central Texas. This nine-county region includes Bastrop, Blanco, Burnet, Caldwell, Fayette, Hays, Lee, Llano, and Williamson counties. For more details on WSRCA and the services it offers, visit www.workforcesolutionsrca.com.