WSRCA Launches New Podcast Series, 'Future Ready NextForce,' to Showcase Workforce Development Efforts Across Central Texas
May 12, 2023
Workforce Solutions Rural Capital Area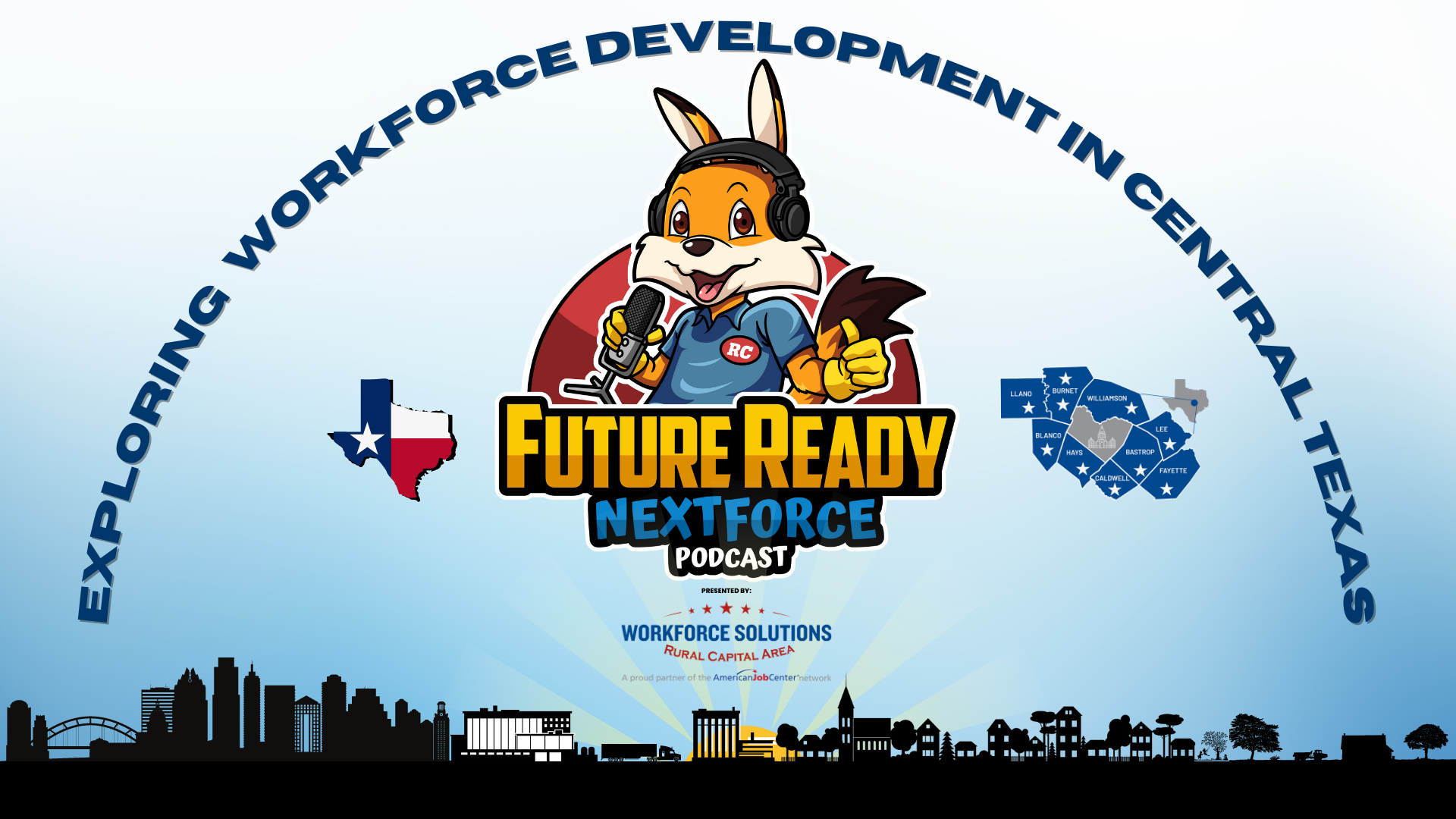 CEDAR PARK, Texas ⎯ Workforce Solutions Rural Capital Area (WSRCA), the nonprofit community partnership delivering innovative and sustainable workforce development solutions to empower the nine-county Rural Capital Area of Central Texas, today announced the launch of its new podcast series titled Future Ready NextForce. Podcast host Diane Tackett, Chief Operating Officer with WSRCA, invites leading stakeholders from local communities and industries, as well as educational partners from all levels, to showcase the local workforce development efforts building the highly skilled multi-generational "NextForce" Central Texas communities need to compete globally and remain "Future Ready."

Each episode of the series aims to celebrate what makes Texas' employer-led public workforce system unique, to spread the word that the Rural Capital Area boasts an incredibly skilled workforce ready to attract enterprise to Texas, and to create value for employers and residents, by directing them to early-learning child care services, training providers, and workforce partners, to foster opportunities to achieve and sustain economic prosperity.
Tackett and her featured guests will focus on identifying barriers to success among the region's workforce and propose solutions to ensure local employers have a highly educated and skilled workforce and area residents will have the competencies, skills, and education to become self-sufficient and live a quality life.
In episode 1, Youth Career Exploration: How Do We Better Empower Youth for Local Careers in High Demand? Tackett hosts Paul Fletcher, Chief Executive Officer with WSRCA, Camille Clay, Senior Director of College and Career Transition Programs with Leander Independent School District, and LaKissa Bright, Founder and President of Ladders For Leaders. Tackett and her guests review current challenges and solutions to connect classrooms to careers and introduce Texas youth to the world of work.
"We're excited to launch this podcast series to advance the discussions we're actively facilitating among our community, industry, and education partners to enhance workforce opportunities," said Tackett. "Thanks to a great line-up of expert guests in every episode, we'll take a deep dive into our Central Texas industries and the needs of the workforce helping these sectors compete, and spotlight the workforce development efforts we're delivering through our partnerships to bolster that success."
"Our award-winning storytelling campaigns have consistently created advocacy and delivered unique value for our customers on the platforms they use most," said Fletcher. "This innovative podcast series will enhance that outreach strategy by providing audiences with expert insights into local labor market data and child care opportunities, review actionable solutions to empower employers across industries, and showcase careers in high-demand and the training pathways to help residents stay marketable and 'Future Ready.'"
The Future Ready NextForce podcast is produced internally by WSRCA's Communications Team and is available on the following players, with many more to come:
Future episodes will be posted monthly.
To learn more about the podcast, guests, and episodes, please visit https://bit.ly/futurereadynextforce.
Explore the first episode of the Future Ready NextForce Podcast below:
###

About WSRCA:
Workforce Solutions Rural Capital Area is a nonprofit community partnership providing no-cost recruitment, employment services, and early-learning child care tuition scholarships to empower businesses, employers, and job seekers in the Rural Capital Area of Central Texas. This nine-county region includes Bastrop, Blanco, Burnet, Caldwell, Fayette, Hays, Lee, Llano, and Williamson counties. For more details on WSRCA and the services it offers, visit www.workforcesolutionsrca.com.