Kelly Moreno Promoted to Chief Solutions Officer for Workforce Solutions Rural Capital Area
Mar 08, 2023
Workforce Solutions Rural Capital Area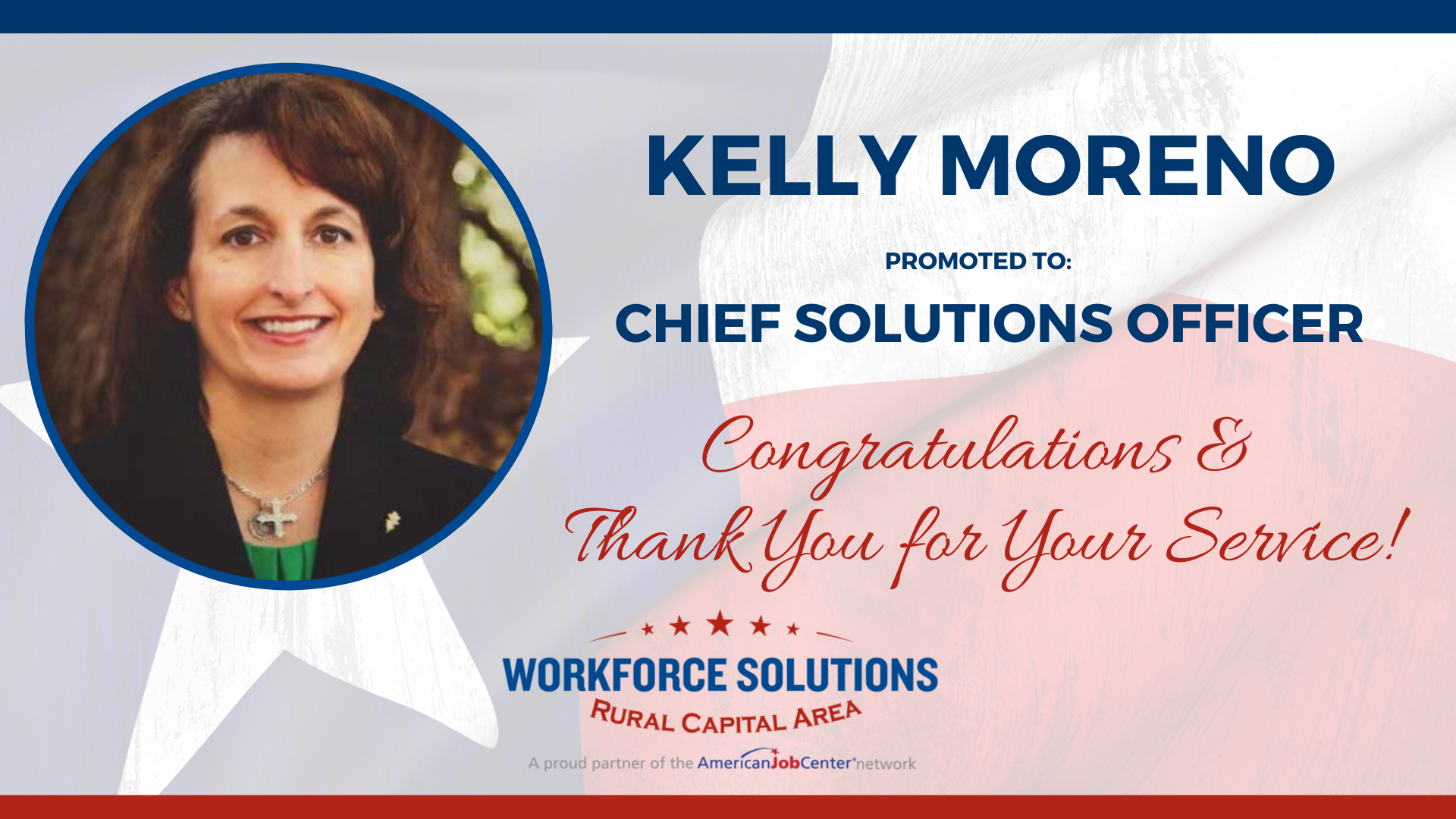 CEDAR PARK, Texas ⎯ Workforce Solutions Rural Capital Area (WSRCA), the nonprofit community partnership delivering innovative and sustainable workforce development solutions to empower the nine-county Rural Capital Area of Central Texas, has announced that Kelly Moreno, WSRCA's first Director of Community Engagement, has been promoted to the new position of Chief Solutions Officer.

The position of Chief Solutions Officer (CSO) is a first of its kind for the industry, the region, and among the 28 workforce development boards across the state that, in partnership with the Texas Workforce Commission (TWC), comprise Texas Workforce Solutions. As CSO, Moreno will provide broad leadership for WSRCA programs, community outreach, and the organization's ability to deliver high-value workforce solutions for Central Texas employers and residents.
"Thanks to Kelly's leadership, Our Board has strengthened relationships with our partners across industries and communities to enhance results and advocacy for our workforce development efforts," WSRCA CEO Paul Fletcher said. "From spearheading the K-12 workforce career and education engagement team and the industry partnership team and leading improvements in service delivery for employers, Kelly has been integral in the Board's ability to generate new and innovative solutions in solving customer challenges. This new position more accurately represents Kelly's role and the consistent results she provides for our Board, community partners, and customers."
"I am very excited about this role and look forward to continuing to build relationships, develop resources, and expand the reach of Workforce Solutions Rural Capital Area," said Moreno. "Our nine-county region is growing, and I look forward to supporting that growth."
Moreno joined WSRCA in 2021 after working in marketing for Fortune 100 and 500 companies and has held numerous leadership roles in nonprofits. She has a passion for building relationships and customer service. She has experience driving organizational planning, mission, advocacy, influence, and growth.
Moreno holds a Master of Business Administration degree from the University of Houston Clear Lake, and a Bachelor of Science in Marketing from Oklahoma State University.
###
About WSRCA:
Workforce Solutions Rural Capital Area is a nonprofit community partnership providing no-cost recruitment, employment services, and early-learning child care tuition scholarships to empower businesses, employers, and job seekers in the Rural Capital Area of Central Texas. This nine-county region includes Bastrop, Blanco, Burnet, Caldwell, Fayette, Hays, Lee, Llano, and Williamson counties. For more details on WSRCA and the services it offers, visit www.workforcesolutionsrca.com.