Workforce Solutions Rural Capital Area Announces Veronica Kumpf as Chief Financial Officer
Apr 27, 2023
Workforce Solutions Rural Capital Area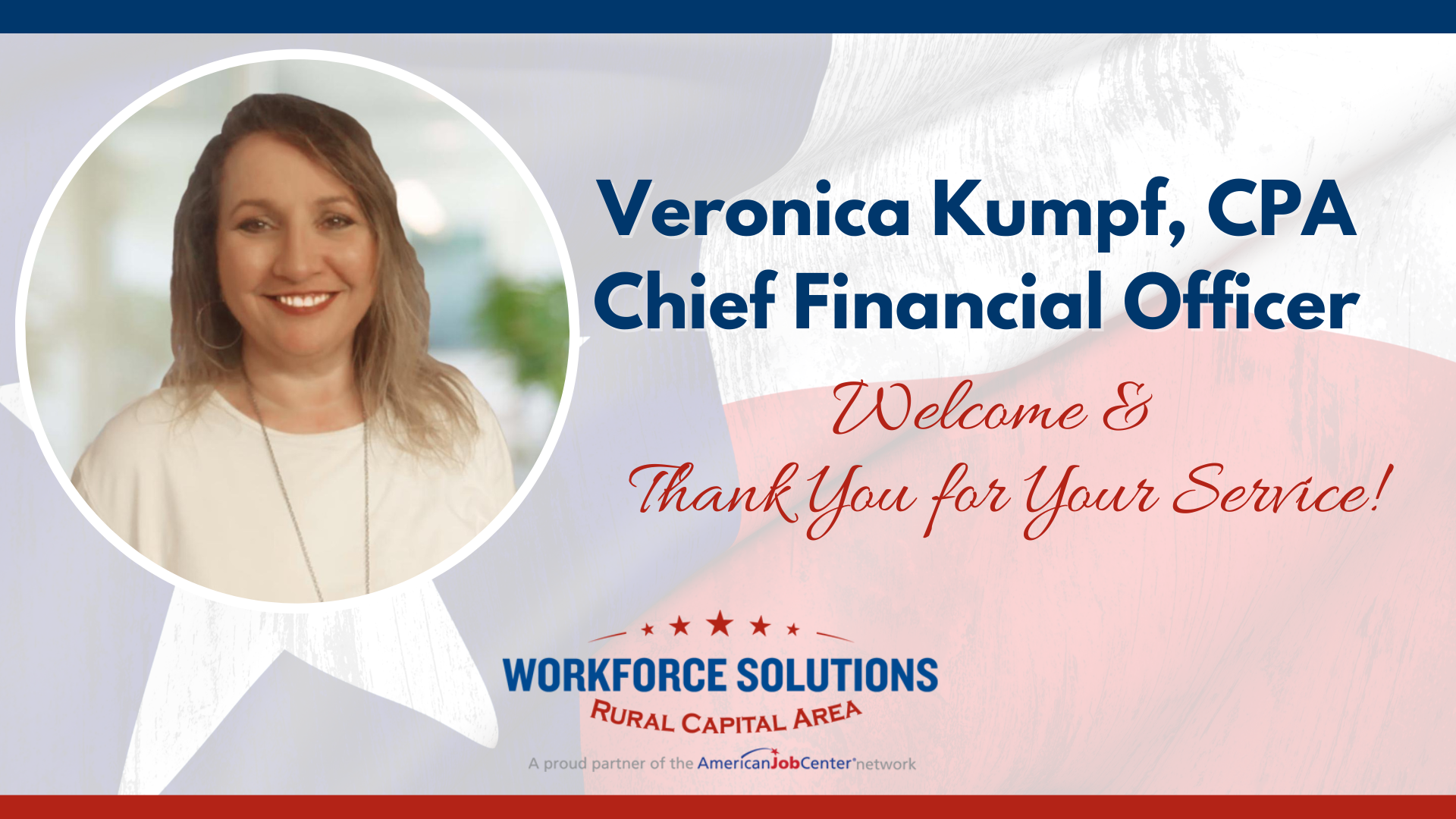 CEDAR PARK, Texas ⎯ Workforce Solutions Rural Capital Area (WSRCA), the nonprofit community partnership delivering innovative and sustainable workforce development solutions to empower the nine-county Rural Capital Area of Central Texas, has announced that Veronica Kumpf, Certified Public Accountant (CPA), has been named as Chief Financial Officer (CFO). Kumpf's appointment follows Janie Kohl's decision to step down as CFO after five years with the WSRCA Board, as she embarks on the next chapter of her career.

Kumpf has decades of experience as an accountant and financial professional, as managing director of her own CPA firm, and more recently with the University of California, San Francisco and Lone Star Circle of Care, and she has audited nonprofits while at Weaver LLP and BDO Seidman. Kumpf has also served as an audit liaison, controller, director of accounting, and CFO in the nonprofit sector.
"Veronica complements our strong performance-oriented culture with proven financial leadership experience, and we believe her impressive reputation for execution and achieving results makes her the right choice to lead our fiscal operations," said WSRCA CEO Paul Fletcher. "I am pleased to welcome Veronica to our executive team as we continue to lead the transformation of workforce development innovations across Central Texas. I also want to take this opportunity to thank Janie Kohl for her professionalism and her contributions to WSRCA's progress over the last five years and to wish her every success in her new endeavors."
"Veronica brings a vast amount of financial expertise and insights and will play an instrumental role in driving WSRCA's fiscal transformation forward and shaping our future growth," said WSRCA Board Chair Frank Leonardis. "The strength of our organization stems from the experience, skills, and talents of our teams, working in collaboration with our Board of Directors and partners to deliver customized workforce solutions for Central Texans. We're proud to welcome new colleagues such as Veronica, who are passionate about empowering our communities."
"As a workforce development organization serving both rural and urban areas of Central Texas, it's critical to ensure that resources are allocated to continuously empower the workforce fueling our local industries in each county," said Kumpf. "I am looking forward to further solidifying WSRCA's position as a workforce development leader by optimizing WSRCA's financial standing and identifying pathways for continued growth and success. It's an honor to work alongside the Board's leadership team and to be a part of the organization's exciting future."
As CFO, Kumpf is the senior accountant responsible for the overall fiscal management and operation of the organization including design, implementation, oversight, and maintenance of systems and procedures that will ensure compliance with internal fiscal management policies, Generally Accepted Accounting Principles (GAAP), grant agency regulations and requirements, and compliance with Texas Workforce Commission monitoring and external audits.
Kumpf graduated cum laude from the University of Texas at Dallas with a Bachelor of Science in Accounting and holds a Bachelor of Fine Arts in Visual Arts from the University of Texas at Austin. She is a visual artist and an avid supporter of the arts and cares very much about service to others and has served on many nonprofit boards of directors. She is particularly proud of her service as president of CASA of Rockwall County and the Austin Blues Society. Kumpf and her family recently welcomed their first grandchild and said she's enjoying watching her son be a father and passing on to the family's love of soccer, culture, and knowledge.
###
About WSRCA:
Workforce Solutions Rural Capital Area is a nonprofit community partnership providing no-cost recruitment, employment services, and early-learning child care tuition scholarships to empower businesses, employers, and job seekers in the Rural Capital Area of Central Texas. This nine-county region includes Bastrop, Blanco, Burnet, Caldwell, Fayette, Hays, Lee, Llano, and Williamson counties. For more details on WSRCA and the services it offers, visit www.workforcesolutionsrca.com.