WSRCA Team Takes Part in 3rd Annual Apprenticeship Texas Conference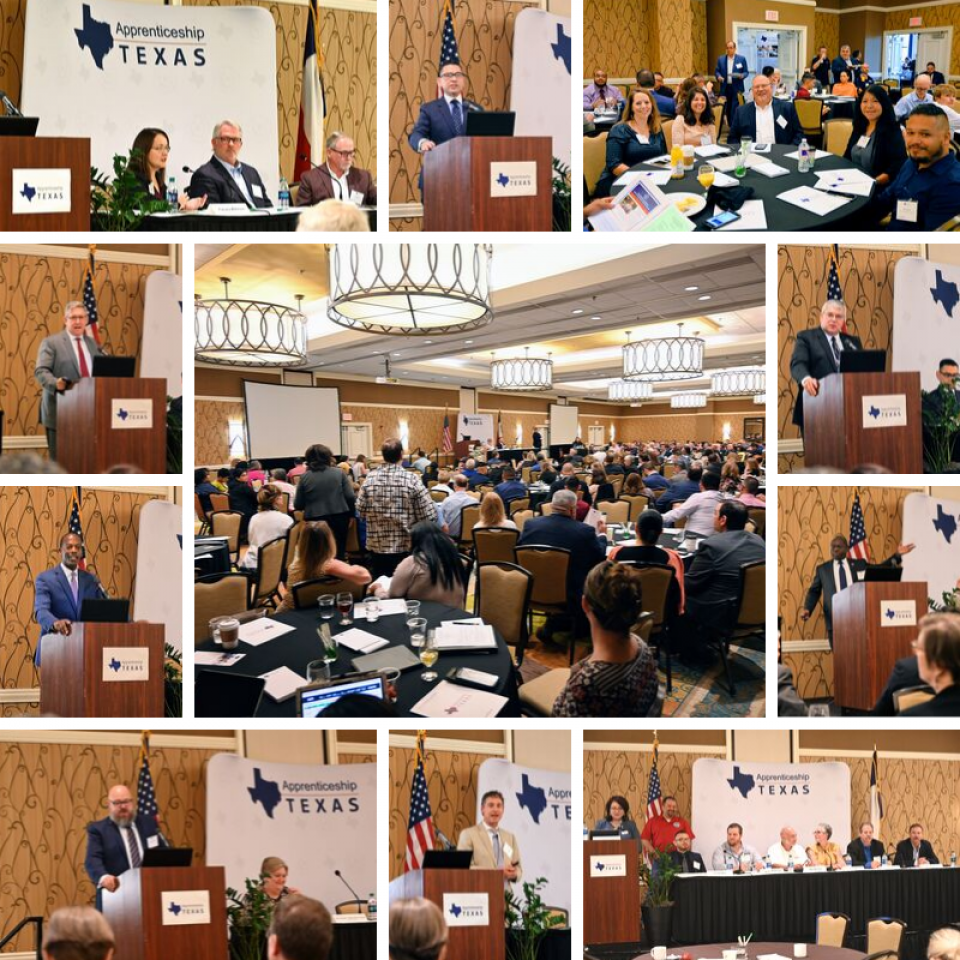 Your Workforce Solutions Rural Capital Area (WSRCA) Team took part in the 3rd Annual Apprenticeship Texas Conference in San Antonio, from September 19-20, hosted by Texas Workforce Commission Labor Commissioner, Julian Alvarez.
The conference offered an in-depth opportunity to explore new innovations in apprenticeship training programs from leading practitioners including industry associations and employers, labor partnerships, community colleges, high schools, and fellow workforce Boards.
Apprenticeships are a proven approach for preparing workers for jobs while meeting the needs of business for a highly-skilled workforce.
"Apprenticeship programs are not Game Changers. They're Life Changers!" Commissioner Alvarez shared during his welcome address to the conference attendees.
It's an employer-driven, "learn-while-you-earn" model that combines 2,000 hours of on-the-job training, provided by the employer that hires the apprentice, with 144 hours of job-related instruction in curricula tied to the attainment of national skills standards.
"Apprenticeships allow for opportunity....We have a responsibility to help workers keep their careers fresh to participate in this red hot economy," TWC Chairman and Commissioner Representing the Public, Bryan Daniel, shared during the conference.
The model is focused on a strong collaboration between between employers and apprentices, that pays dividends for both, as it creates an in-house workforce pipeline for businesses, and involves progressive increases in an apprentice's skills and wages.
"There's a win-win solution through Apprenticeship," TWC Commissioner Representing Employers, Aaron Demerson, shared during the conference.
Apprenticeship is a flexible training strategy for continuing professional development that can be customized to meet the needs of any business. Apprentices can be new hires, or businesses can select current employees who need skill upgrades to join the apprenticeship program.
The apprenticeship model is leading the way in preparing Texas workers to compete in today's economy. In fact, Dudley Light, Regional Director with the U.S. Department of Labor Office of Apprenticeship, said there are 20,665 registered apprentices in Texas.
Apprenticeship programs keep pace with advancing technologies and innovations in training and human resource development through the complete involvement of employers in the educational process.
But to be successful, employers must have full understanding of the apprenticeship program, and what their goals are for the training.
"To develop an apprenticeship program, you have to know the competencies that you want your employees to know...In some cases, that takes a change in strategy," shared Linda Angel, Director of Transformation and Effectiveness, with Workforce Solutions of Central Texas.
While it is used in traditional industries such as construction and manufacturing, apprenticeship is also instrumental for training and development in growing industries, such as health care, information technology, transportation and logistics, and energy.
"We have to keep our minds open to the opportunities of apprenticeship, it's not just about the trades...it's about the future of work," TWC Executive Director, Ed Serna, shared during the conference.
Ready to explore how hosting apprenticeships can boost your business? Connect with our WSRCA Business Services Team.
Review some of the conference handouts:
Interested in registering for the 2020 conference:

4th Annual ApprenticeshipTexas Conference
September 17-18, 2020
McAllen Convention & Visitors Bureau
1200 Ash Avenue
McAllen, TX 78501
Register here or for more information call Texas Workforce Commission Conference Planning at 512-463-6389.

---