WSRCA Hosts Building Trades Apprenticeship Showcase to Connect Students to Skilled Trade Careers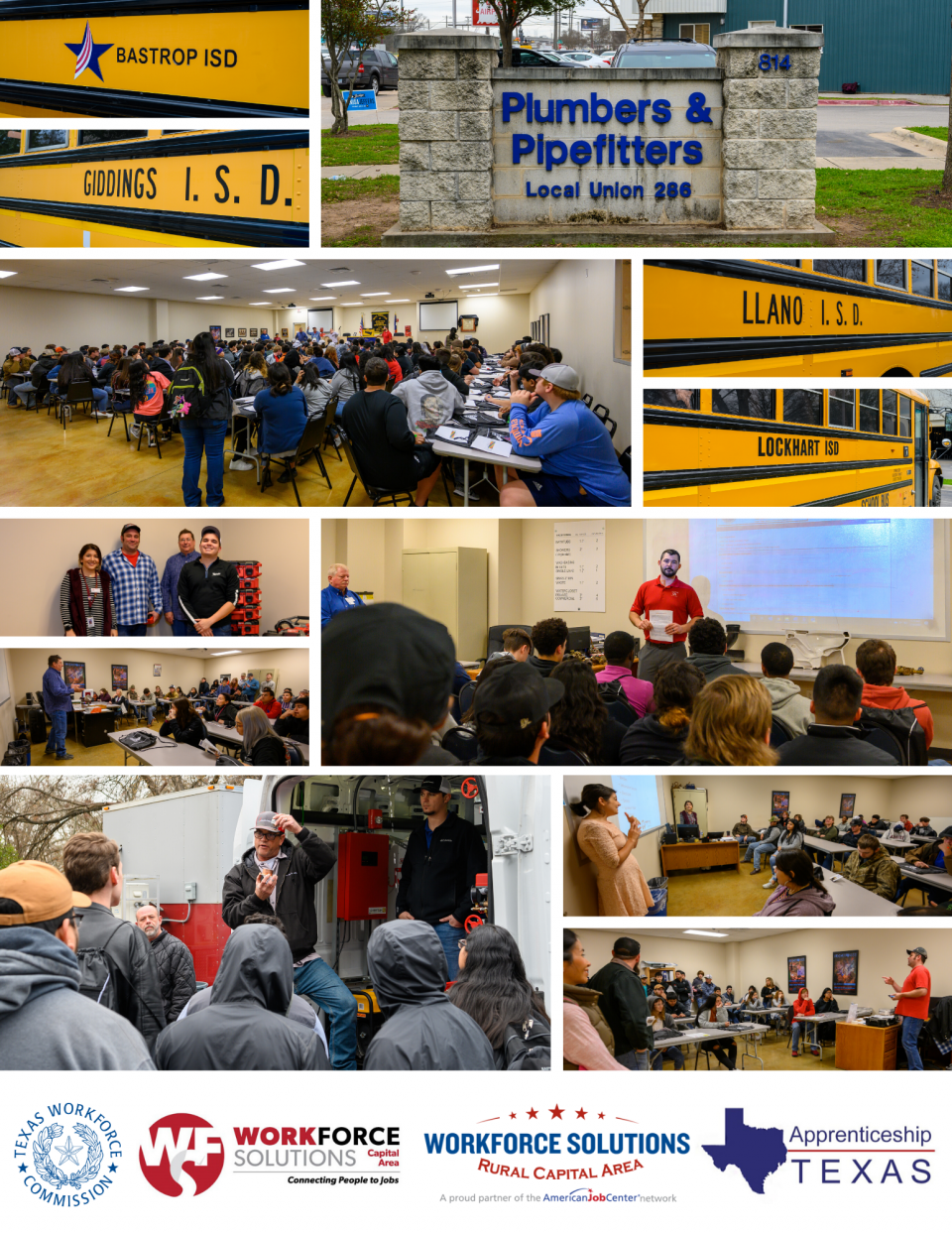 The Workforce Solutions Rural Capital Area Team would like to thank the more than 200 students, teachers, administrators and parents who took part in the Building Trades Apprenticeship Showcase we helped host with our partners at United Association Local 286 Plumbers & Pipefitters and Workforce Solutions Capital Area.
It was a great honor to help connect students from Bastrop ISD, Giddings ISD, Llano ISD and Lockhart ISD, to skilled trade careers and the amazing opportunities available through the on-the-job, "earn-while-you-learn," registered apprenticeship training model.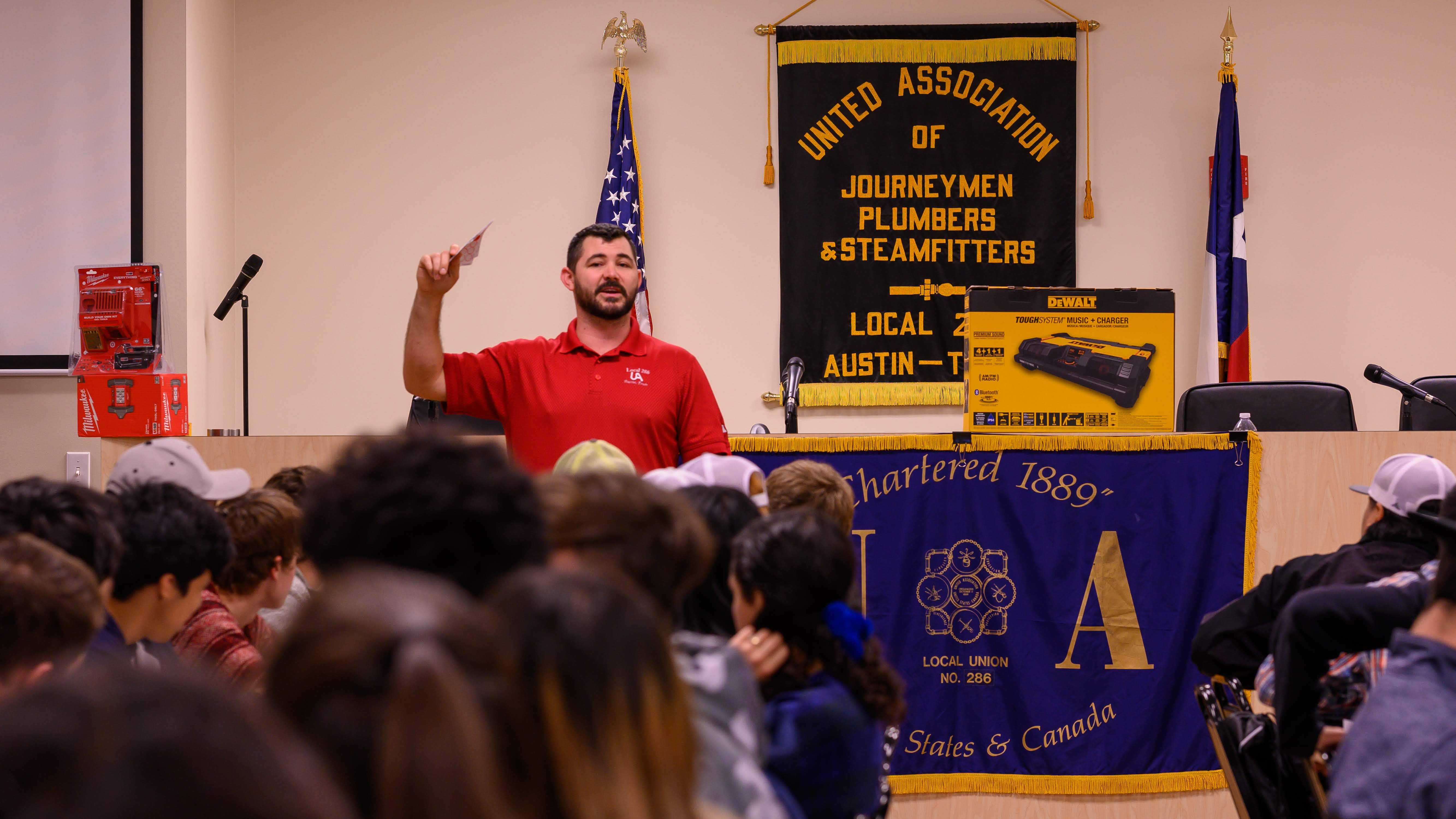 The students explored career opportunities in multiple industries and heard from skilled trades professionals from the International Brotherhood of Electrical Workers Local 520, the Sheet Metal Workers International Association LU 67, and Northstar Fire Protection of Texas.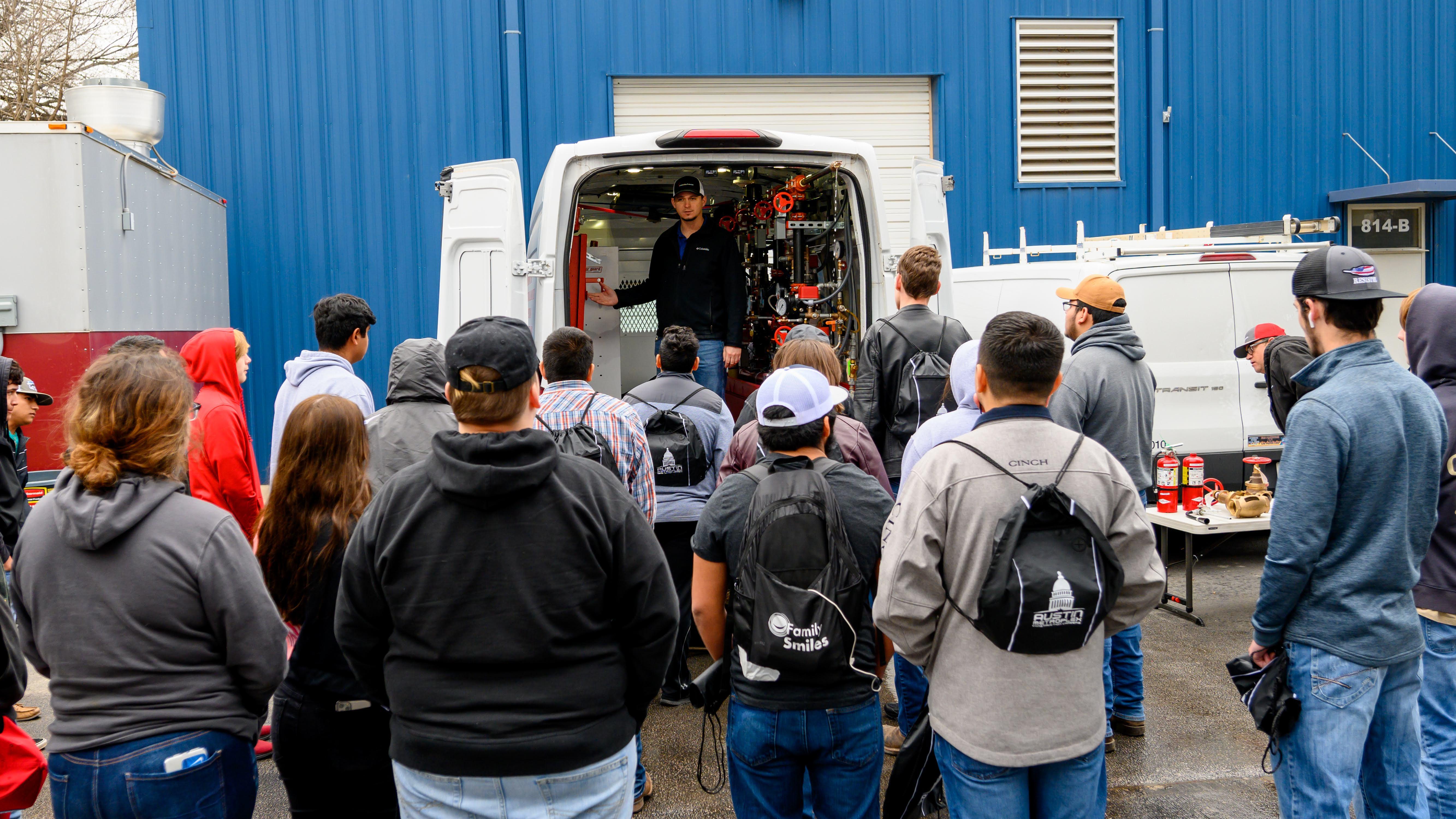 The students also met with Rural Capital Area and Capital Area talent development specialists, to help explore all of the career assistance, programs, and training resources available at their local Workforce Solutions center.
Why the Skilled Trades Matter
The skilled trades are critical to our country's infrastructure and its economic competitiveness. The challenge?
Increasing talent shortages and skill gaps are slowing the industry's ability to expand and prosper.
Among these challenges:
Impending retirements of highly-skilled and experienced workers
Industry image and related recruitment issues
Attracting new talent pools to skilled trades careers, assisting youth and women
Investing in talent that can keep pace with the latest industry advances
Implementing workforce training models that effectively develop and "up-skill" talent
These workforce challenges undermine the productivity and profitability of local businesses that help fuel our economy.
The good news? There is a proven solution to meet their talent challenges: Registered Apprenticeship.
Why Registered Apprenticeships Matter
Apprenticeships can be integrated into an organization's current training and human resource development strategy.
Apprenticeship is a proven approach for preparing workers for jobs while meeting the needs of business for a highly-skilled workforce. It is an employer-driven, "earn-while-you-learn" model that combines on-the-job training, provided by the employer that hires the apprentice, with job-related instruction in curricula tied to the attainment of national skills standards. The model also involves progressive increases in an apprentice's skills and wages.
Apprenticeship is a flexible training strategy that can be customized to meet the needs of any business. Apprentices can be new hires, or businesses can select current employees who need skill upgrades to join the apprenticeship program. According to the Department of Labor, 94 percent of apprentices retain employment after completing their apprenticeship.
The apprenticeship model is leading the way in preparing American workers to compete in today's economy. Apprenticeship programs keep pace with advancing technologies and innovations in training and human resource development through the complete involvement of employers in the educational process. While it is used in traditional industries such as construction and manufacturing, apprenticeship is also instrumental for training and development in growing industries, such as health care, information technology, transportation and logistics, and energy.
With a network of over 150,000 employers in more than 1,000 occupations, Registered Apprenticeship has trained millions of apprentices for over 75 years.
---