Bloom Consulting to be Recognized with 'We Hire Ability' State Honor at Round Rock Ceremony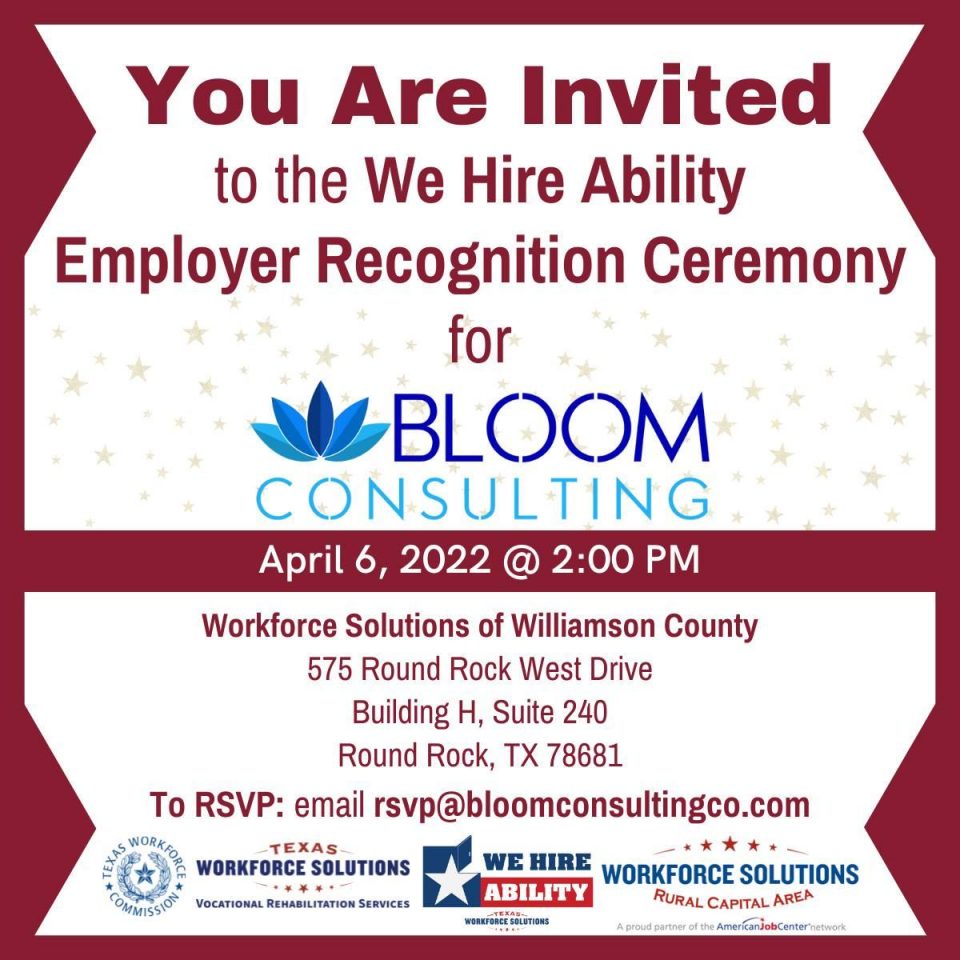 Workforce Solutions Rural Capital Area (WSRCA) is proud to join with our partners at Workforce Solutions-Vocational Rehabilitation Services and Aaron Demerson, Commissioner Representing Employers with the Texas Workforce Commission, to host a "We Hire Ability" Employer Recognition Ceremony for Bloom Consulting, on Wednesday, April 6, at 2 p.m. at Workforce Solutions of Williamson County.
Bloom Consulting, based in Round Rock, is a full-service vocational rehabilitation firm that provides comprehensive vocational services including testing, training, and counseling to empower people with disabilities to achieve meaningful employment.
Bloom is being recognized for its commitment to hiring people with disabilities, and for its efforts to create an inclusive workforce. The company has maintained a Texas-based workforce comprised of at least 10 percent individuals with disabilities.
Speakers at the event to include:
Aaron Demerson, TWC Commissioner Representing Employers
Bruce Bloom-Founder/Owner of Bloom Consulting
Dr. James Williams-Chief Executive Officer of Bloom Consulting
Tony Lawrence, Central Texas Regional Director, Texas Workforce Solutions-Vocational Rehabilitation Services
Paul Fletcher, CEO, Workforce Solutions Rural Capital Area
To attend please RSVP: rsvp@bloomconsultingco.com
The WSRCA team is excited to partner with employers who are making it a priority to hire, retain and develop the skills of individuals with disabilities throughout our region.

For more information on how you can nominate a deserving business, please visit https://twc.texas.gov/partners/WeHireAbility
---