Don't Miss the Summer Earn & Learn Employer Information Webinar on Wednesday, Feb. 3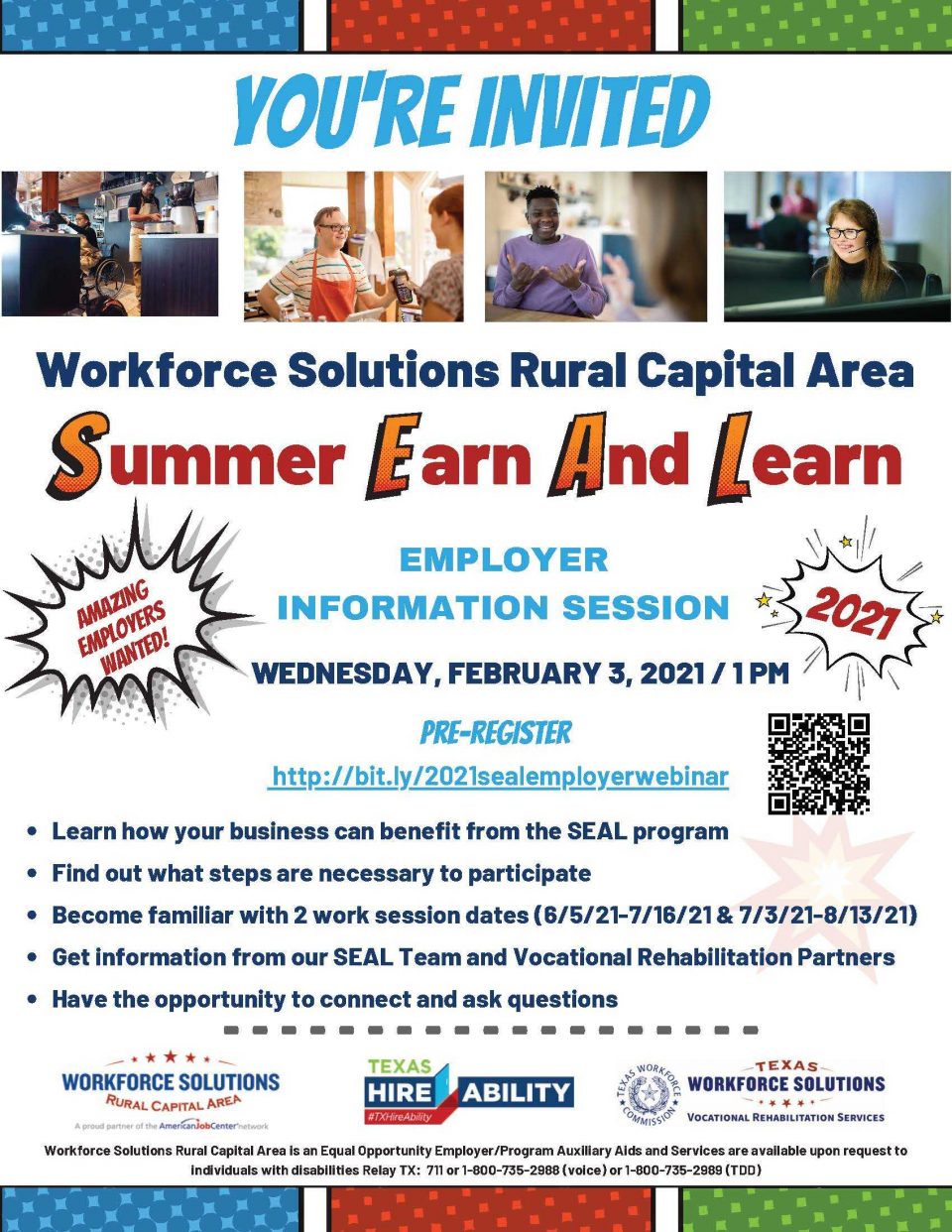 Employers Wanted! Be a hero for your community and join the Summer Earn & Learn (SEAL) program, which provides students with disabilities (14-22), work readiness training & paid work experience.
Workforce Solutions Rural Capital Area is hosting a SEAL employer information webinar on Wednesday, Feb. 3, at 1 p.m.
Throughout the SEAL program, students receive work readiness training and connect with local employers where they have the opportunity to do hands-on work for five weeks or more. The students learn about the employer's industry and develop skills and work experience that will prepare them for successful transitions to postsecondary education and employment. Upon completion of the program, some students are presented with the opportunity to become employed full time.

The SEAL program is a partnership between the TWC, WSRCA and Texas Workforce Solutions-Vocational Rehabilitation Services.
Benefits For Employers
As the demand for a high-skilled labor force grows, consider students with disabilities to meet those labor demands. When it comes to doing business, including workers with disabilities into your human capital strategies can offer you a competitive edge. SEAL offers you a risk-free pipeline to meet your recruitment needs and allows you an opportunity to mentor a pipeline of future talent.

Offered to employers at no additional cost:
Employees for short-term summer projects (approximately 5-8 weeks)
Wages and Workers Compensation paid directly to participants
Reasonable accommodations provided
Additional on-the-job training if needed
Site visits to monitor participants and ensure your satisfaction.
Register to attend the employer information webinar on Wednesday, Feb. 3, at 1 p.m.: https://bit.ly/2021sealemployerwebinar
---