Don't Miss the Workforce Solutions Rural Capital Area Hiring Event on Thursday in Round Rock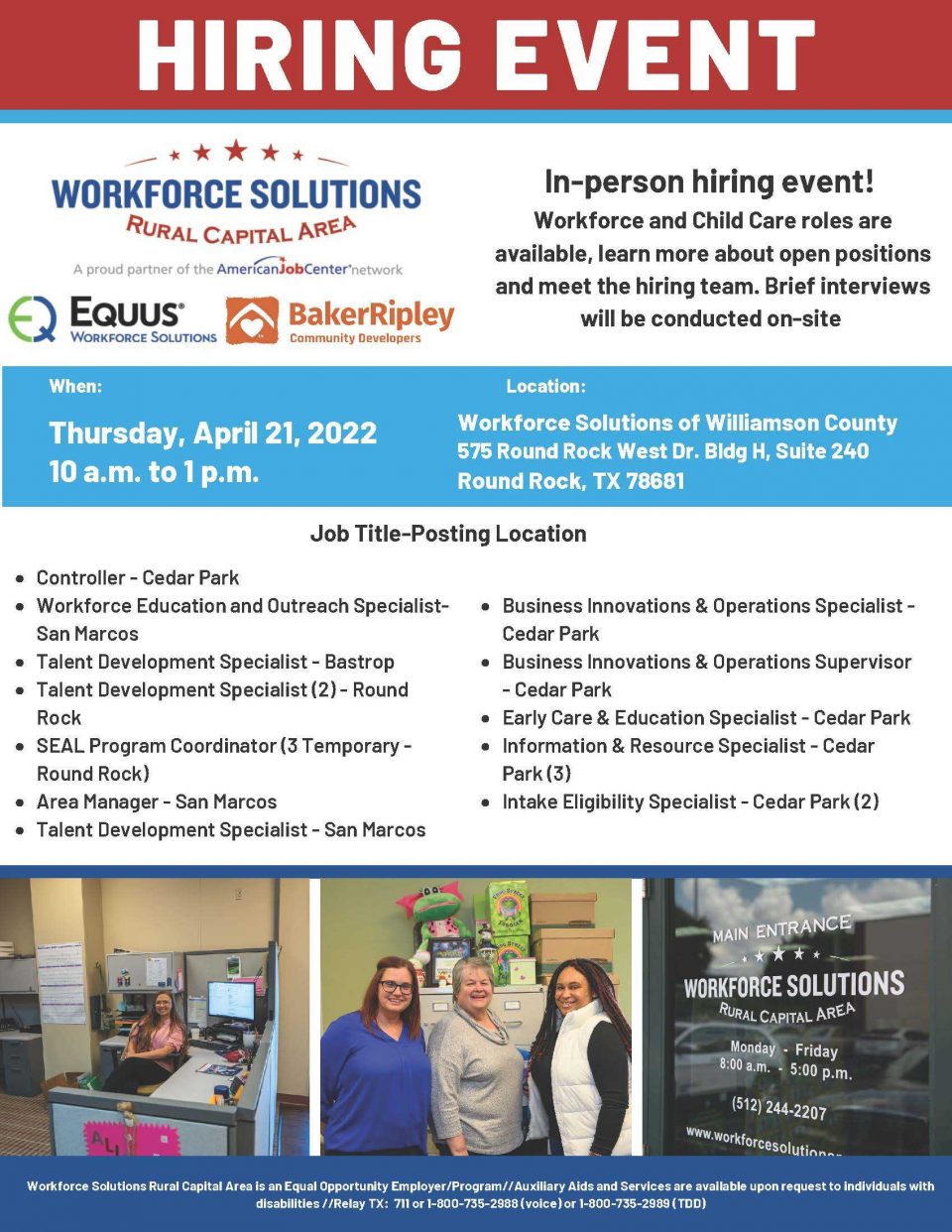 Is your success built on how many lives you change? We want you! We're looking for solutions-focused professionals to join our team and empower our community.
Join us at an in-person hiring event on Thursday, April 21, from 10 a.m. to 1 p.m., at our Workforce Solutions of Williamson County workforce center in Round Rock, to connect with our team and explore positions in workforce development and child care services.
We develop talent for employers, and with your help, we'll continue to build a world-class workforce for Texas.
Open Positions Include:

Business Innovations & Operations Specialist - Cedar Park
Business Innovations & Operations Supervisor - Cedar Park
Business Solutions Consultant (2 positions)
Controller - Cedar Park
Early Care & Education Specialist - Cedar Park
Information & Resource Specialist – Cedar Park (3)
Intake Eligibility Specialist - Cedar Park (2)
SEAL Program Coordinator (3 Temporary -Round Rock)
Talent Development Specialist - Bastrop
Talent Development Specialist - San Marcos
Talent Development Specialist (2) – Round Rock
Workforce Area Manager - San Marcos
Workforce Education and Outreach Specialist - San Marcos
Job-seekers of all abilities and backgrounds are welcome. Apply today: www.workintexas.com

Event Location:
Workforce Solutions of Williamson County
575 Round Rock West Drive Building H, Suite 240
Round Rock, TX 78681
Map: https://goo.gl/maps/PcAqevi2yRXPiqVd9
---