Empowering Parents: Join Us at the Parenting Palooza Family Expo on October 7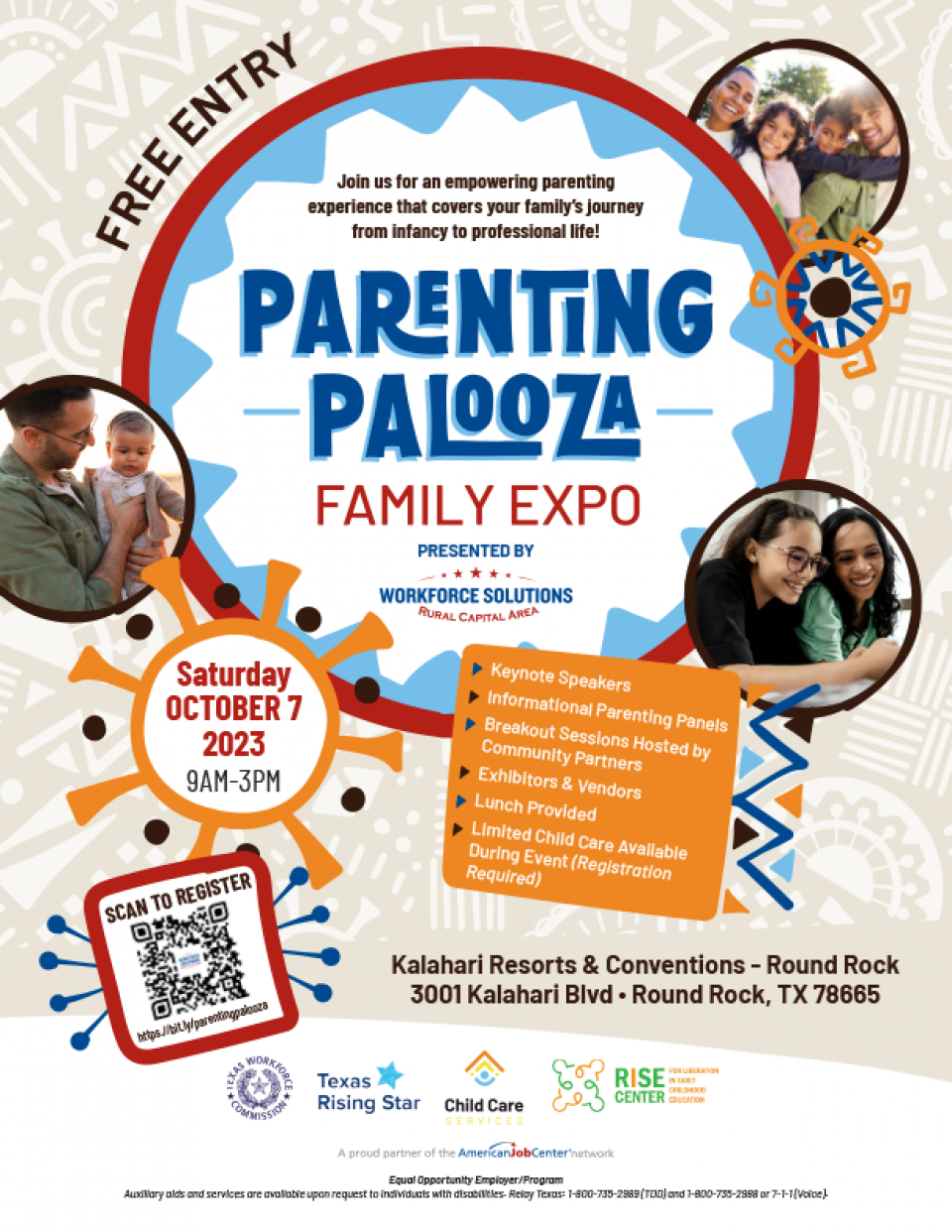 Parenting in the 21st Century is an exhilarating yet demanding journey. The challenges of modern living, coupled with busy schedules and complex family dynamics, present unique hurdles for families. At Workforce Solutions Rural Capital Area (WSRCA), we're on a mission not only to drive economic growth in our communities but also understand the profound connection between the well-being of our local workforce and the stability of their families.
The Parenting Palooza Family Expo
Introducing the Parenting Palooza Family Expo - an event designed to pool resources from across the region and equip families with the tools they need for success. This expo serves as a powerful platform for families to access a wide array of local resources, enabling them to confront these challenges head-on.
Save the Date
Mark your calendars for this FREE event on Saturday, October 7, 2023, from 9 a.m. to 3 p.m. at the Kalahari Resorts & Conventions - Round Rock. Join us for an empowering experience that covers your family's journey from infancy to professional life!
Informative Sessions and Keynote Speaker
The expo will feature insightful sessions on vital topics like affordable family nutrition, effective screen time management, fostering open communication, and navigating support networks. A dynamic keynote speaker will also offer valuable insights on nurturing emotionally healthy and happy children.
Engaging with the Community
Throughout the event, we extend a warm invitation for parents to bring their children and engage with local businesses, community resources, vendors, and early-learning child care providers. And don't fret about packing a meal - a sumptuous buffet lunch is on us for both parents and children!
Child Care Services
For your convenience, complimentary child care services will be available during the event. Be sure to register separately for this service, as space is limited and it operates on a first-come, first-served basis. Secure your spot now at http://bit.ly/3YWQi4F.
Don't Miss Out
This is an event you won't want to miss! Join us for a day of empowerment, connection, and invaluable resources. Don't delay, register now and take a significant step towards enriching your parenting journey. We can't wait to see you there!
Register Now: https://bit.ly/parentingpalooza
---