Help Increase Access and Opportunity! Register to Participate in Free National Disability Employment Awareness Month Webinars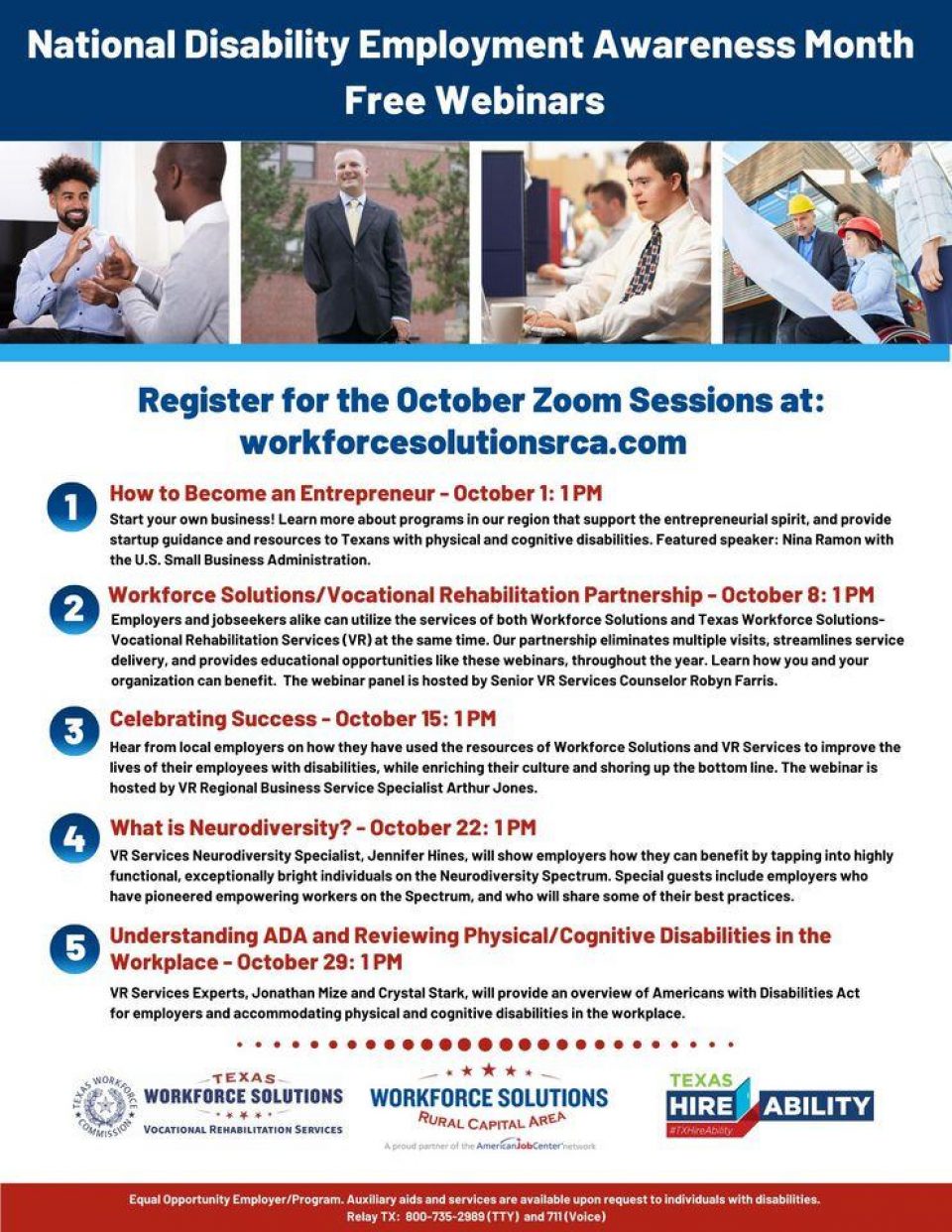 Workplaces welcoming of the talents of all people, including people with disabilities, are a critical part of our efforts to build an inclusive Central Texas community and a strong local economy. In this spirit, Workforce Solutions Rural Capital Area (WSRCA) and our partners at Texas Workforce Solutions-Vocational Rehabilitation Services (VR), are recognizing National Disability Employment Awareness Month this October to raise awareness about disability employment issues and to celebrate the many and varied contributions of people with disabilities.
Activities during the month will include free local webinars each week, to reinforce the value and talent people with disabilities add to our workplaces and communities, and affirm Rural Capital Area's commitment to an inclusive community. See the webinar schedule below and register to attend the Zoom sessions:
Start your own business! Learn more about programs in our region that support the entrepreneurial spirit and provide startup guidance and resources to Texans with physical and cognitive disabilities. Featured Speaker: Nina Ramon with the U.S. Small Business Administration.
Employers and jobseekers alike can utilize the services of both Workforce Solutions and Texas Workforce Solutions-Vocational Rehabilitation Services (VR) at the same time. Our partnership eliminates multiple visits, streamlines service delivery, and provides educational opportunities like these webinars, throughout the year. Learn how you and your organization can benefit. The webinar is hosted by Senior VR Services Counselor Robyn Farris.
Hear from local employers on how they have used the resources of Workforce Solutions and VR Services to improve the lives of their employees with disabilities, while enriching their culture and shoring up the bottom line. The webinar is hosted by VR Regional Business Service Specialist Arthur Jones.
Register Today: https://zoom.us/webinar/register/WN_3oVTe4JFQRWUK7l_q6sfWw
VR Services Neurodiversity Specialist, Jennifer Hines, will show employers how they can benefit by tapping into highly functional, exceptionally bright individuals on the Neurodiversity Spectrum. Special guests include employers who have pioneered empowering workers on the Spectrum, and who will share some of their best practices.
Register Today: https://zoom.us/webinar/register/WN_RH-Vwo3fRnOA9hhp_79-EQ
VR Services Experts, Jonathan Mize and Crystal Stark, will provide an overview of Americans with Disabilities Act for employers and accommodating physical and cognitive disabilities in the workplace.
Register Today: https://zoom.us/webinar/register/WN_HF7PnlIxRWqdrumHfFS6BQ
---