The IRS is Hiring in Central Texas! Virtual Career Fairs Offered Every Tuesday Through November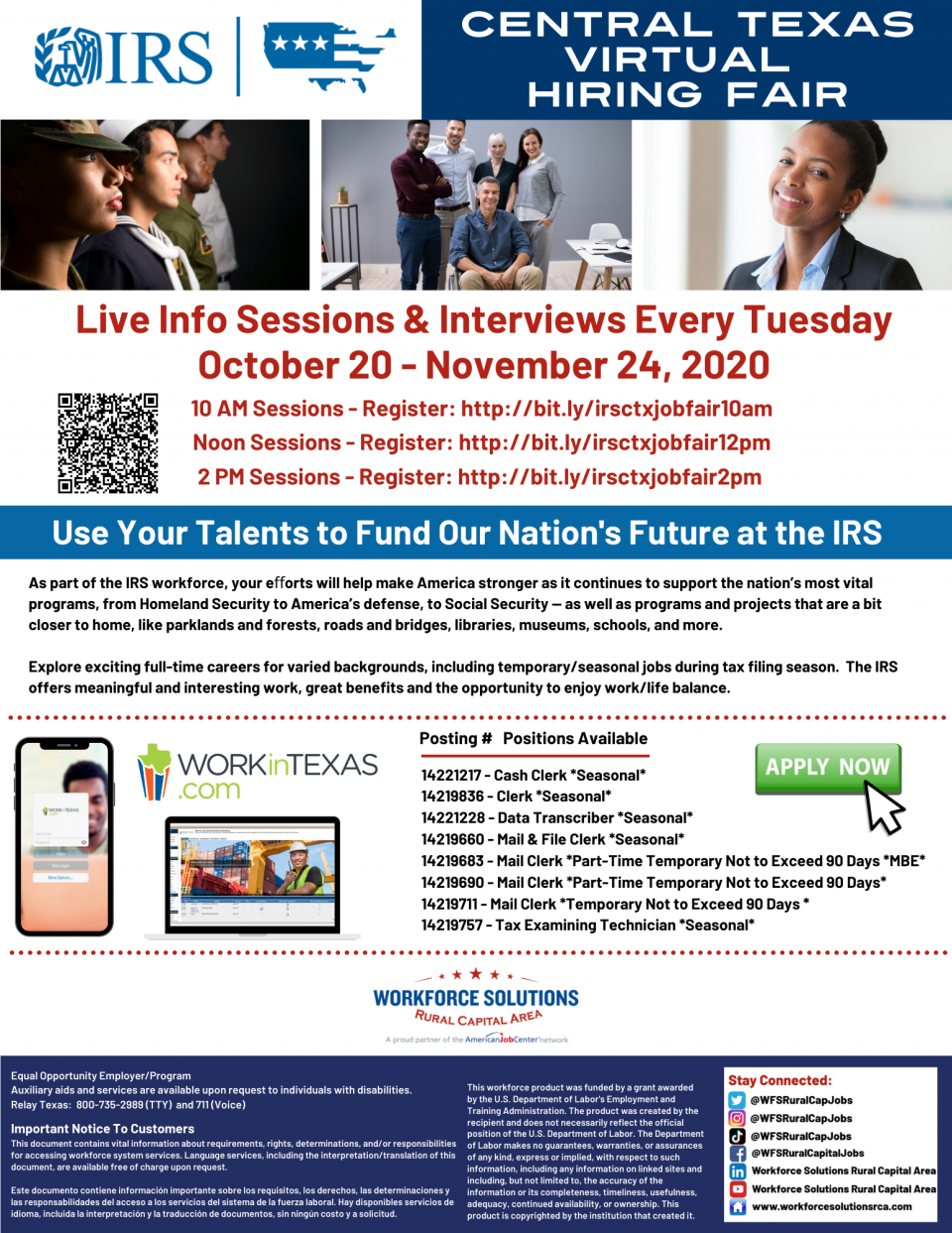 The Internal Revenue Service (IRS) is looking to hire hundreds of workers ahead of the 2021 tax season and Workforce Solutions Rural Capital Area (WSRCA) is hosting virtual hiring events every Tuesday through November to help them connect with you.
Live Info Sessions & Interviews Every Tuesday
October 20 - November 24, 2020
As part of the IRS workforce, your efforts will help make America stronger as it continues to support the nation's most vital programs, from Homeland Security to America's defense, to Social Security — as well as programs and projects that are a bit closer to home, like parklands and forests, roads and bridges, libraries, museums, schools, and more.
Explore exciting full-time careers for varied backgrounds, including temporary/seasonal jobs during tax filing season. The IRS offers meaningful and interesting work, great benefits and the opportunity to enjoy work/life balance.

Explore the available positions on WorkInTexas.com and apply in advance:
Position # - Job Title
14221217 - Cash Clerk *Seasonal*
14219836 - Clerk *Seasonal*
14221228 - Data Transcriber *Seasonal*
14219660 - Mail & File Clerk *Seasonal*
14219683 - Mail Clerk *Part-Time Temporary Not to Exceed 90 Days *MBE*
14219690 - Mail Clerk *Part-Time Temporary Not to Exceed 90 Days*
14219711 - Mail Clerk *Temporary Not to Exceed 90 Days *
14219757 - Tax Examining Technician *Seasonal*
Use Your Talents to Fund Our Nation's Future at the IRS!
---