Samsung Austin Semiconductor Honored as 'We Hire Vets' Employer for its Commitment to Empowering Texas Veterans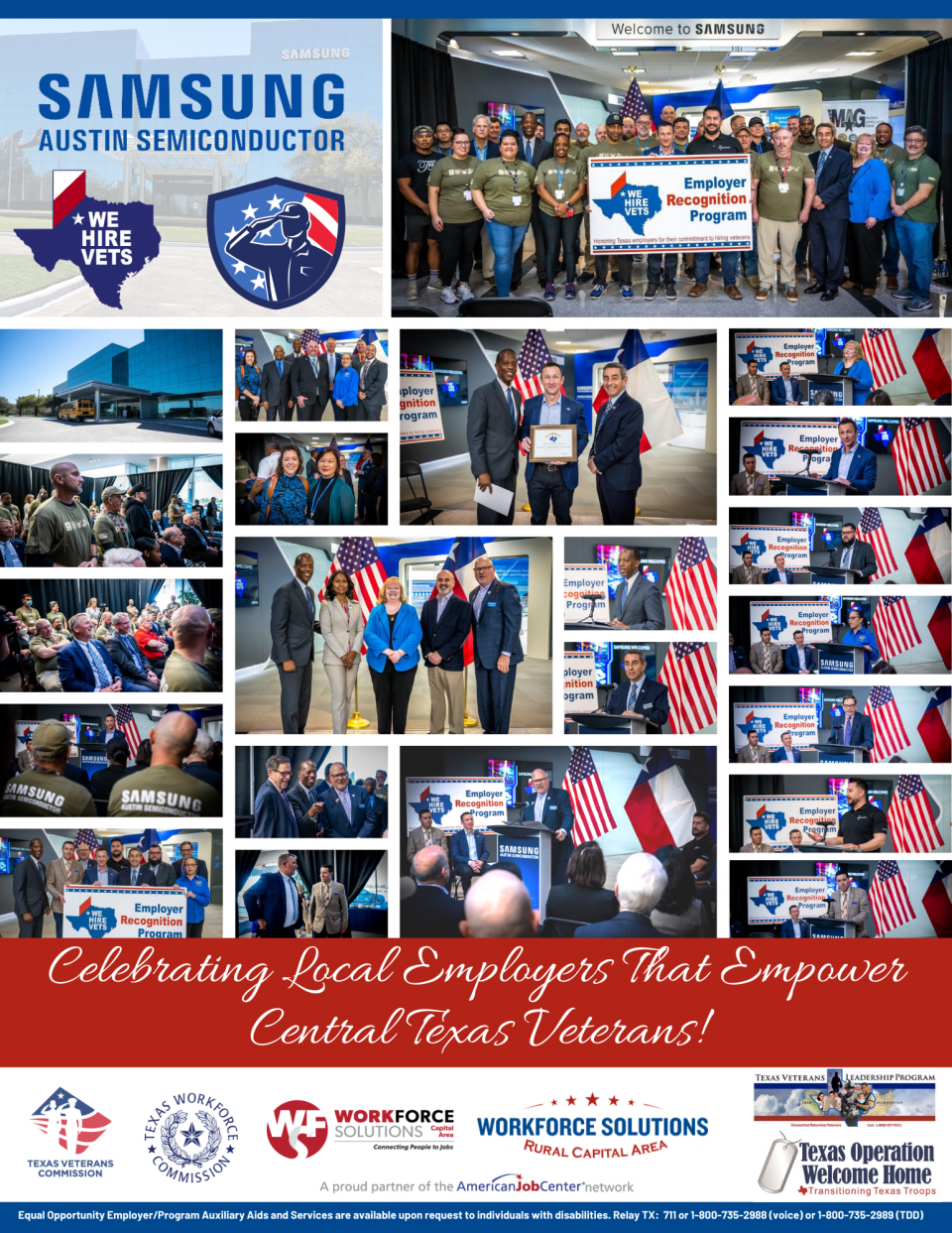 Please join us in congratulating our partners at Samsung Austin Semiconductor on being recognized by the Texas Workforce Commission & Texas Veterans Commission as a "We Hire Vets" employer for maintaining a workforce comprised of 17 percent military veterans.
Thank you, Samsung, for empowering heroes throughout Central Texas.
The We Hire Vets program recognizes Texas employers' commitment to hiring veterans.

Launched in 2017, "We Hire Vets" is an employer recognition program developed by TWC to recognize Texas employers for their commitment to hiring veterans.
Employers whose workforce is composed of at least 10 percent military veterans are eligible to receive a "We Hire Vets" employer recognition decal to display on the employer's storefront, as well as an electronic decal to display on the employer's website.
"We Hire Vets" is a component of TWC's Texas Operation Welcome Home initiative: texasoperationwelcomehome.com
"Veterans bring a level of leadership, integrity, and honor to a company that will strengthen any business," said TWC Commissioner Representing Employers Aaron Demerson. "Samsung Austin Semiconductor has made a strong commitment to hiring veterans, and it's important that we recognize Texas employers who have veteran-friendly hiring practices."
Employing veterans creates a dedicated workforce with employees who know firsthand how to lead, build teams, and accept and meet challenges. Recognition of employers with veteran-friendly hiring practices is an important aspect of the Texas Operation Welcome Home initiative that assists recently separated veterans with employment and training opportunities.
For more information on Texas Operation Welcome and to nominate a deserving employer honoring veterans, please visit TWC's website.
More On Samsung Austin Semiconductor
Samsung Austin Semiconductor is a world-class technology leader with more than 25 years of storied history in the Central Texas area.
Samsung produces digital large-scale integration logic components for tablets, smartphones, and other mobile devices. Since opening 1997, Samsung's Austin team has delivered world-class semiconductor technology and continues to be one of the most advanced semiconductor plants in the United States.
Samsung currently employs over 3,000 workers at its facility located at 12100 Samsung Blvd., in Austin, Texas and is building a new semiconductor manufacturing facility in Taylor, Texas. The estimated $17 billion investment will help boost production of advanced logic semiconductor solutions that power next-generation innovations and technologies.
Samsung said the new facility in Williamson County will manufacture products based on advanced process technologies for application in areas such as mobile, 5G, high-performance computing (HPC) and artificial intelligence (AI). Samsung remains committed to supporting customers globally by making advanced semiconductor fabrication more accessible and meeting surging demand for leading-edge products.
Please visit the company's website for more on Samsung Austin Semiconductor and its Central Texas operations.
---