WSRCA Launching 'Tuesday Talks' Weekly Video Series to Connect Texans to Resources, Solutions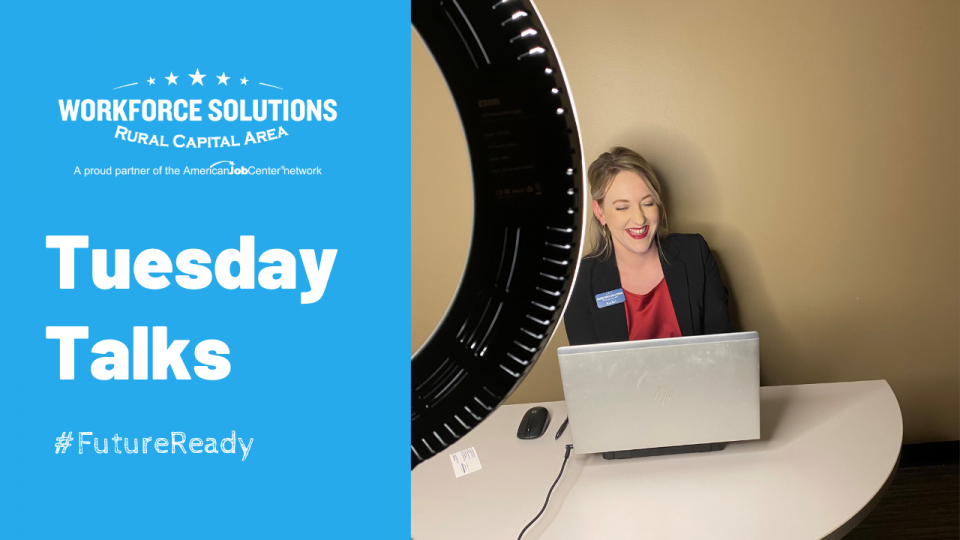 The Workforce Solutions Rural Capital Area (WSRCA) team continues to innovate its service offerings to offer world-class workforce solutions for Central Texans and will soon unveil a new informative video series called "Tuesday Talks" to create more value for customers on the digital platforms they use most.
The Tuesday Talks video segments will be posted weekly to all WSRCA's social media accounts and its website, and aims to provide more insights on high-demand career training opportunities, initiatives, workshops, and programs, and will spotlight community partners, customer testimonials, and WSRCA events, all geared towards delivering customized workforce solutions for Central Texans.
The series is hosted by WSRCA Talent Development Facilitator Rachel White, and her expert team of trainers, and is produced by Emmy award-winning WSRCA Multimedia Content Producer, Angela Maldonado.
Upcoming segments include WSRCA 101, Program Highlights: WIOA, Workforce Wednesdays Virtual Career Expo: Top Virtual Interview Tips, and using the WorkInTexas App, as well as many more.
Watch for the first episode on July 27, and let us know if you have a topic idea at communications@ruralcapital.net
---