WSRCA Skill-Based Career Progression Lattices: Navigating Your Way to Success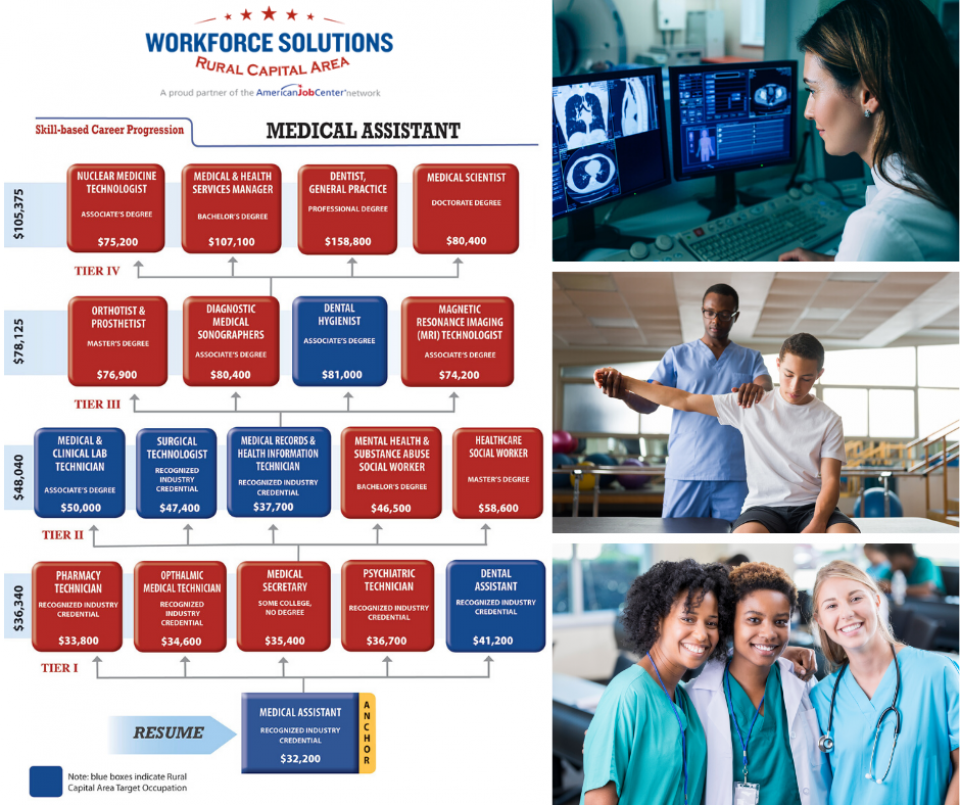 Unemployment rates in central Texas are at a record low, job opportunities are plentiful, and wages are rising. But not all jobs offer the ability to forge a sustaining career, become self-sufficient and live a quality life. Moreover, the world of work has gotten more complex. There are more opportunities than ever for those who are prepared with career skills in high demand, and more difficulties for those who are not. In this environment, occupational decision-making has never been more challenging, nor more important.
Workforce Solutions Rural Capital Area (WSRCA) is committed to empowering employers and job seekers by identifying best practices in workforce development and delivering programs and tools to leverage the existing knowledge and skills of workforce customers to set them on a pathway to career success. The WSRCA Skill-Based Career Progression Lattices available on www.workforcesolutionsrca.com, are designed to address this objective by visibly highlighting the dynamics of strategic career mobility and the importance of a skilled workforce.
"It can be difficult for workers searching for career enhancement to identify personalized pathways to reach their professional goals," said WSRCA CEO Paul Fletcher. "But rather than a fixed stair-step career ladder, career progression more often takes place along a lattice model that incorporates lateral or even downward movement, depending on life circumstances, but reinforces upward mobility through upskilling, and is much more representative of today's work life experience."
The Rural Capital Area career progression lattices flow from an anchor or entry-level occupation and encompass all 39 of the approved Target Occupations identified as most in demand in the region, that also pay a self-sufficient wage of at least $18.00 per hour. The upward movement on a lattice is a function of a worker's employment experience, plus any additional skills they can acquire through either formal or informal means. While there is no such thing as a skill that has no value, some skills have much higher remunerative value than others. More importantly, many of them are just as easily acquired in an affordable central Texas community college or technical college training program, as at a four-year university.
Navigating your way to career success requires a roadmap and guidance that starts with a career objective or earnings goal, and offers a strategy for where time, effort and financial resources are to be invested to achieve those higher professional aspirations. Useful labor market information, including a career progression lattice, and good career decision-making, can make the journey easier.
Regional economic health rises as workers increase their skill portfolios, and earnings capacity. Career progression lattices reinforce upward mobility possibility and jump start that journey to higher skill, higher wage jobs.
"A career lattice helps you visualize a path for occupational mobility and focus attention on personal development. When combined with guidance and support from our WSRCA Talent Development Team, career lattices can be utilized to layout career goals, identify action steps, measure progress, and keep you heading in the right direction," added Fletcher.
The need to increase earnings is a major driver for most career changers, especially in the face of changes in family composition. Individuals with families working in entry-level jobs are most in need of embarking on a career progression that will allow them to support their family situation. A career progression lattice can help an individual highlight education and skill gaps and provides a concrete vision around which to discuss how to address these gaps and move forward in one's career. Simply put, a career lattice lets you see where you are now, what opportunities lay before you, and what it takes to get there.
Click on any of the starting positions below to view Career Progression Lattices that include average salaries, general educational requirements, and future growth opportunities:
---