Elevating Opportunities: WSRCA Helps Launch Plumbing Apprenticeship Training Programs in Taylor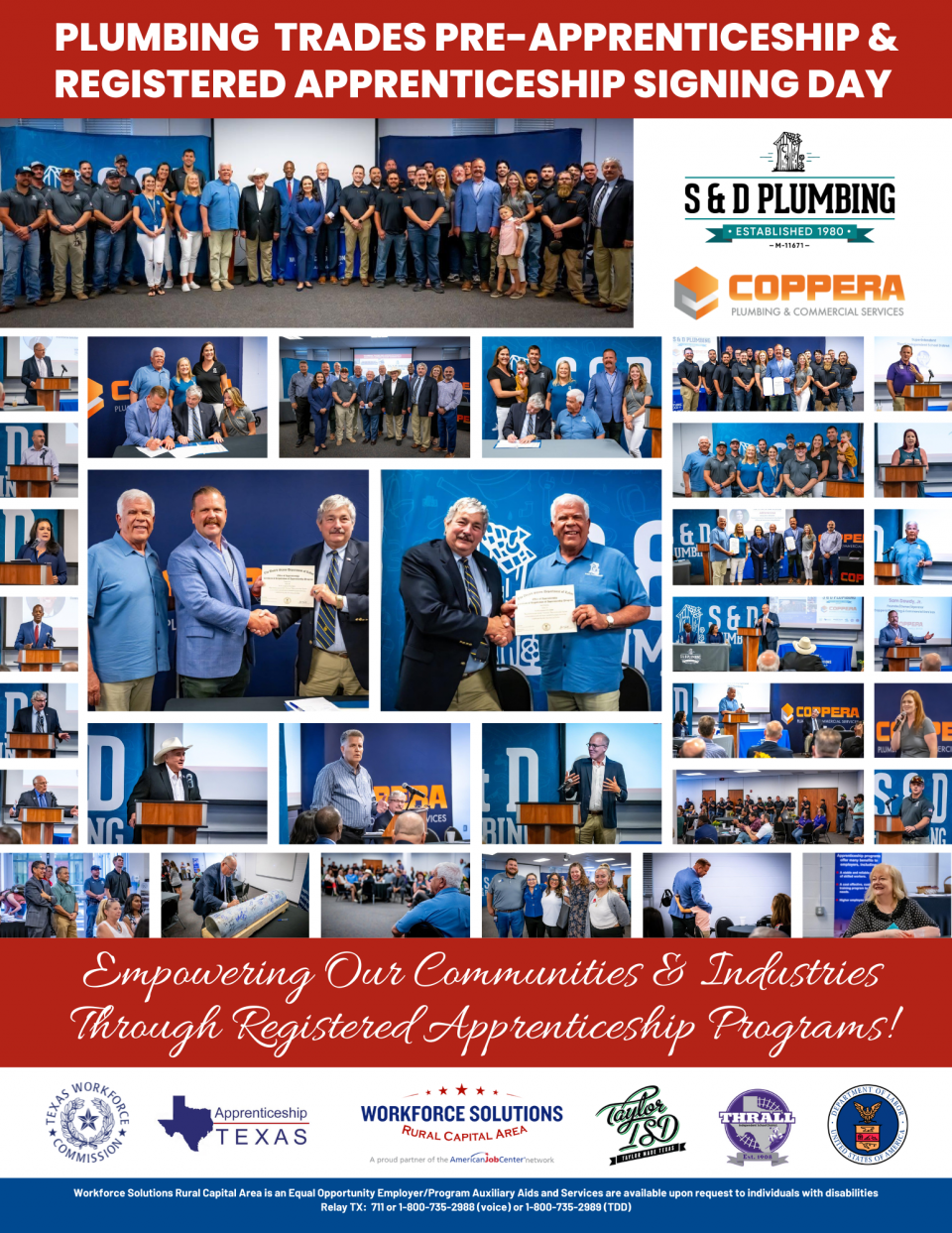 Congratulations to S&D Plumbing and Coppera Plumbing & Commercial Services for launching their Plumbing Pre-Apprenticeship and Registered Apprenticeship Programs in Taylor, Texas.
We're proud to join with our community and industry partners to celebrate local workforce opportunities to empower Texans to "Earn While You Learn" for careers in high demand.
The ceremony signified a pivotal moment within the local community, demonstrating an unwavering collaborative commitment to cultivating a strong and sustainable workforce training pipeline for residents of the area. S&D Plumbing and Coppera Plumbing lead in this endeavor, initiating a pathway that starts in local high schools. This proactive approach empowers Central Texans to acquire nationally recognized credentials, unlocking promising career prospects within the dynamic plumbing industry.
Many thanks to our partners at the Texas Economic Development, the Texas Workforce Commission, the U.S. Department of Labor, the Texas State Board of Plumbing Examiners, Williamson County, City of Taylor, Taylor ISD, & Thrall ISD for helping Registered Apprenticeship opportunities expand in Central Texas.
Special thanks to our amazing speakers:
Paul Fletcher, Chief Executive Officer, Workforce Solutions Rural Capital Area
Frank Leonardis, Chairman, Workforce Solutions Rural Capital Area Board of Directors
Adriana Cruz, Executive Director of Economic Development & Tourism, Office of Governor Greg Abbott
Aaron Demerson, Commissioner Representing Employers, Texas Workforce Commission
Lee Price, Texas State Director, U.S. Department of Labor, Office of Apprenticeship
Frank Denton, Chairman, Texas State Board of Plumbing Examiners
The Honorable John Carter, U.S. Representative, 31st Congressional District of Texas
The Honorable Bill Gravell, Williamson County Judge
The Honorable Brandt Rydell, Mayor, City of Taylor
Tommy Hooker, Superintendent, Thrall Independent School District
Rachelle Finck, Director of Guidance & Counseling, Taylor Independent School District
Sam Dowdy, Sr., Owner/Operator of S&D Plumbing
Sam Dowdy, Jr., Owner/Operator of Coppera Plumbing & Commercial Services
Lindsie O'Neill Almquist, Ed.D., Chief Culture Officer, Coppera Plumbing & Commercial Services
Carson Chapman, Plumbing Apprentice, S&D Plumbing

Registered Apprenticeship is a proven and versatile model of tailored training that is industry-vetted, approved, and validated by DOL and aligns workers with evolving business needs, paving the way for impactful careers. Through a dynamic "earn-while-you-learn" approach, participants engage in paid on-the-job training and curated job-related instruction. This comprehensive process culminates in nationally recognized skills standards, driving progressive career development and wage growth. Businesses benefit from this agile and customized training strategy by establishing a pipeline of fresh talent and upskilled employees to grow their operations.
Pre-Apprenticeship programs form the gateway to thriving Registered Apprenticeships, providing comprehensive preparation for a successful journey while students are still in high school. These programs serve as a launchpad for individuals seeking well-paying roles with avenues for unlimited advancement upon graduation.
Ready to explore apprenticeship to grow your business or expand your career? Get Started with our Apprenticeship Toolkit.

---